The triple net REIT sector is a sector in flux. The big keep getting bigger, making it harder to move the needle on acquisitions (which is why we have seen portfolio/public peer acquisitions) while the smaller NNN REITs fall by the wayside. As an investor, I have found that those companies that have fallen by the wayside often have decent value and should therefore be sought out. Recently, I started digging in to One Liberty Properties (NYSE:OLP), a small-cap triple net lease REIT.
One Liberty Properties, Inc. is a self-administered and self-managed real estate investment trust incorporated in December 1982. The primary business of the company is to acquire, own and manage a geographically diversified portfolio of retail, industrial, office and other properties under long-term leases. Substantially all of the company's leases are net leases. One Liberty currently own 109 properties in 29 states.
Summary
One Liberty Properties is a small-cap triple net REIT with a dividend yield which is higher than peers and sustainable given its reasonable FFO payout (82%). While tenant concentration is high, underlying properties are solid and can be repurposed if necessary. Insider ownership is higher than peers at 20%, aligning management interests with shareholders. While the FFO multiple is lower than peers, shares have run up recently as investors seek the stability of triple net REITs as well as yield. Despite the run up, shares still seem attractively valued.
Looking at the underlying business, the REIT appears well positioned to grow and continue paying a healthy dividend.
Business Profile
The geographic diversification of One Liberty Properties as well as diversification by property type looks like the following (from the company website):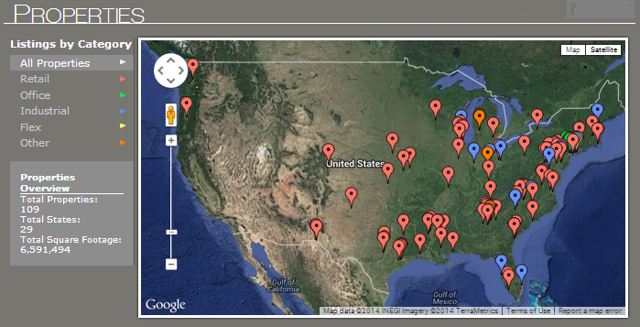 A listing of the state exposure shows Texas, New York and New Jersey as the dominant states, accounting for nearly a third of their geographic exposure (rental income basis) (10-k):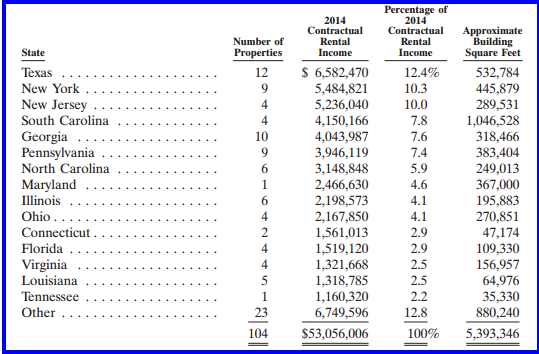 As is the case with a large number of triple net lease REITs, the portfolio is tilted towards retail as the following table shows (presentation):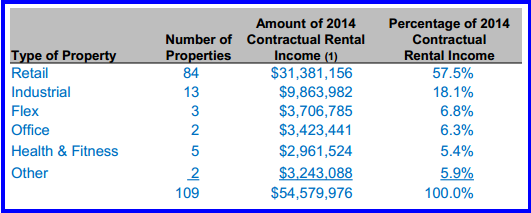 A listing of their top tenants is (presentation):

OLP has a credit bias within their portfolio, allowing for higher cap rates and spreads. As many of the larger net lease REITs have taken on an investment grade profile in order to create stability through lower re-tenanting and re-purposing, OLP has stuck with what has made them money historically. While this approach will, at times, involve delinquencies, defaults and re-tenanting, OLP has done a strong job mitigating these risks.
The business fundamentals have the following characteristics:
Decent geographic diversity, resilient states are heavily weighted.
Decent industry diversity although retail is heavily weighted.
Unlike many of its triple net REIT peers, especially the larger ones, OLP has a credit bias (as many of the triple nets did back in the day) and therefore lower rated tenants. This results in higher cap rates, but also a higher probability of tenants defaults.
Financial Profile

OLP has been increasing their real estate holdings through net purchases or real estate. As share issuance has been steady (both to the market and in dividend reinvestment plans), FFO/sh has fallen since 2009, but has been steady during 2010-2013. The increase in accretive real estate holdings should help drive FFO/sh.
Like many solid REITs, OLP has longer-term leases in place, which help to stabilize rental streams, NOI and therefore contribute to dividend safety. Excluding JV leases, 29% of OLP's 2014 contractual rental income expires between 2019 and 2022, and leases representing approximately 40% of 2014 contractual rental income expire after 2022. Leases representing approximately 73% of 2014 contractual rental income and leases representing 38% of OLP's share of the rental income payable in 2014 (JV) provide for either periodic contractual rent increases or a rent increase based on the consumer price index (presentation).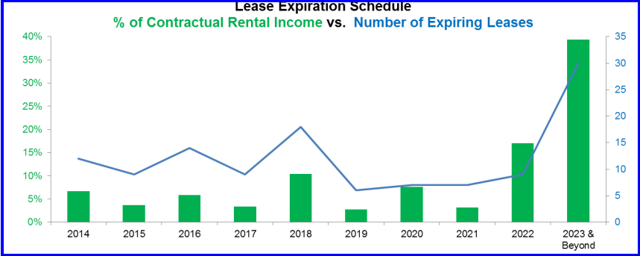 The longer-dated leases plus escalator clauses help ensure a minimum base rent from which to build. The stable lease profile is definitely a plus.
Similar to the lease profile, OLP's debt distribution is similarly attractive. This is important as a "lumpy" maturity profile to create refinancing pressure on the REIT. OLP had, as of December 31, 2013, $278 million in mortgage debt outstanding, all of which is non-recourse (subject to standard carve-outs) and the ratio of mortgage debt to total assets was 48.6% (51 first mortgages on 73 of the 104 properties) (presentation).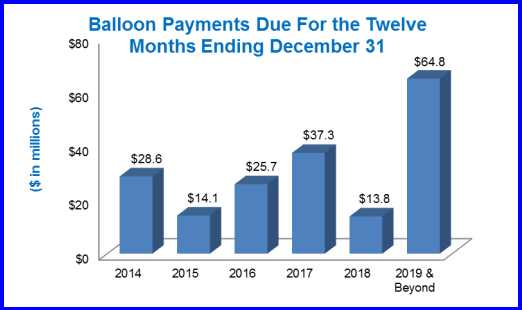 The line of credit has the following covenants (emphasis mine):
Number of Unencumbered Properties. The Borrower and Guarantors shall own not less than ten (10) Unencumbered Properties during such times when the amounts outstanding under the Revolving Credit Notes is greater than $55,000,000. (This leaves equity in the property which can cover the loan and flow through to investors and creditors).
The obligation secured by any Lien so created, assumed, or existing shall not exceed 75% of the higher of cost or appraised value of the Property subject to such Lien (or in the event an appraisal is not available, Borrower shall submit to the Lender a copy of the application and/or commitment letter from an Institutional Lender which makes it an express condition that the loan amount not exceed 75% of the value of the Property), except upon written consent from each Lender. (This leaves equity in the property which can cover the loan and flow through to investors and creditors).
Minimum Total Unsecured Value. The Borrower and the Guarantor shall own at all times not less than five (5) Unencumbered Properties having a minimum Total Unsecured Value in the aggregate amount of Thirty Million ($30,000,000.) Dollars.
Tangible Net Worth. Borrower will maintain a Tangible Net Worth of not less that $144,000,000 to be tested quarterly. This helps to ensure "net value" to investors.
Fixed Charge Coverage Ratio. The Borrower and the Guarantors will not permit the ratio of (A) Consolidated EBITDA for any fiscal quarter, to (B) Fixed Charges for such period, to be less than 1.25 to 1.00. Notwithstanding the foregoing, non-compliance with this Section 5.03(e) shall only constitute an Event of Default if such non-compliance occurs for two consecutive fiscal quarters.
Debt Service Coverage Ratio. Permit Borrower's, on a consolidated basis, ratio of total Adjusted Net Operating Income, to Debt Service, to become less than 1 65 to 1.00, such ratio to be tested quarterly for the prior 12-month period.
The bank covenants serve to protect the banks from the company becoming over levered and having substantially all of the properties mortgaged. These covenants also serve to protect other investors by helping to ensure the company does not become financially aggressive and jeopardize the solvency of the REIT.
As the following chart shows, assets have grown faster than debt, a healthy sign. This is partially due to the provision that the properties cannot be fully levered.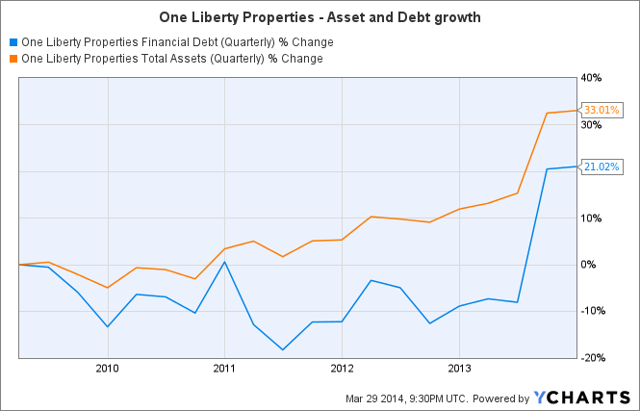 OLP Financial Debt (Quarterly) data by YCharts
The financial fundamentals have the following characteristics:
The lease profile of the REIT is solid and weighted in the long end.
The debt profile of the REIT (balloons/maturities is well balanced and manageable).
The line of credit helps add to the "comfort factor" in helping assure that the REIT does not "live beyond their means" and jeopardize stakeholder value.
Market Profile
The following is a summary of OLP's market profile versus peers Realty Income (NYSE:O), National Retail Properties (NYSE:NNN), Lexington Realty (NYSE:LXP) and American Realty Capital (ARCP) among other net lease REITs:

Versus its peer group, OLP has a higher dividend yield: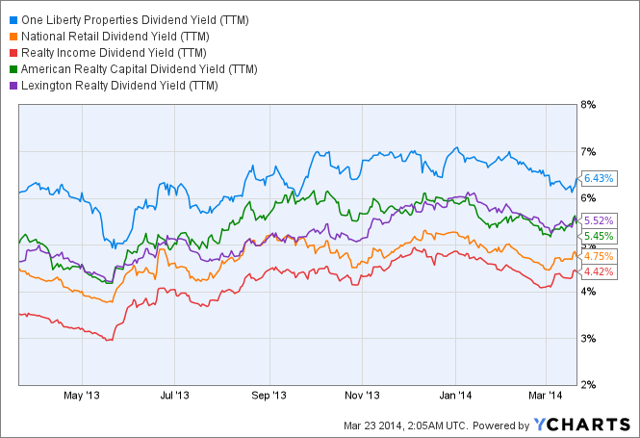 OLP Dividend Yield (TTM) data by YCharts
But is this a new development? Let's check: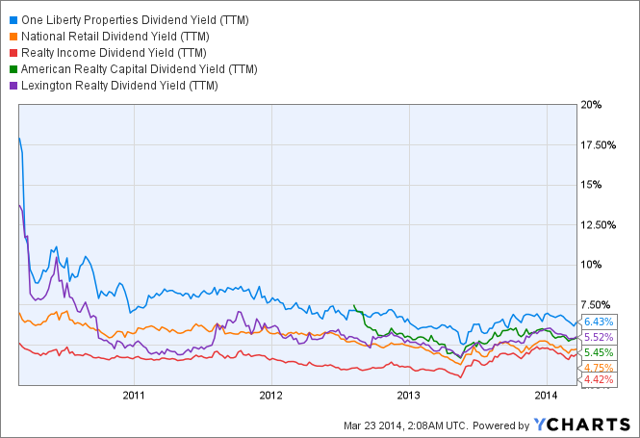 OLP Dividend Yield (TTM) data by YCharts
No, this is business as usual for OLP.
Have investors had to pay a premium to book value to secure this higher yield?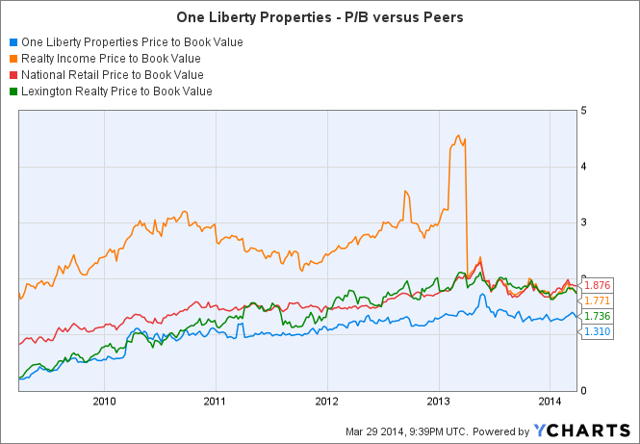 OLP Price to Book Value data by YCharts
Once again, the answer is no.
So how has this triple net David held up against the NNN Goliaths?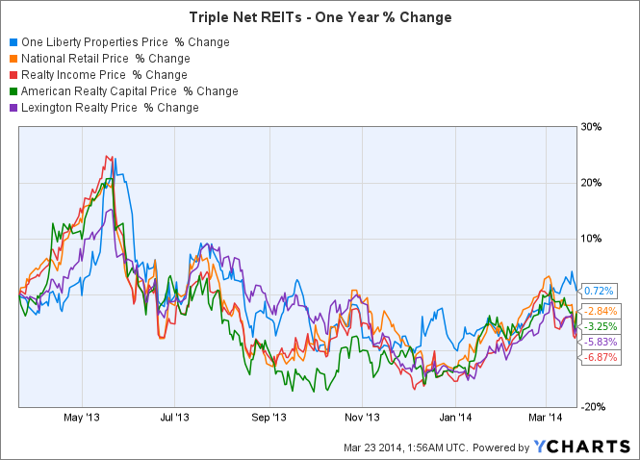 Not too bad (actually, really good - the only positive price return). But has the last year been a fluke? Let's look at the last five years: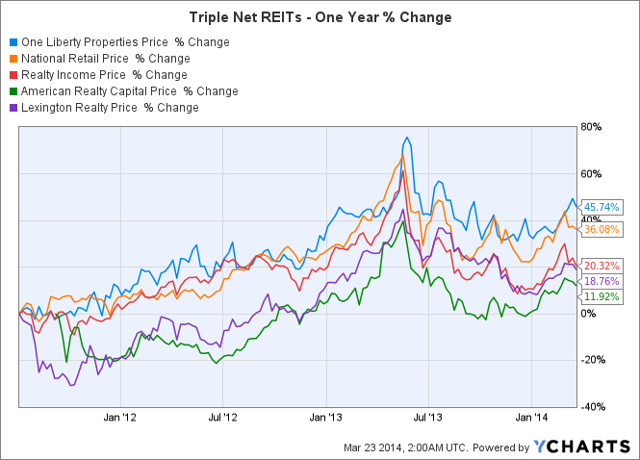 Industry leading and 2x the 800lb gorillas in the space.
The market profile has the following characteristics:
A higher dividend than peers.
Lower metrics such as price/book, price/FFO.
Debt/EBITDA is higher than peers (would like to see it lower).
Dividend payout is on par with peers.
Market cap is much smaller than peers, which is part of the reason it trades at a discount.
Recent developments:
On March 20, 2014, OLP entered into an equity sales agreement with Deutsche Bank Securities Inc. to sell shares of common stock having an aggregate sales price of up to $50,000,000, from time to time, through an "at the market" equity offering program. Since the commencement of this at the market program through March 19, 2014, the REIT has sold $11,640,481 in shares under the sales agreement, and therefore, may offer and sell up to $38,359,519 in aggregate shares of common stock (8k).
"The Family"
Like many REITs, the "controlling family", the Goulds, own a significant interest in the REIT as well as other interests. Naturally, having looked at the downside of family control (Commonwealth - here, here and here), it is important to understand this dynamic. A little digging around shows:
Gould Investors
FREDRIC H. GOULD: Fred is a Founder, a Director and Chairman of the Board Emeritus of Georgetown Partners, Inc., the Managing General Partner of Gould Investors L.P. Fred is also Chairman of the Board Emeritus of BRT Realty Trust, Chairman of the Board Emeritus of One Liberty Properties, Inc., and a Director of East Group Properties, Inc.
MATTHEW J. GOULD (Fredric's son): Matt is Chairman of the Board and Chief Executive Officer of Georgetown Partners. Matt is also Chairman of the Board of One Liberty Properties, Inc., and Senior Vice President and a Director of BRT Realty Trust, REIT Management Corp. and Majestic Property Management Corp.
JEFFREY A. GOULD (Fredric's son): Jeff is President and Chief Executive Officer of BRT Realty Trust. Jeff is also a Director and Senior Vice President of Georgetown Partners and he is a Senior Vice President and a Director of One Liberty Properties and Majestic Property Management Corp.
As part of the family, there is a practice within the REIT I am by no means fond of and it, honestly, leaves a bad taste in my mouth. This is the investment in BRT Realty (NYSE:BRT) (the Gould family is on the Board of Trustees and Jeffrey is CEO/President). Per the website, BRT:
BRT Realty Trust is a publicly-traded direct short-term commercial lender with over thirty five years of experience originating first mortgage loans nationwide. BRT is recognized as a national leader in creative short-term financing solutions throughout the commercial real estate industry. As a hard money lender specializing in bridge loans and short-term commercial loans we have the experience, flexibility, and financial resources to offer financing solutions for many different types of commercial real estate transactions.
This investment has not provided cash flow in a number of years and has only recently begun increasing in value: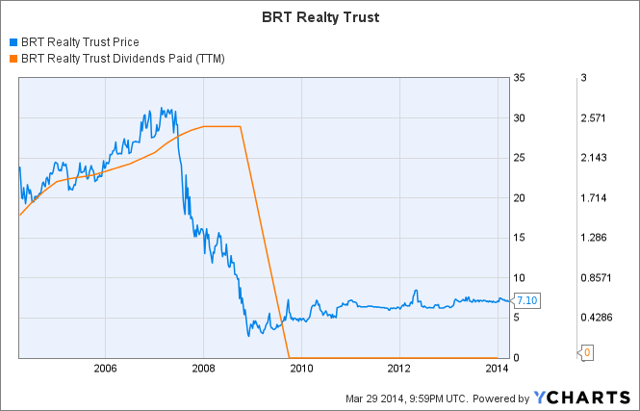 As per the 2013 10-k:
The company's investment in 37,081 common shares of BRT Realty Trust ("BRT"), a related party of the company, (accounting for less than 1% of the total voting power of BRT), was purchased at a cost of $132,000 and had a fair market value of $262,000 and $241,000 at December 31, 2013 and 2012, respectively.

At December 31, 2013 and 2012, the total cumulative net unrealized gains of $145,000 and $98,000, respectively, on all investments in equity securities is reported as accumulated other comprehensive income (loss) in the stockholders' equity section.
While the holding in BRT is at a gain, I have to admit I am not a fan of the investment and do not believe it belongs on OLP's balance sheet. If the family wants to support it, Gould Investors is the appropriate place for it (and they have been buyers).
Insider Ownership
Unlike many REITs lately, OLP has significant insider ownership (from form 4 filings).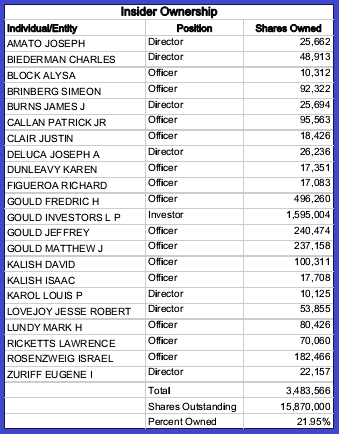 In addition, BRT Pension Trust, Gould Investors Pension Trust and REIT Management Corp Pension and Profit Sharing own a combined 173,250 shares.
Bottom Line: I like One Liberty Properties. It brings triple net "safety" plus a decent yield to a portfolio. The metrics appear cheap, but this is mainly a function of the smaller size of the REIT. The controlling family and insiders own a significant portion in the REIT, which brings comfort as they are investing alongside other holders. There is, as I stated, a cross holdings in another company, BRT Realty Trust, which I am not a fan of, but the position is limited. While the share price has increased, I believe that there is further to go as FFO increases and the possibility for multiple expansion. Given the widespread move into the net lease sector, I am willing to move down in market cap to pick up value. I will be starting a position in the equity of this REIT once the article is published.
---------------
Sources used in this report:
OLP 10-k
January 2014 Investor Presentation
Company website
Disclosure: I am long NNN, O. I wrote this article myself, and it expresses my own opinions. I am not receiving compensation for it (other than from Seeking Alpha). I have no business relationship with any company whose stock is mentioned in this article.
Additional disclosure: Realty Income and National Retail positions are preferred stock. I intend to go long OLP after publication.*****This article is for informational purposes only, it is not a recommendation to buy or sell any security and is strictly the opinion of Rubicon Associates LLC. Every investor is strongly encouraged to do their own research prior to investing.