At the end of last week, turnaround candidate BlackBerry (NASDAQ:BBRY) reported its fiscal fourth quarter results. It was not expected to be a great report, and the results were mixed. While revenues missed expectations, the adjusted loss wasn't that bad. The balance sheet did take a hit as expected, but the company is sticking to its plan. After the report, shares lost early gains and have fallen back a bit. Today, I'll explain why the story remains the same, and how investors could take advantage in the long term.
The Q4 report:
Let me first start off with the company's highlights from the above press release for Q4:
Cash and investments balance of $2.7B at the end of the fiscal fourth quarter.
Adjusted Q4 gross margin of 43%, up from 34% in the prior quarter.
Channel inventory down 30% from the prior quarter.
Reduced adjusted operating expenses by approximately 51% from Q1FY14.
Revenue for the fourth quarter of approximately $976 million.
The revenue number was a disappointment, although I don't think too many investors were expecting a spectacular figure. Analysts were looking for $1.11 billion, so BlackBerry missed that number. The $976 million figure is a dramatic drop from the $2.678 billion figure recorded in the year ago period. Additionally, this was a $217 million sequential drop from fiscal Q3. The company also continued its transition to more of a service company. In fiscal Q3, 40% of revenues were from hardware and 53% were from services. In fiscal Q4, 37% was from hardware, and 56% was from services. In both of those quarters, software and other revenues were about 7%. In fiscal Q1, hardware was 71% of revenues, and 49% in fiscal Q2.
Cut expenses first, then improve revenues:
In the end, the revenue number just continues the story I told before earnings. The company is working to reduce expenses and streamline operations. Revenues will take a hit, but the company's expense control is key in the short term. Once the company gets this expense picture clearer, then the company can focus on revenue growth. In fiscal Q4, the adjusted loss from the company was just $0.08 per share. That's much better than the $0.55 loss analysts were looking for. Adjusted gross margins also rose nicely as the company mentioned above. Additionally, take a look at the following quote from CEO John Chen in the earnings release.
"I am very pleased with our progress and execution in fiscal Q4 against the strategy we laid out three months ago. We have significantly streamlined operations, allowing us to reach our expense reduction target one quarter ahead of schedule," said John Chen, Executive Chairman and CEO of BlackBerry. "BlackBerry is on sounder financial footing today with a path to returning to growth and profitability."
The company was able to reach its target one quarter ahead of schedule. That means that losses won't be as bad going forward, hopefully, and that cash burn could be less as well. Since the report, analysts have reduced revenue estimates for the current fiscal year (ending February 2015) from $4.16 billion to $4.09 billion. I would not be surprised if that number trends closer to $4 billion in the next couple of weeks as analysts further digest the report. However, on the flip side, the adjusted loss figure for the fiscal year has gone from $1.29 to $1.18. Perhaps the company can get the adjusted loss under a dollar next year as I stated was possible in my last article linked above. For now, I'm more concerned with the reduction of expenses than revenues. The plan seems to be working.
Balance sheet update:
One of the biggest questions for BlackBerry in this earnings report was the balance sheet. The company has been burning through cash recently, and took out a bit of debt in recent months. The cash position has been a key part of the bull case, and will help the company through this turnaround. In the table below, I've detailed some key balance sheet numbers and ratios going back to the end of the prior fiscal year. Dollar values in millions.

*Liabilities to assets ratio.
The cash position has held up thanks to the company taking on a bit of debt. The balance sheet has undergone major changes. A lot of writeoffs or adjustments were made in the past year, and the total asset base has gone from more than $13.15 billion to just $7.55 billion. While the net cash position did drop in the latest quarter, working capital actually rose. Current assets dropped by about $800 million, but current liabilities fell by $1.07 billion. The company also still has $972 million of accounts receivable, so that will help pay some bills in the short term.
With results as weak as they are now, the balance sheet is going to get worse before it gets better. The net cash position will continue to decline, and could perhaps become negative in the next year or two. However, the long term debt is not due for a number of years, which gives the company time. Additionally, these are convertible notes, so if converted to equity, the company wouldn't have to pay the money back. In the company's "outlook" included in the Q4 release, it was said that the company is targeting break even cash flow results by the end of fiscal 2015, the fiscal year that started recently.
Short interest still elevated:
One of the reasons I still like BlackBerry in the long term is that short interest still is high. Short interest has come down from its peak of around 184 million to the most recent update which saw over 105 million shares short. In the chart below, you can see how short interest has fared going back to early 2012.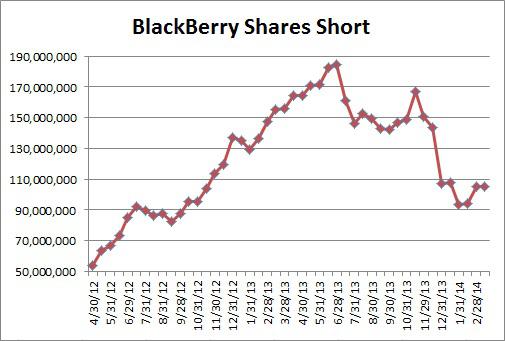 About 20% of the outstanding share count is short, and around 22% of the float, according to Yahoo. If the BlackBerry turnaround does take place over the next few years, massive short covering could push this name higher. We've seen a number of names in recent years push substantially higher on short covering. After such a large revenue miss, those that are looking at buying BlackBerry should hope short interest rises further. That will help increase the short squeeze potential down the road, should results improve.
Buy shares while they are cheap?
I said in my latest article that investors worried about earnings should consider a hedge, and that a pullback might help long-term investors. BlackBerry shares initially rallied on the earnings report, but have fallen since. For those looking at this name when it was at $9 or $10, you now have a chance to look at an $8 stock. You can see the recent fall in the chart below.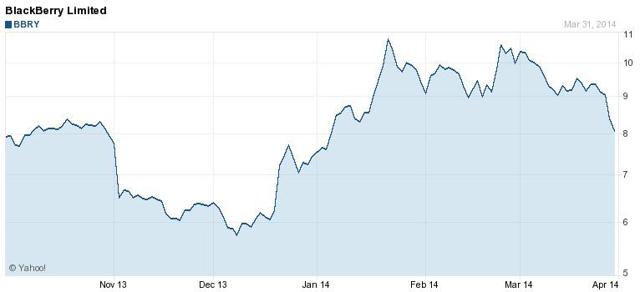 (Source: Yahoo! Finance)
You will notice that two of those rallies also saw some large drops in short interest. In the second half of December 2013, short interest dropped from over 143 million to 107 million. There was another rally in shares during January, and in the second half of the month short interest went from roughly 108 million to less than 94 million. If short interest rises again thanks to the recent report, as I mentioned above, it really will help the squeeze case.
What do analysts think? Well, we've seen a very mixed reaction to the latest report. For example, Credit Suisse came out and downgraded the stock, but Needham upgraded it. Goldman Sachs reduced its price target, but Cannacord upped its target. Right now, there is such a wide debate on BlackBerry that it is hard to focus on any one singular analyst note. However, there is a common theme that I've heard. This is not a short-term story. It's a turnaround, but it will take time. That's why a lot of price targets are in the $7 to $10 range right now. For investors believing in the turnaround, $8 sure looks like a better opportunity than $10. However, investors do need to realize that this will be a bumpy ride, so shares could fall further before they rally. For those looking for a pullback, one has certainly come recently.
Final thoughts:
BlackBerry's Q4 report was mixed, and that is to be expected. The company is in the midst of a turnaround, one that will take time. There will be bad items (like poor revenues), good items (the adjusted loss), and mixed items (the balance sheet). I don't think that this report really changed the BlackBerry story at all. The company believes the turnaround is going well, and yes, things will not improve overnight.
However, the key for investors may be the stock's reaction to this report. After rallying to an early Friday high of $9.64, the stock fell more than $1.50 from there to close Monday at $8.08. I think this pullback may present an opportunity for investors. I believe in the turnaround story of this name, and I also believe that a large short interest number will help this name go higher. The stock has pulled back a bit, and I like BlackBerry a lot more at $8 than I did at $10. While shares are likely to remain volatile and could go lower before a potential march higher, investors could start a position here and build it if shares go lower. This market likes a good turnaround story, and we've seen plenty of those in recent years that when combined with a short squeeze, lead to great gains. I think BlackBerry could be the next one.
Disclosure: I have no positions in any stocks mentioned, and no plans to initiate any positions within the next 72 hours. I wrote this article myself, and it expresses my own opinions. I am not receiving compensation for it (other than from Seeking Alpha). I have no business relationship with any company whose stock is mentioned in this article.
Additional disclosure: Investors are always reminded that before making any investment, you should do your own proper due diligence on any name directly or indirectly mentioned in this article. Investors should also consider seeking advice from a broker or financial adviser before making any investment decisions. Any material in this article should be considered general information, and not relied on as a formal investment recommendation.