American Tower Corporations (NYSE:AMT), with a strong cash flow position and being backed by consistent revenue increases for its U.S. segment, is well positioned among its peers in the sector. Also, the company is expanding its operations internationally at a healthy pace to strengthen its subscriber base and operations. The recent acquisition of Global Tower has put a burden on the company's balance sheet, as the transaction was mainly debt financed, but there's minimal balance sheet risk, as the company is planning to de-lever its balance sheet in the near future with a strong cash flow base. The company did not undertake share buybacks in 4Q2013, consistent with its plan to lower its debt ratio.
The Tower Industry remains highly competitive. The recent increase in demand for wireless phones and tablets, as well as high quality and speed, came up with very attractive growth opportunities for tower companies, particularly AMT.
U.S. Operations Remain Solid
The ongoing infrastructure investment in the U.S. Telecom Sector has been the main growth driver for AMT; the company has had consistent top line growth in the U.S. segment in recent quarters. Telecom operators have recently been expanding their LTE network footprints, to strengthen their services, which I believe provides attractive growth opportunities for tower companies like AMT. AMT, with its recent infrastructure upgrades in the U.S., witnessed increasing revenue per user trend, with their upgraded ability to serve operators effectively. Leading telecom companies like Verizon (NYSE:VZ), AT&T (NYSE:T) and Sprint (NYSE:S) are now focusing more on capacity-driven network investments and this could lead to incremental sales growth for AMT in terms of new co-location contracts in the near future. In 2013, the company had 28,000 sites in the U.S., and added 5,260 new sites in the year. The increasing sites investments by AMT position the company well for future revenue and profitability growth.
The following chart shows percentage increases year-on-year in revenue for the company's U.S. segment.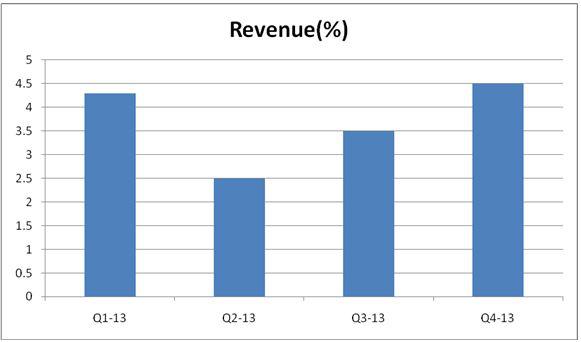 Source: Company's Quarterly Earnings Result
The following chart shows average monthly revenue per user increasing trend for the U.S. segment of AMT.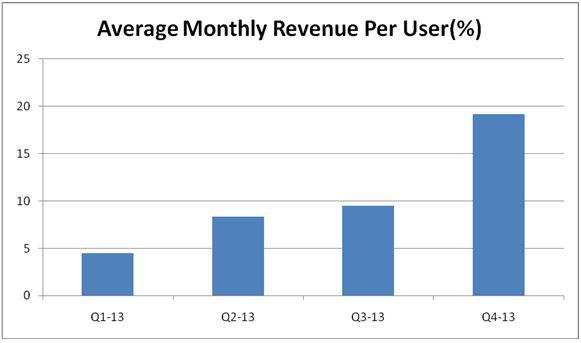 Source: Company's Quarterly Earnings Result
International Expansions - Great Growth Opportunities
AMT has a geographically diversified subscriber base. The company has partnerships with at least two carriers in each country in which it operates, which strengthen its position in international markets. International markets offer great penetration opportunities for AMT. Recent acquisitions by AMT in Brazil and Mexico position it well in the international market. As the company has significant international market operations, currency risk remains a headwind. However, the increasing expansion in international markets by AMT is expected to strengthen the company's operational base and financial performance. In efforts to expand international operations, AMT gained 7,810 new international sites in 2013. The company is making progress in the right direction with more focus on international markets, evident by its segment's revenues growth. The following chart shows year-on-year growth in revenue for the company's international site operations.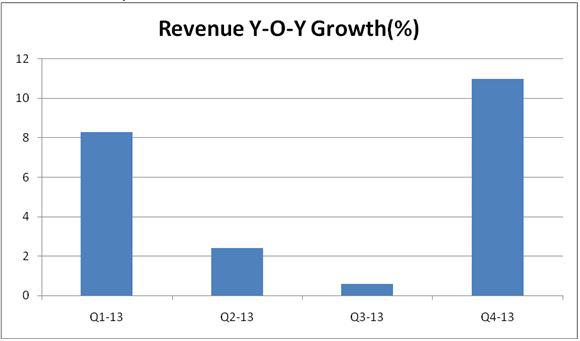 Source: Company's Quarterly Earnings Result
AMT Eyeing bid for Viom
The company is targeting to bid for India's Viom Network, which will help it improve its services and lower its costs. The bid is expected to be approximately $1.17 billion. AMT gained 10,000 towers in India with its previous two purchases, with VIOM it could go for consolidating its assets from all three purchases, consequently lowering the operating cost. If the deal is executed, it will help the company strengthen its footprint in India and improve its operational efficiencies.
Balance Sheet Position - Currently Not Balanced
AMT currently has a weak balance sheet, with a debt-to-equity ratio of 4.08x. Moreover, the company's significant debt maturities in the coming years will put pressure on its cash flows. The recent acquisition of Global Tower Networks for $4.8 billion, resulted in higher debt. AMT has managed to deal with its highly levered balance sheet, as it did not repurchase any shares in 4Q 2013 and announced that it is now going to focus on bringing the leverage down to 3.5x within the next 12-15 months.
The company's cash flow position is also safe enough to implant the plan of de-leveraging the balance sheet. Moreover, going forward in 2014, the company will continue its organic growth projects and expansion in international markets, which will further strengthen AMT's cash flow position. Fitch credit rating has assigned a stable credit outlook for the company, as AMT is likely to repay its debt in the coming years. The following chart shows the long term debt maturity profile for AMT.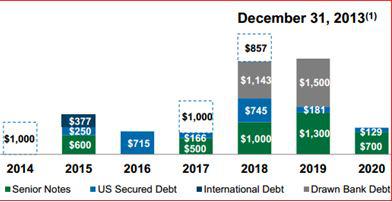 Source: Company's Quarterly Presentation

Conclusion
With recent upgradations in the U.S. telecom infrastructure and expansions in international markets, AMT has positioned itself well to take benefit from the growth opportunities. Also, the company has been expanding its operational sites, which will portend well for the company's future performance. The highly leveraged balance sheet remains a concern for investors; however, the company is committed to de-levering its balance sheet and I believe the company has strong cash flows to support balance sheet de-levering in the coming years.
Disclosure: I have no positions in any stocks mentioned, and no plans to initiate any positions within the next 72 hours. I wrote this article myself, and it expresses my own opinions. I am not receiving compensation for it (other than from Seeking Alpha). I have no business relationship with any company whose stock is mentioned in this article.