Equity markets finished flat to end the day, as the Dow finished in the red as the S&P 500 and the Nasdaq both managed to eek out gains. Gold was also flat as the precious metal finished the week at 1,255/oz. However, the big winner on the day was oil, which surged more than $2.55 a barrel to finish the day just above to $79 mark. The flat market was highlighted by a banking overhaul bill which ended up being far less imposing than many had feared. "The bill could have been a lot worse," said Alan Valdes, vice president at Hilliard Lyons in New York. "It's a bill we can live with." [see G-20 Summit, Reform Bill Put Financial ETFs In Focus]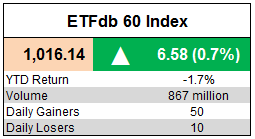 The ETFdb 60 Index, a benchmark measuring the performance of asset classes available through exchange-traded products, headed higher by 6.58 points, or 0.7%. The gain on the day was somewhat disappointing considering that winners outnumbered losers by five-to-one.
One of the biggest losers in the ETFdb 60 was VXX, which sank by 2.2% to finish out the week. This came as markets remained steady despite sweeping legislation to the financial sector; the S&P 500 traded in a range of less than 20 points for the entire day. Despite today's loss, VXX is up 8.6% on the week as markets sank across the board on continued fears over the health of the global economy.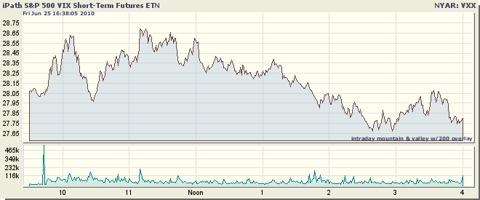 One of the biggest gainers in the ETFdb 60 was the United States Natural Gas Fund (NYSEARCA:UNG), which surged higher by 3% in Friday trading. This came as the Commerce Department reported that the U.S. economy grew at a 2.7% annualized pace in the most recent quarter; traders looked to a storm developing in the Gulf which could potentially disrupt gas deliveries. A brewing storm could become a tropical depression before it reaches Mexico's Yucatan Peninsula in a couple of days. The system has a 60% chance of becoming a storm during the next 48 hours, the U.S. National Hurricane Center said.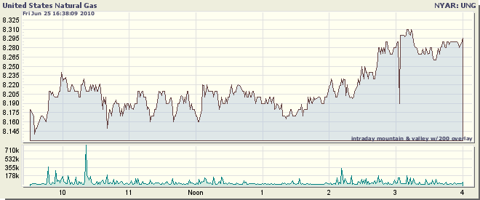 Disclosure: No positions at time of writing.