ExxonMobil (NYSE:XOM) is still one of my favorite large-cap oil- and gas plays for 2014 and beyond. One thing I really like about ExxonMobil is simply the size of its business. ExxonMobil is the largest energy company by market capitalization and it is hard to imagine an energy landscape 50 years from now where ExxonMobil is not playing a dominant role. From Canada to Russia and China to Australia, ExxonMobil has production assets distributed across the globe to satisfy the ever increasing hunger for fossil fuels. With favorable long-term demand drivers, a reasonable valuation, a good dividend yield and a Warren Buffett endorsement, ExxonMobil seems to be a good bet on prospective energy demand growth.
Share performance
At the end of 2013 and at the beginning of 2014, ExxonMobil shortly managed to surpass the $100 level before falling back substantially when the company reported lower y-o-y upstream- and downstream earnings for the fourth quarter. ExxonMobil was not the only company that consolidated heavily as oil- and gas majors presented their results. In any case, the drop in share price was a good buying opportunity and I recommended ExxonMobil aggressively as oil- and gas companies sold off at the end of January.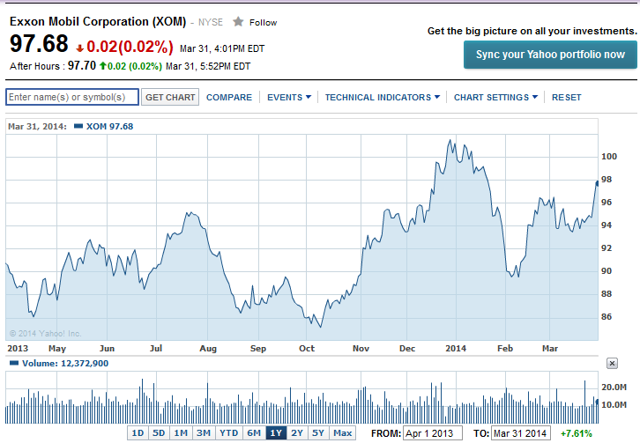 (Source: Yahoo Finance)
While ExxonMobil has managed to recoup some of its losses incurred in January, the company still lags its closest US competitors over a five-year performance measurement period. Since my investment approach is contrarian, I am always attracted to the weakest performer in a sector. This might be controversial, however, relative underperformance also implies above-average recovery potential.
Over the last five years ConocoPhillips (NYSE:COP) gained 118%, Chevron (NYSE:CVX) 69% and ExxonMobil only 39%.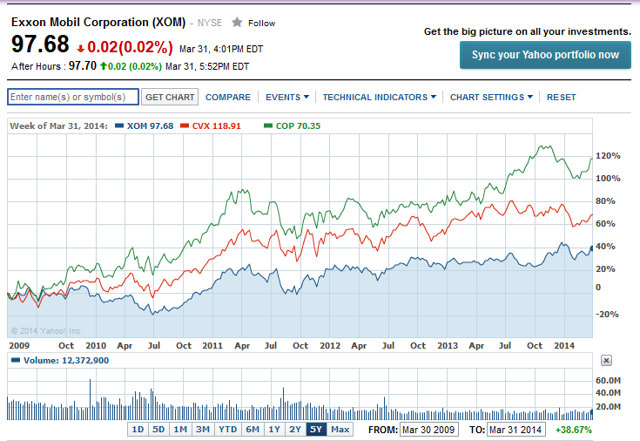 (Source: Yahoo Finance)
Long-term demand growth
ExxonMobil forecasts global energy demand to increase by 35% until 2040 (see chart below) which clearly should benefit the largest player in the arena. Long-term demand trends (emerging market population growth, higher energy per capita consumption) are convincing reasons to purchase ExxonMobil for a long-term oriented portfolio that accentuates both capital appreciation and income generation.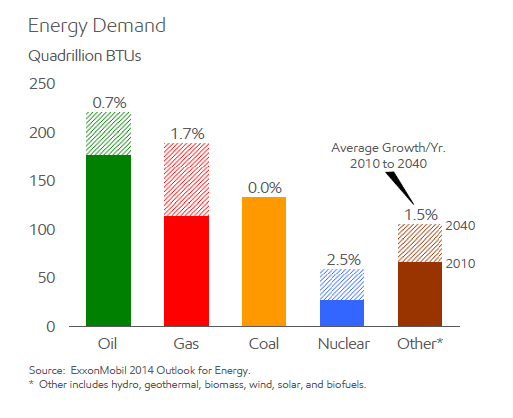 (Source: ExxonMobil 2014 Analyst Meeting Presentation)
Market valuation
From a valuation point of view, ExxonMobil is not the cheapest company in the large-cap oil- and gas sector, but is certainly an attractive investment candidate for long-term oriented investors who want to get exposure to a diversified energy player. ExxonMobil presently trades at only 12.87 times forward earnings (equivalent to an earnings yield of 7.8%) and at an 11% premium to the peer group average P/E ratio of 11.57x.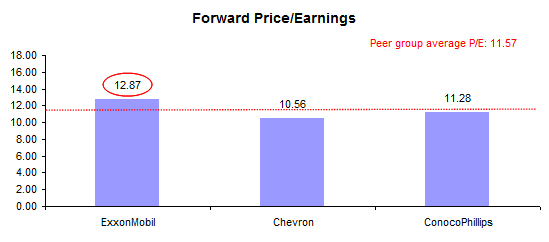 (Source: Achilles Research, Finviz.com)
Dividends
ExxonMobil pays investors a quarterly dividend of $0.63 per share ($2.52 per share annually) which equates to an annualized forward dividend yield of 2.58%. Both Chevron and ConocoPhillips exhibit higher dividend yields of 3.36% and 3.92% respectively.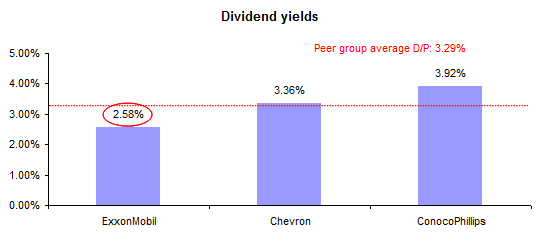 (Source: Achilles Research, Finviz.com)
A summary valuation table containing premiums and discounts to the respective peer group average ratios is provided below:

(Source: Achilles Research, Finviz.com)
Conclusion
ExxonMobil is still a great bet on a secular increase in fossil fuel demand. The company plays a dominant role in key energy markets around the world and has substantial scale advantages. Facing strong demand growth trends in emerging markets, ExxonMobil should be a primary beneficiary of higher oil prices. At less than 13x forward earnings and with an initial dividend yield of 2.58%, ExxonMobil makes an attractive value proposition for long-term investors who look for recurring cash flow and promising capital appreciation prospects. In addition, ExxonMobil got the seal of approval from Warren Buffett when his investment company Berkshire Hathaway (NYSE:BRK.A) purchased a $3.7 billion stake in the oil- and gas major back in 2013. Short-term momentum and positive economic news could drive ExxonMobil quickly above the $100 mark. Long-term BUY.
Disclosure: I have no positions in any stocks mentioned, and no plans to initiate any positions within the next 72 hours. I wrote this article myself, and it expresses my own opinions. I am not receiving compensation for it (other than from Seeking Alpha). I have no business relationship with any company whose stock is mentioned in this article.