As fundamentally wrong as it is, my bullish thesis on Bank of America (NYSE:BAC) was shot through its nascent stages the day I penned an article simply advocating potential investors to push aside their legal woes - which I argued would eventually be sorted out - and look at the performance of the bank under Brian Moynihan.

In that article, I concluded:
In addition, I'd argue it's a forward thinking move to invest in Bank of America here. After all of this legal mess wraps up (which will probably be in the not-too-distant future), investors who will presumably have been benefiting from Bank of America's mortgages and housing growth (as long as the housing market continues to grow) will also benefit from a substantial reduction in legal costs; causing Bank of America's profits to likely receive a boost.

I'm ignoring the legal woes and remain bullish on Bank of America. I wish all investors on both sides of the coin the best of luck.
Here we are, about 10 months since that article was published. The bank, in the last year alone, has been trading up over 41%, and has been one of the stocks to buck the pedestrian year the indices are having for 2014, returning 10.5% to its shareholders this year alone.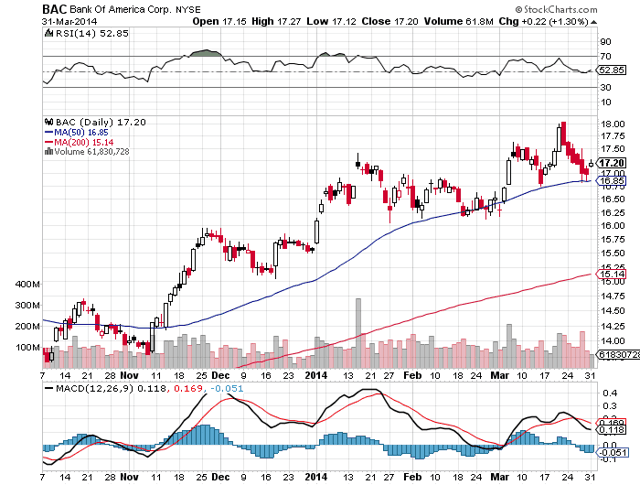 Since then, the bank has settled its biggest suit - one that relieves them of potential liability stemming from the residential mortgage backed securities from the 07-08 crisis. I wrote about this days ago, while predicting Bank of America to eventually blow through $20/share:
Sure, it's a costly settlement. However, with this in the rear view, money that was waiting on the sidelines should start to inch its way back into the bank.

The bank said that the settlement is going to reduce 1Q 2014 income by $3.7 billion, which equates to $0.21/share. BAC will be reporting these results on April 16.

But, the bigger picture here is that the bank is starting to move in the right direction. Yes, it's going to take some serious work to continue to reduce the amount of common outstanding, but there's nothing suggesting that the bank won't be able to do it.
Also, in the midst of settling that case, the bank had been settling all different types of satellite cases related to the subprime crisis left and right. The bank's legal department has been busy and the bank has paid for it - but every case that's settled means one more that they don't have to ever return to and deal with again.
So, you can imagine the April-fools-esque chagrin on the faces of Bank of America shareholders when news of a new class action suit came to light over the last 24 hours. Seeking Alpha reported early on Tuesday morning:
A group of investors from across the U.S. and Caribbean have filed a class-action lawsuit against 12 banks for allegedly colluding to manipulate currency rates.
The firms being sued include Bank of America, Barclays (NYSE:BCS), Citigroup (NYSE:C), Credit Suisse, Deutsche Bank (NYSE:DB), Goldman Sachs (NYSE:GS), HSBC (NYSE:HSBC), JPMorgan (NYSE:JPM), Morgan Stanley (NYSE:MS) and RBS (NYSE:RBS).
The investors include city and state pension plans such as the City of Philadelphia and the State-Boston Retirement System.
The suit adds to multiple investigations by international authorities into forex manipulation, the latest being the Hong Kong Monetary Authority.
I read some of the details on the case and simply decided to file it along with where I've filed all of the supplemental cases from the subprime crisis: in the "ignorance is bliss" section. Class actions are a fact of life for public companies, and while the charges here should be taken seriously, there isn't anything groundbreaking that this suit is bringing to light. Additionally, the liability is spread out over several banks, and doesn't just lie with Bank of America.
The more I think about BAC's legal woes, what they're going to cost the company, and how it could affect me as a shareholder, the more I start to miss the bigger picture. The big picture is really what's important here, and the big picture says to me:
1. The bank is going to be just fine in the long-term.
2. All of these suits are going to be settled eventually; the worst of them have already passed.
3. Litigation is simply part and parcel with being a public company - not to mention one with assets in the trillions.
Thus, my investment thesis for Bank of America remains intact and relatively unchanged in the light of this class action suit being announced. The bank trades at an attractive P/E compared to its peers, continues to be aggressive with its cost control, and is running lean and mean under the leadership of Brian Moynihan.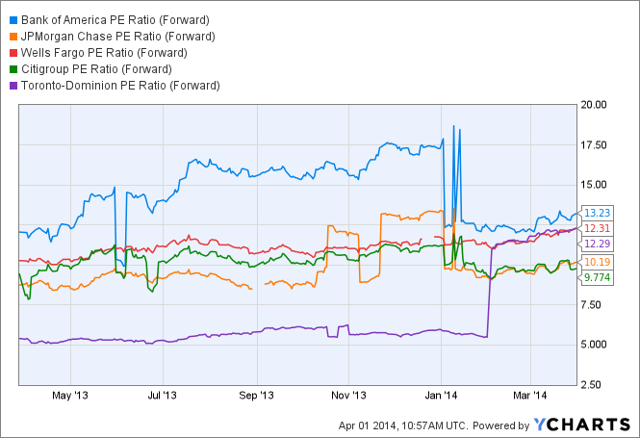 BAC PE Ratio (Forward) data by YCharts
Investment thesis: Brian Moynihan has done an exemplary job at the helm of this company. He joins the list of CEOs that have my trust, until they do something to lose it. I continue to remain long Bank of America and could potentially add common or warrants on any dip. I realistically see this stock through $20 by the end of the year and am projecting further dividend increases and buybacks in the coming years. Best of luck to all investors.
Disclosure: I have no positions in any stocks mentioned, and no plans to initiate any positions within the next 72 hours. I wrote this article myself, and it expresses my own opinions. I am not receiving compensation for it (other than from Seeking Alpha). I have no business relationship with any company whose stock is mentioned in this article.