The big news in my hometown is BMW (BMW.F). Last week, the German-based automotive manufacturer announced that it was investing an additional $1 billion into the existing Spartanburg, SC plant in order to pave the way for a new model in the SUV lineup - the BMW X7.
The company said that it's investing additional capital to create new production capacity - which will enable the company to compete against the likes of the Mercedes GL Class, with prices starting at $63,000. The announcement of the BMW X7 now brings BMW SUV offerings up to six unique models: the BMW X1, X3, X4, X5, X6, and now X7. All but the X1 are built in the U.S., at the Spartanburg, SC plant.
According to BMWBLOG, the plant currently employs 8,000 people, and with the addition of the X7 line, employment will increase to 8,800. BMW says the extra production capacity will allow the company to increase annual production from 300,000 to 450,000. This is a 50% production capacity increase, with only an additional 10% to the workforce.
The Spartanburg-based BMW plant has been open since 1994, with 2.6 million vehicles manufactured, and total investment in the plant of a staggering $6.3 billion since inception. BMW exports approximately 70% of all production at the plant to 140 countries throughout the world.
According to CNNMoney, the expansion will increase the capacity of the BMW plant to 450,000 by the end of 2016. With the expansion, the plant is set to overtake BMW's largest plant, which is currently outside of Munich and builds about 340,000 cars a year.
What REIT Should Benefit The Most From This News?
Having grown up in the Greenville-Spartanburg area, I have witnessed the evolution of a former textile town. Once dominated by Spartanburg-based Milliken & Company (the largest privately-held textile and chemical manufacturer in the world), the town has transformed into a diverse economy made up of many well-recognized firms, such as Michelin, Flour, Denny's (NASDAQ:DENN), and GE's (NYSE:GE) Gas Turbine and Wind Tunnel operations.
While many REITs, such as Kimco Realty (NYSE:KIM), DDR Corp. (NYSE:DDR), Healthcare Trust of America (NYSE:HTA), Simon Property Group (NYSE:SPG), and CBL & Associates (NYSE:CBL) have tapped into the local economy, there is one name that sticks out the most.
Chambers Street Group (NYSE:CSG), a predominately single-tenant landlord, owns a number of large "big box" industrial facilities along the Interstate 85 corridor in Spartanburg County. The Princeton, NJ-based REIT purchased a large portfolio from area developer Johnson Development Associates in 2007, and Chambers owns a collection of assets in the Greenville-Spartanburg market totaling around 2.8 million square feet (valued at around $150 million).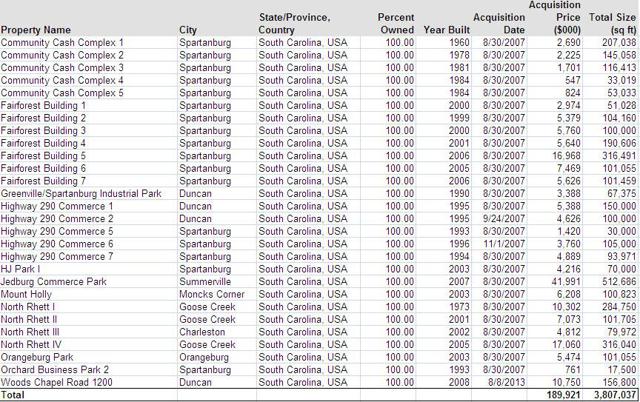 As BMW grows its operations in the area, Chambers is likely to benefit from the expansion needs of many of the company's current tenants, as well as new suppliers moving or relocating. Chambers has amassed enough scale, such that the company can benefit from its current relationships and leverage off its experience in the local marketplace.
Chambers has a strong presence in Upstate South Carolina, and the company has around 5.7% of exposure in the Palmetto State. In addition, Chambers Street has built a global platform that consists of a diversified portfolio of 129 properties and over 35.3 million square feet.
In the U.S., Chambers Street owns 114 properties in 20 states.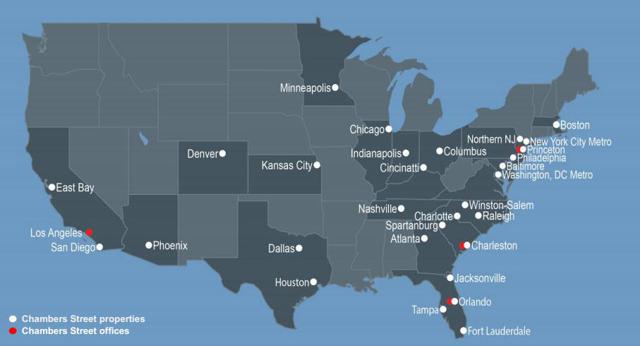 In Europe, Chambers Street owns 15 properties located in France, Germany, and the United Kingdom.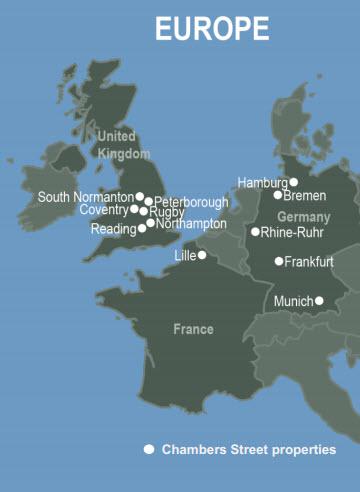 Today, Chambers Street's combined portfolio consists of 129 office and industrial properties valued in excess of $3.3 billion.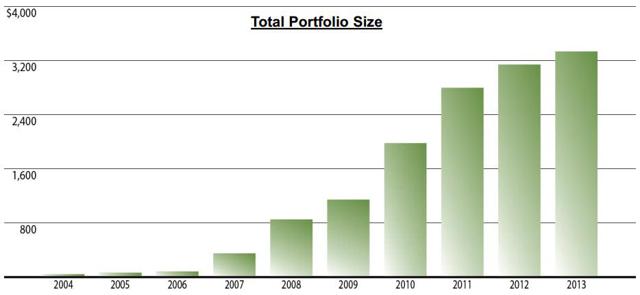 Now Let's Check Under The Hood
Much like BMW, Chambers Street appears to be operating on all cylinders. The company has built out a strategically-balanced portfolio that consists of 72 industrial properties, 56 office properties, and 1 retail property. The overall portfolio is 96.5% leased, and the average lease duration is around 7 years.

Chambers Street's portfolio includes many nationally recognized tenants in 24 distinct industries. This well-balanced model limits concentration risk, as no industry represents more than 14% of annual revenue.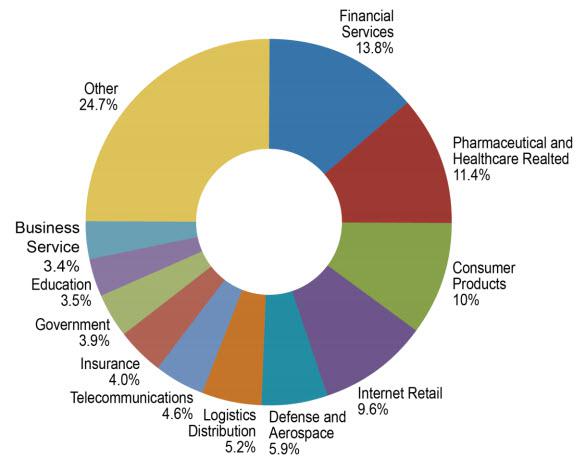 Also, Chambers Street focuses on high-quality, creditworthy investments, as more than 55% of the tenants are investment-grade rated.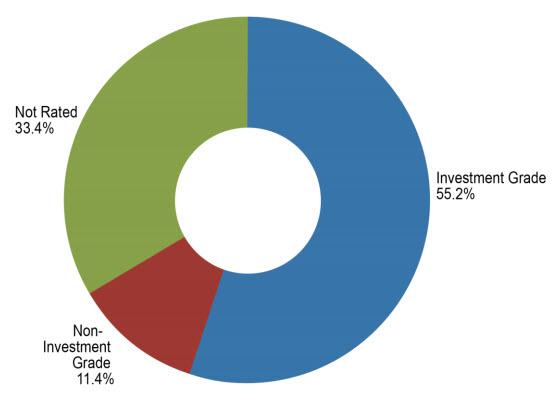 Here's a snapshot of Chambers Street's Top 15 Tenants: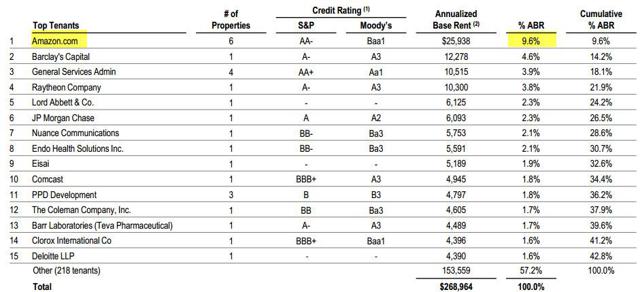 How Does This High-Quality REIT Perform?
Chambers Street, formerly a non-traded REIT, listed shares on May 21st (2013) at $10.00, a day before the Fed's taper news, and then the stock price fell by more than 28% in about 90 days to a low of $7.17. However, since that time, the shares moved back up to $9.50 (on October 25), allowing time for the market-timers to capitalize on a quick buck (a well-timed trade could have produced a 30% return in 60 days).
I bought shares in Chambers Street at a cost of $7.39 and at $7.67, and I am considering adding to my position now. Chambers Street is trading at $7.77, and I believe this stock is trading below fair value.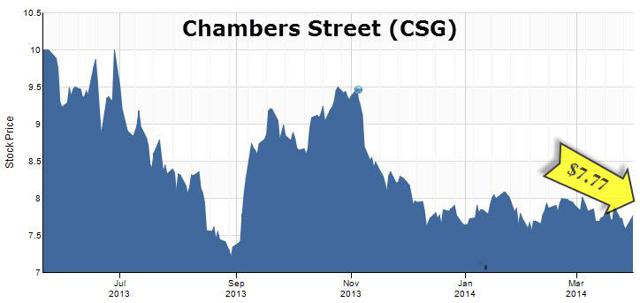 Chambers Street has a Price-to-Funds from Operations (P/FFO) multiple of 11.7x, indicating that the REIT is trading at a discount to the peer group.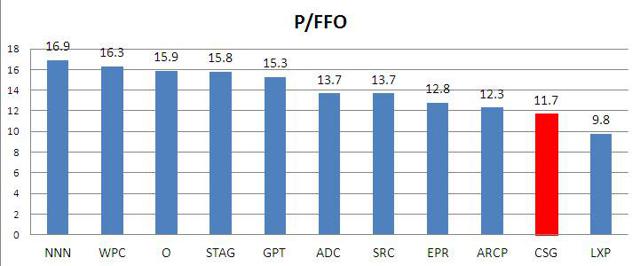 Upon review of the trading history since the NYSE listing in May, Chambers Street's P/FFO has become relatively meek - an indication that institutional investors have not responded to the discount offered by Mr. Market. Accordingly, a large part of the valuation can be attributed to the fact that Chambers has not yet been included in the RMZ index.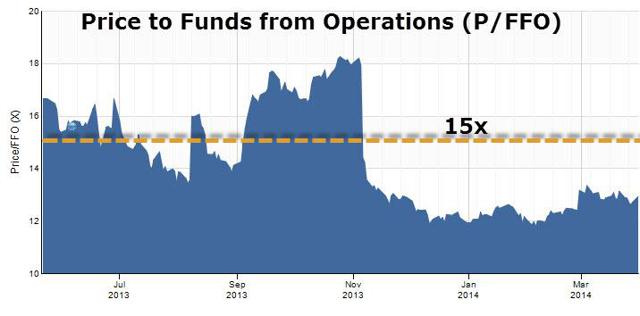 Based on market capitalization, Chambers Street is still a relatively small REIT (with a market cap of $1.838 billion). That makes it difficult to get "shelf space" when the headline stories are usually American Realty Capital Properties (ARCP), Realty Income (NYSE:O), and W.P. Carey (NYSE:WPC).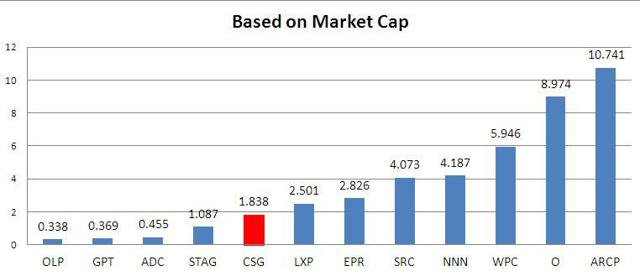 Chambers Street has modest trading volume:

The Financial Drivers Are Strong
Chambers Street maintains modest leverage as an investment-grade, primarily unsecured borrower.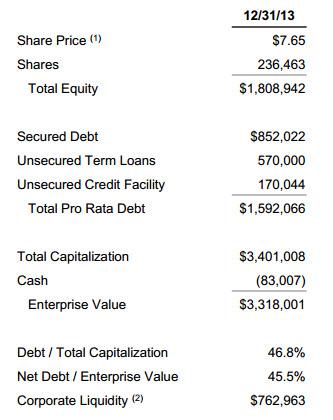 Chambers Street has a well-laddered debt maturity schedule, with over 5 years of weighted average remaining term.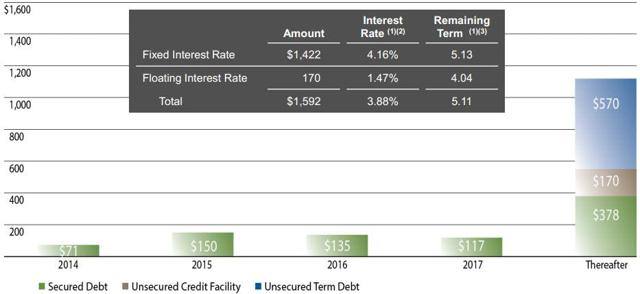 Chambers Street has a well-supported monthly dividend (FFO payout ratio is 78%).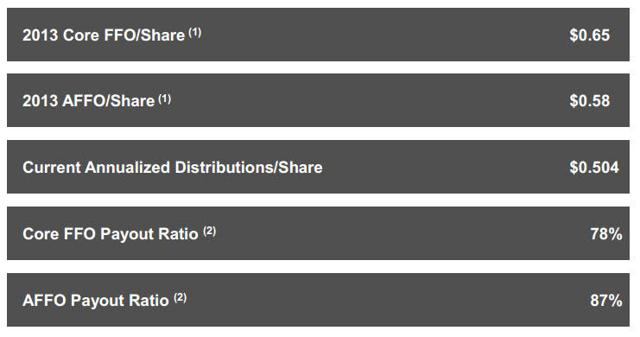 Chambers Street's current dividend yield is 6.49%. That's an attractive yield, and based upon the peer group, I believe this REIT is one of the best Net Lease opportunities today. I'm also long ARCP; however, Chambers Street offers a more simplistic value proposition that does not consist of shopping center overhang (see my article on ARCP here).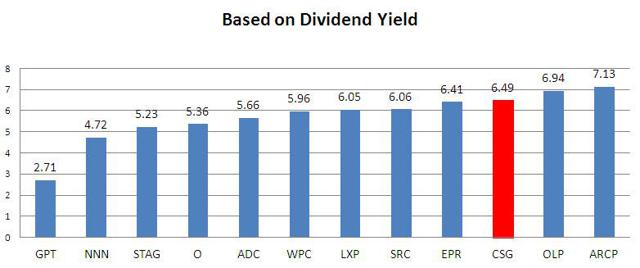 In addition, Chambers Street has a robust pipeline, and given management's experience in the Industrial sector, I expect to see around $350 million in deals in 2014 (Chambers has not announced guidance for 2014). The recent investment-grade ratings (from Moody's and S&P) will also benefit capital raising activities, as Chambers continues to reduce secured debt obligations.
Sometimes, it's great to find deals that "fly under the radar". One reason BMW selected Spartanburg, SC as its US manufacturing plant was because the German auto giant could form strong ties with a skilled and incentivized workforce and build out a "world-class" operation.
That plan is working for BMW. Likewise, that plan should work for Chambers Street. I will continue to expand my position in the stock, and I believe that shares could top $8.50 later in the year. I'm not looking for 20% returns with Chambers Street - although I am betting on Gramercy for that growth. I'm looking for steady dividends (by the way, Chambers Street pays monthly dividends) and the potential for outperformance. Good luck, keep focused on the "margin of safety", and keep your eyes peeled for the "Ultimate Dividend Machine".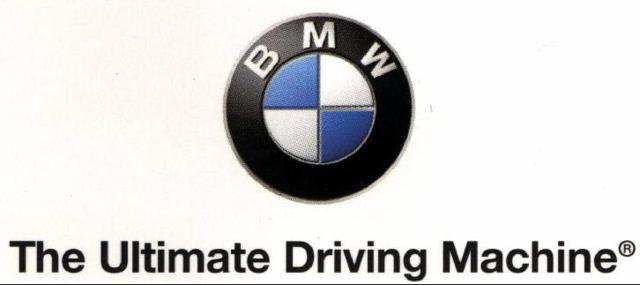 For more information on my "sleep well at night" ("SWAN") REIT picks, check out my newsletter HERE.
Other REITs mentioned: (NYSE:STAG), (NYSE:NNN), (NYSE:SRC), (O), (NYSE:EPR), (NYSE:ADC), (NYSE:MNR), (ARCP), (NYSE:GPT), (NYSE:LXP), (NYSE:OLP), and (WPC).
Sources: SNL Financial, BMWBLOG, and Chambers Street Investor Presentation.
Disclaimer: This article is intended to provide information to interested parties. As I have no knowledge of individual investor circumstances, goals, and/or portfolio concentration or diversification, readers are expected to complete their own due diligence before purchasing any stocks mentioned or recommended.
Disclosure: I am long O, DLR, VTR, HTA, STAG, UMH, CSG, GPT, ARCP, ROIC, MPW, HCN, OHI, LXP, KIM. I wrote this article myself, and it expresses my own opinions. I am not receiving compensation for it (other than from Seeking Alpha). I have no business relationship with any company whose stock is mentioned in this article.