By Jared Cummans
On a day that saw most equity indexes finish slightly up, Research in Motion (RIMM), maker of the popular BlackBerry phone, saw its share price crushed by nearly 10%. The steep decline came after the company confirmed investors' worst fears with its earnings report: the runaway success of Apple's (NASDAQ:AAPL) iPhone has muddied the outlook for the company and dialed up competition in the already intense smart phone market. RIMM pulled down the entire technology sector of Canada's Stock Exchange by 1.2%, which plummeted to close out the week.
RIMM's big drop came despite the fact that the company reported increased revenues of 24% for the first quarter of 2010. The company predicted even higher revenues for next quarter, and announced that it had recently shipped its 100 millionth BlackBerry. But rather than gaining market share, RIMM continues to lose ground in the smartphone world to Apple and other firms, causing investors anxiety over the company's future.
RIMM has a plan in the works for a smartphone that promises to closely rival the iPhone, although the product has yet to hit the market. After the big dip on Friday, it seems that the company's fate is increasingly tied to the success of the new phone. The tremendous early success of the latest iPhone has boosted Apple, but weighed on the stocks of companies trying to compete for second place in the market. Despite a few speed bumps just days after its release–customers are complaining of failing reception if the phone is held a certain way, to which Steve Jobs replied "just avoid holding it that way" – the iPhone threatens to grab an even bigger market share from competitors.
Wireless HOLDRS Feels the Pinch
In the ETF world, RIMM's Friday freefall had serious ramifications for several ETFs in the technology equities ETF category. But none were hit harder than the HOLDRS Merrill Lynch Wireless (NYSEARCA:WMH-OLD), which plummeted more than 3% to close out the week. WMH is one of the HOLDRS products offered by Merrill Lynch, meaning that its holdings are never rebalanced and it has a tendency to offer big concentrations in a handful of holdings. Unfortunately for WMH, it allocates about 12.3% of its assets to RIMM, which makes the BlackBerry maker its third largest individual component (Crown Castle (NYSE:CCI) and Qualcomm (NASDAQ:QCOM) combine to make up almost 50% of assets).
If Apple is able to extend its iPhone dominance, WMH could be in for a rough ride; the underlying holdings reads like a Who's Who of smartphone developers. Other holdings include Motorola (MOT), Nokia (NYSE:NOK), Verizon (NYSE:VZ), and Deutsche Telelom (DT). The fund has struggled this year, losing over 16% in 2010.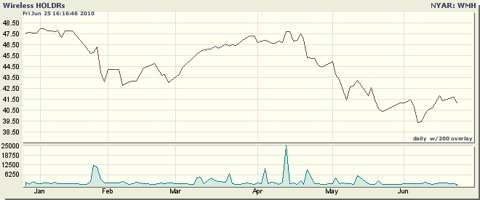 (Click to enlarge)
Disclosure: No positions