The Hot IPO
On March 26, Versartis (VSAR) completed its initial public offering as it sold 6.9 million shares of its common stock at an offering price of $21 per share. The endocrine-focused biopharmaceutical company raised approximately $132.4 million after deducting discounts to the underwriter along with commissions and estimated expenses related to the offering. The market responded well to the latest biotechnology offering. As of the closing price of $30.05 on March 31, Versartis traded at a 43% premium to its IPO offering price.
Company And Market Overview
Versartis is a developing biopharmaceutical company looking to address the treatment of growth hormone deficiency [GHD]. The company is largely focused on a single product candidate found in VRS-317. VRS-317 is a new chemical entity which combines a proprietary in-licensed half-life extension technology (called XTEN) with the same recombinant human growth hormone [rhGH] amino acid sequence currently used in approved rhGH products. This technology hopes to enable less frequent administration of the product as it extends the residence time of the candidate in the bloodstream.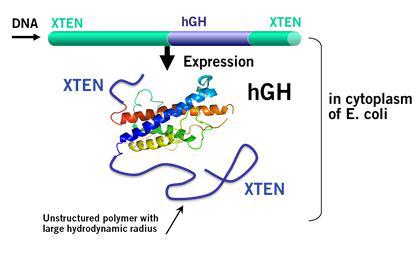 (Image Source)
GHD is a chronic disease with multiple causes. It largely affects two distinct patient groups found in pediatric patients and adult patients. However, the rhGH treatment options available to both groups are currently the same, and Versartis also expects to treat both groups using the same product candidate. Current rhGH products require daily injections over multiple years. However, Versartis is currently conducting the Phase 2a stage of pediatric GHD clinical trials with a dosing regimen that evaluates weekly, semi-monthly, and monthly administrations.
The Initial Target
According to the Form S-1 filed by Versartis, the global annual sales of marketed rhGH products in 2012 reached $3 billion. This trend has been growing approximately 6% per year and Versartis expects for this market to grow to over $4 billion by 2018. The first targeted indication for VRS-317 is pediatric GHD. Versartis expects that this represents a $1.5 billion existing market opportunity, of which Japan and the United States make up $450 million to $550 million of the daily rhGH market.
Additionally, Versartis expects that it may develop VRS-317 for other indications where daily rhGH products are currently approved. This includes the conditions such as adult GHD, idiopathic short stature, and Turner Syndrome. Combined, these three conditions represent approximately 30% of the global rhGH market.
Versartis Needs To Prove It Can Disrupt A Crowded Market
The key advantage of VRS-317 will ultimately lie in its ability to limit administration frequency. However, this will not mark the first time that sustained release formulations of rhGH have been attempted. Indeed, "many attempts" have been made in the past according to the company's Form S-1.
One cited example was that of Nutropin Depot, a long-acting form of rhGH developed by Genentech and Alkermes. The product was initially approved by the FDA in 1999 but was subsequently withdrawn from the market by Genentech and Alkermes in 2004. This was due to the significant resources required to continue manufacturing and commercializing the product. After citing this example in the same Form S-1, the company provided the following risk disclosure statement:
"Additional attempts at sustained release formulations have not yet led to globally marketed products, due to manufacturing, regulatory, efficacy and/or safety reasons. Even if we obtain all requisite regulatory approvals, no assurance can be given that VRS-317 will achieve commercial success or market adoption."
While understandably serving as a blanket disclosure statement, the claim does highlight the risk of entering into an already attempted market space. It is noted that rhGH manufacturers have already attempted to develop long-acting products using microsphere, PEGylation, fusion and alternative delivery technologies. Yet each of these approaches have not been successful due to regulatory, safety, efficacy, or manufacturing issues. Despite these failures, a successful product by Versartis could provide a significant advantage in capturing a portion of the available market.
Nevertheless, Versartis expects to steal market share away from an array of large competitors. The rhGH market opportunity is currently divided between many established companies, all of which have significant resources and branded reputations when contrasted to Versartis. The top three competitors include Novo Nordisk (NVO), Pfizer (PFE), and Eli Lilly (LLY). These three names alone account for 66% of the current market. As an expression of clout, these three names alone have a combined market capitalization of almost $389 billion. The fragmented $3 billion rhGH market can be found in the chart below.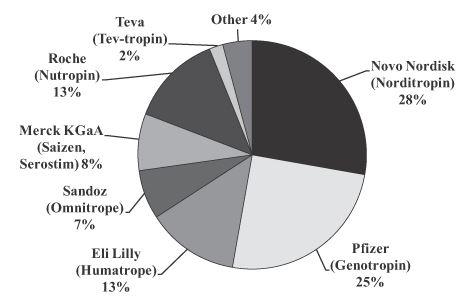 (Image Source)
A Lack Of Revenue And Product Diversity
Versartis was founded in 2008 and currently remains a development stage biopharmaceutical company. It's lead rhGH candidate VRS-317 serves as the only known potential product on the horizon for the Versartis. VRS-317 is currently undergoing Phase 1b/2a clinical trials. As a result, the company does not have any products that have gained regulatory approval and is therefore not generating any revenue. This places investors in a very high-risk scenario where the company's value remains dependent on a single pathway to success.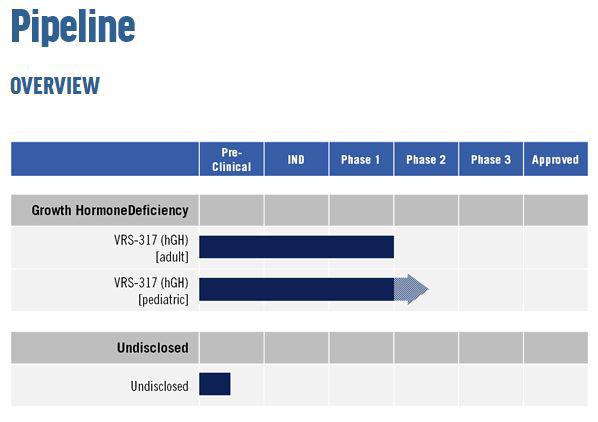 (Image Source)
More importantly, the current phase of the clinical trials suggests that several more years will be needed before the regulatory approvals can be granted. Additionally, each clinical trial phase will include expenses that are likely to increase as the trial size expands in scope. All of this places may increase pressure over the long-term for investors as the company seeks to meet its endpoints while maintaining a solvent balance sheet.
A Look At The Company's Financials
Versartis now trades with a market capitalization of approximately $700 million as of March 31. Based on the company's filing found here, Versartis had total assets of $78.2 million when considered on a pro forma basis as of December 2013. At the time, the company had total cash and cash equivalents of $78.2 million leading to a working capital of $75.3 million. With the closing of the IPO and the full exercise of the over-allotment option, Versartis added another $132.4 million to its balance sheet bringing the company's working capital close to $200 million.
Based on the Form S-1, Versartis has seen its total annual operating expenses grow from $12.9 million to $19.3 million from 2012 to 2013. This growing trend is likely to continue over the coming years as the clinical trials expand. From December 2008 to December 2013, Versartis has endured total operating expenses of $56 million. In light of the recent IPO, Versartis appears to be well-capitalized in the present as it continues to progress through its clinical trials. There appears to be no need for dilution any time soon despite the fact that the company will have no product revenue for some time.
Final Thoughts
Development stage biopharmaceutical companies like Versartis require significant amounts of time and money. These companies also carry a high amount of investor risk as a single clinical trial result can make or break the business outlook. The current three- and six-month VRS-317 results observed in the ongoing Phase 1b/2a clinical trials will ultimately need to show a similar correlation over a twelve-month Phase 3 clinical trial. Understandably, Versartis is still in the early part of its clinical phases.
Versartis remains in the fortunate position of being well-financed in the present. This is largely due to the success of its recent IPO. However, the risk to investors is highlighted by the fact that Versartis has a single product candidate in its pipeline. The company is also attempting to penetrate a well-explored market area filled with significant competition. For Versartis, it remains very early to tell whether the company's future value can justify its current market premium in light of the risk still embedded in the company's primary candidate.
Disclosure: I am short VSAR. I wrote this article myself, and it expresses my own opinions. I am not receiving compensation for it (other than from Seeking Alpha). I have no business relationship with any company whose stock is mentioned in this article.