The Industrial and Commercial Bank of China (ICBC), China's biggest lender by assets, said on Thursday, March 27th, that its net profit rose 10.2 percent last year, amid a "still complicated" global economic situation.
The bank, a symbol of the nation's financial might, reported in a filing to the Hong Kong Stock Exchange that its 2013 net profit to be 262.97 billion Yuan ($42.32 billion), compared to 238.69 billion Yuan in 2012.
Once the world's largest bank by market capitalization, now the 3rd after Wells Fargo & Co. (NYSE:WFC) and JPMorgan Chase & Co. (NYSE:JPM), ICBC lost its title to WFC in July 2013.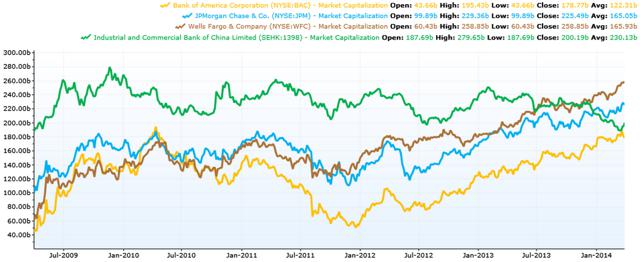 Source: Capital IQ
Profitability remains strong for ICBC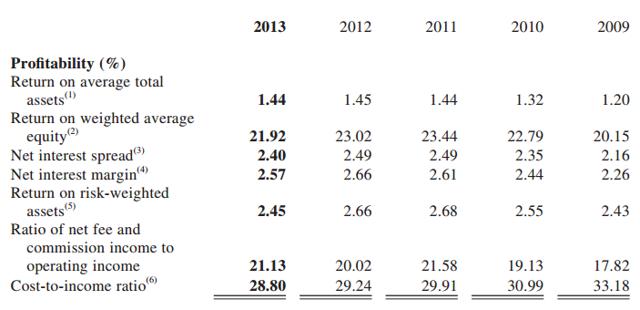 Source: ICBC 2013 Financial
ICBC's 2013 ROA tops JPM's, is pretty close to WFC's, and has been very stable over the past 5 years.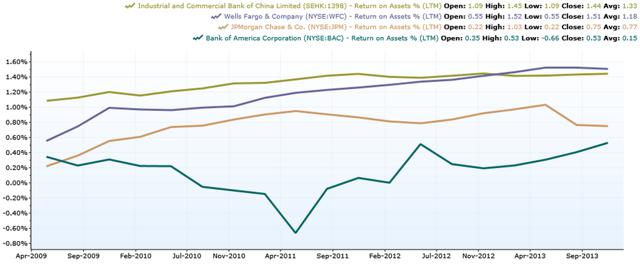 Source: Capital IQ
ICBC's 2013 ROE is as high as 22%, though coming down from previous highs. The ROE for the group of leading U.S. banks ranges from 11.34 % to 1.35 % (NYSE:BAC), all significantly lagging ICBC's performance.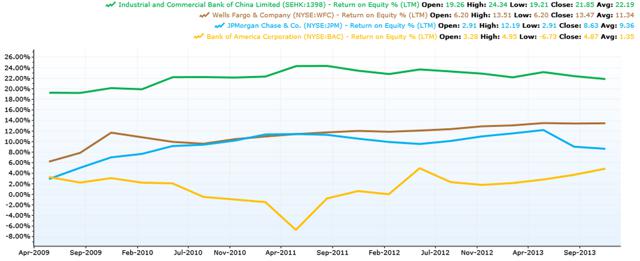 Source: Capital IQ
Capital Adequacy remains sound for ICBC

Source: ICBC 2013 Financial
In a league table compiled by UK's The Bankers magazine, in which global banks are ranked by Tier 1 Capital, ICBC moves from No. 3 a year ago to No. 1 on the back of a 15% increase in capital in 2012, according to The Banker's data. Last year's winner, Bank of America, falls back to third. JPMorgan Chase remains second.

Source: ICBC
ICBC trading at significant discount to global peers
From a valuation standpoint, ICBC is trading at a significant discount to WFC and JPM. It is trading at merely 0.95x P/B and 5x forward P/E.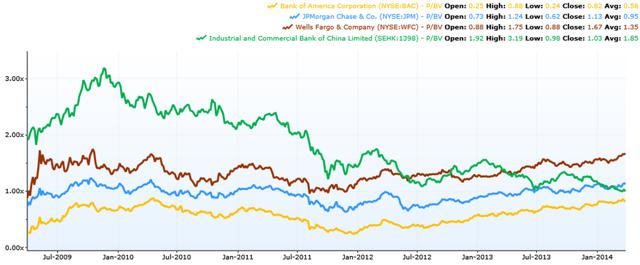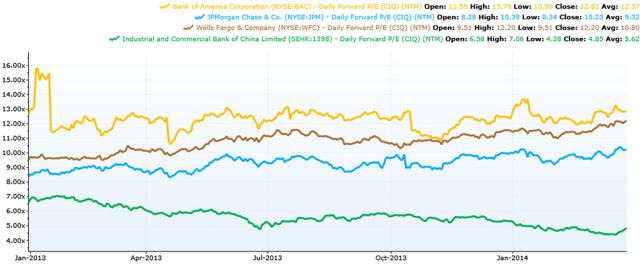 Source: Capital IQ
Cost of funds up; net interest margins stable
China experienced an unprecedented liquidity crunch in 2013. At one point in June 2013, the Chinese LIBOR (SHBOR) overnight rate hit 13%.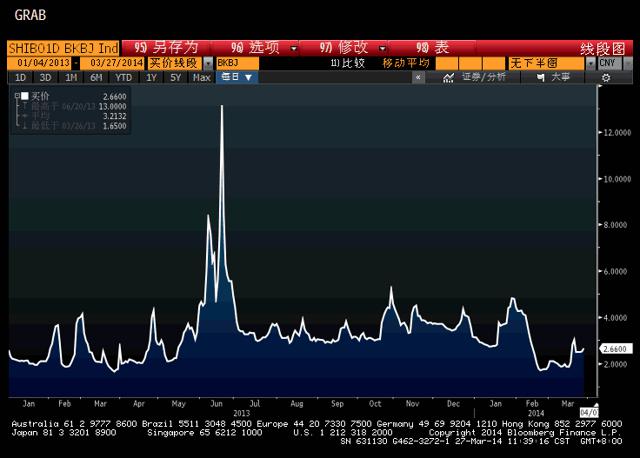 Source: Bloomberg
Interest liberalization and financial innovations such as internet-based money market funds also worked in driving up the cost of funds for Chinese banks. ICBC's total cost of total borrowing is almost 150 basis points higher than WFC's.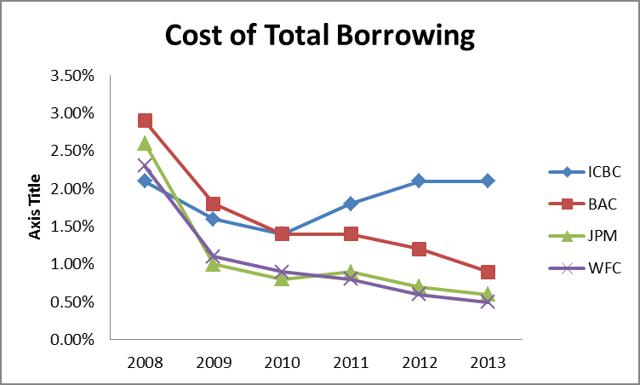 Source: CapitalIQ
However, thanks to the bank's high return on assets, the net interest margin is stable amid a tightened liquidity environment and spiking cost of borrowing.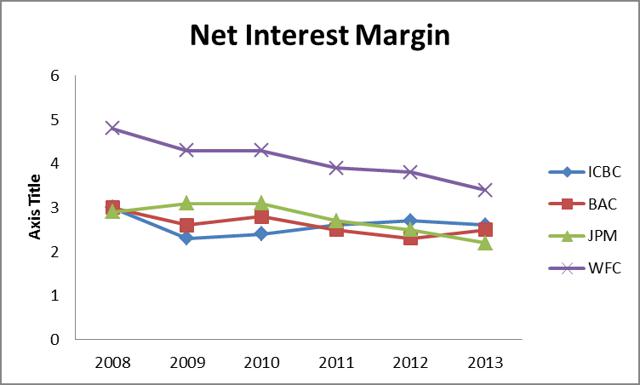 Source: CapitalIQ
Have the risks been exaggerated?
Chinese banks typically have a very different loan base than their U.S. peers; so does ICBC. Hence, it gives investors lots of reason to worry as China's GDP is indeed slowing down.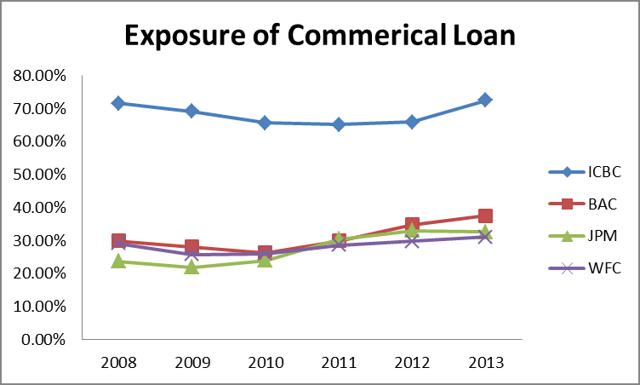 Source: Capital IQ
Concern over the banking sector's asset quality as China undergoes a prolonged process of destocking and remove excess capacity is the main reason investors are steering clear of major Chinese Banks. ICBC's latest NPL figure is 0.94%, up 0.09% from a year ago. To me it is a very optimistic figure as the NPL are expected to rise as the economy enters into a consolidation phase and slows down.

Source: ICBC 2013 Financials
Criticism for China's lenders began in 2008, when banks went on a lending spree to help steer the country through the global financial crisis. Investors predicted at that time that lenders will face a big jump in defaults. That prediction seemed to have come true in the third quarter, as bad loans for Chinese banks increased by the largest amount in eight years, but the number should be looked at from a wider angle - bad loans only make up less than 1% of industry-wide loans as China has made lots of efforts in the past 10 years to reduce NPL, especially within the big 5 state owned banks.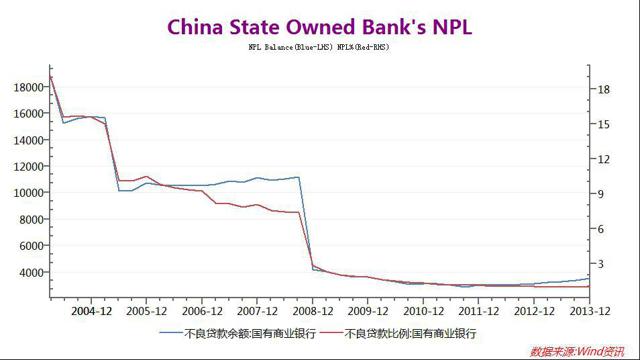 Source: Wind
Dividend yield still attractive
At its current valuation and pay out level, ICBC offers a stunning 7% dividend yield comparing to WFC's 2.44% and JPM's 2.67%.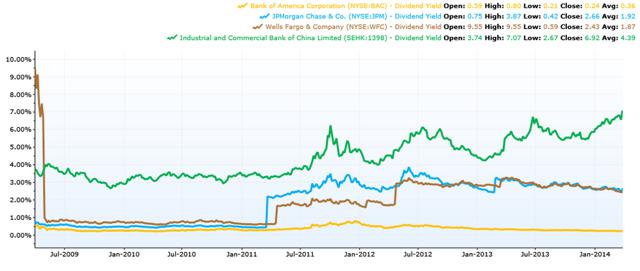 Source: Capital IQ
Disclosure: I have no positions in any stocks mentioned, and no plans to initiate any positions within the next 72 hours. I wrote this article myself, and it expresses my own opinions. I am not receiving compensation for it (other than from Seeking Alpha). I have no business relationship with any company whose stock is mentioned in this article.