Goldman Sachs estimates global mobile commerce (or m-commerce) will constitute nearly half of all e-commerce by 2018. E-commerce was conducted on desktop computers from the late 1990s until the late 2000s. After the invention of the smartphone in 2007, shoppers were freed from their desks and could spend money anywhere they had a wireless connection. Predictably, the share of m-commerce has exploded with the proliferation of mobile devices, and in 2014 the e-commerce that takes place on mobile devices is projected to be in excess of $204 billion.
The m-commerce in three easy pieces
So far e-wallets have been fragmented and difficult to implement for several reasons. First, wallets suffer from a chicken-and-egg problem: merchants won't adopt the necessary infrastructure if they don't perceive customer demand, but customers won't adopt the new technology if they can't use it with their favorite retailers.
Second, the technology isn't standardized: some wallets connect to specific hardware and others are purely software; some are intended for point of sale purchases and others for "pure" online mobile shopping; and the holy grail is one dominant channel that brings all buyers and sellers together in one interface. In the industry, these differences go by the labels remote-only, proximity-only and omni-channel.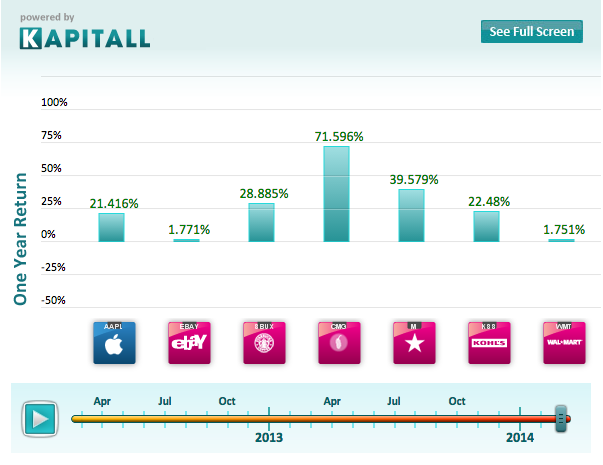 Click here to get more information on the retailers discussed here.
Proximity-only wallets, like Starbucks' [SBUX] proprietary app - the most used digital payment app in America - are used in-store at point of purchase, typically from your mobile device. These apps (Apple's [AAPL] Passbook is a proximity-only wallet) are predominantly for coupons, loyalty rewards, and store value card purchase and reloading.
Remote-only wallets, like Chipotle's (CMG) or Macy's (M), are accessible from many devices, and they allow users to order on-the-go and pick up their goods without standing in line.
Omni-channel wallets, which have generated the greatest buzz, combine the functions of proximity-only wallets and remote-only wallets. Ebay's (EBAY) PayPal service and Google's (GOOG) Google Wallet are omni-channel.
Mobile payments: the rub
Omni-channel wallets dominate the m-commerce discussion because reasonable people agree the greatest potential growth and profits will come from letting consumers store money electronically for purchases at many different vendors. But the devil is - as always - in the details, and when a disruptive technology comes to town, stakeholders want to make sure they don't lose what customer capital they've built over the years.
Both Visa (V) and Mastercard (MA) have a deep interest in moving to secure market dominance, but so far they haven't been able to fully leverage their existing users into internet-enabled m-commerce. Visa's V.me service is remote-only, limiting its use to merchants who adopt Visa's payment button on their desktop or mobile interfaces.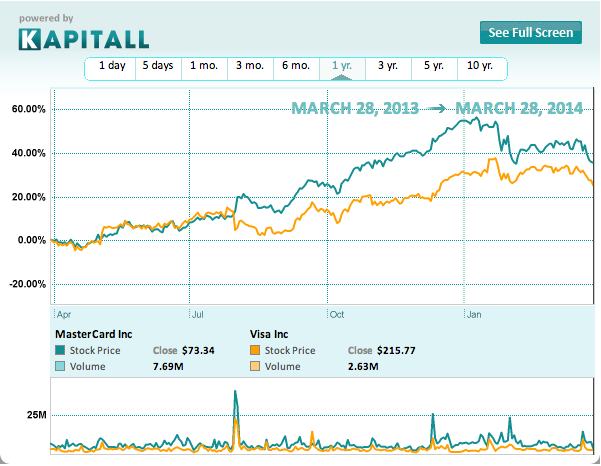 Click here to see more information on Mastercard and Visa.
Mastercard's MasterPass is omni-channel and as of this year offers an in-app option for merchants. It is also open-platform, so third-party merchants can design their mobile payment interfaces to interact smoothly with MasterPass. The strategy, according to Mastercard's Ed Olebe, MasterCard's group head of MasterPass Services, is to give retailers one multi-tool option for integrating mobile payments.
It is sure to draw the ire of Google and Apple, however, who are used to charging a 30% fee for those transactions. It will also be challenged by the Merchant Customer Exchange (MCX), a consortium of retailers led by WalMart (WMT) including ExxonMobil (XOM), Kohl's (KSS) and Best Buy (BBY) that boasts its mobile solution will be the industry winner because its members command $1 trillion of annual sales.
In Europe Vodafone (VOD), EE (a joint venture between Deutsche Telekom [DTE] and Orange SA [ORAN]) and O2 (Telefonika UK [TEF]) have launched a similar program called Weve with a similar goal: to provide an open source solution to the problem of m-commerce fragmentation. It is an elegant idea, if not yet a solution. Phone companies have long been in the business of connecting parties to a transaction, but it is unclear whether their stance as technological intermediaries will enhance their influence with consumers.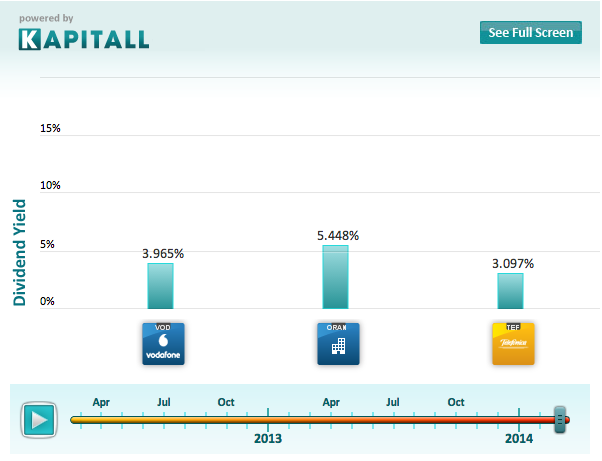 Click here to see more information on VOD, ORAN and TEF.
Conclusion
Where can investors put their money to benefit from the move away from credit cards and cash to pure m-commerce? It is probably too soon to tell. Though credit cards in the US have suffered from bad PR recently as the recent spate of security breaches testify, at least they never run out of battery just when you need to pay for an expensive dinner or a late night cab ride. And old fashioned paper money is still the most fungible of instruments.
Wait-and-see is probably the best approach for now. But when the sales clerk at your local store asks to see your phone after you reached for your wallet, pay attention. It may be the first ripple of the coming tsunami.
Disclosure: I have no positions in any stocks mentioned, and no plans to initiate any positions within the next 72 hours.
Business relationship disclosure: Kapitall is a team of analysts. This article was written by Will Kenton, one of our writers. We did not receive compensation for this article (other than from Seeking Alpha), and we have no business relationship with any company whose stock is mentioned in this article.