We are always happy to have worry in the markets because it is what lays the foundation for the next move higher. Every correction, no matter how minor, forces the weaker hands to abandon their positions in the market and move to cash. It is these same weak hands which then come back into the market to later push it higher with their buying.
With the latest argument that seems to be getting a lot of attention, whether to own growth or value, we are starting to see buying opportunities in some premier names. We like growth and value, but if we are being honest we love growth at a good value. The names we discuss today, especially the biotech names, seem to fit that description and deserve a look from readers.
Chart of the Day:
the next few days should be telling, and if we can continue this current rebound then those who worried will quickly rush back in to reestablish their positions. With the Nasdaq having broke above the 4,205 level today we think that the strength is real, but the economic data later this week will have a big say in where we go from here as well.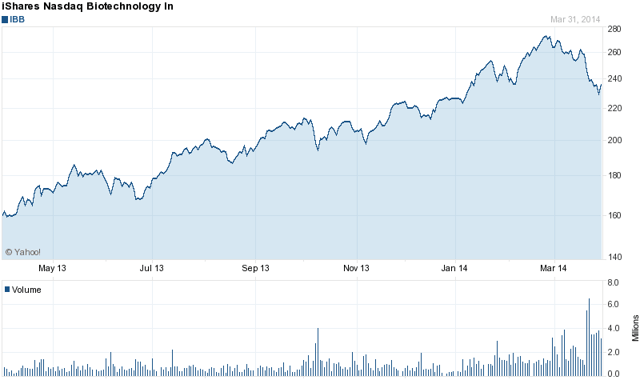 Source: Yahoo Finance
We have economic news today, and it is as follows:
ISM Index (10:00 a.m. EST): Est: 54.0 Act: 53.7
Construction Spending (10:00 a.m. EST): Est: 0.1% Act:0.1%
Auto Sales (2:00 p.m. EST): Est: N/A
Truck Sales (2:00 p.m. EST): Est: N/A
Asian markets finished mixed today:
All Ordinaries -- down 0.10%
Shanghai Composite -- up 0.70%
Nikkei 225 -- down 0.24%
NZSE 50 -- down 0.34%
Seoul Composite -- up 0.32%
In Europe, markets are trading higher this morning:
CAC 40 -- up 1.01%
DAX -- up 0.71%
FTSE 100 -- up 0.71%
OSE -- up 0.69%
Casino Stocks On A Run
Casino operators with exposure to Macau that is. The reports coming out of Macau indicate that gaming revenue was up 13.1% for the month of March. Las Vegas Sands (NYSE:LVS), Wynn Resorts (NASDAQ:WYNN) and MGM Resorts (NYSE:MGM) are all moving higher on the news after many investors and analysts had worried about the month of March due to the mid month numbers which came in weaker than expected. Even with some bad weather in the second half of March, gamblers came out and helped turn the month around for the operators.
A number of readers have disliked the fact that we are not bullish of the smaller American casino operators which have operations outside of Vegas, the regionals, or those with operations across the nation. There may be hidden value in those names, but after you find it as an investor you have to wait for others to find it as well and that is not always a sure thing. What is concrete at this point in time is that China's Macau is growing strongly and has managed supply, ensuring that the operators in the area can print money. Our view is that investors should still be looking to play the gaming stocks via names with exposure to Macau, with Las Vegas Sands and Wynn Resorts being our favorite names and MGM Resorts not that far behind.
Biotechs To Rebound?
There is a big debate about the biotech stocks and whether they can continue to be a market leader with current valuations. It is a statement which has us scratching our head every time we hear it as forward earnings are relatively cheap among the big biotech names and pipelines are stuffed with future blockbuster drugs. The entire growth versus value argument which has crept into the market should not be an issue for some of our favorite biotech names at these prices. We are specifically discussing Celgene (NASDAQ:CELG) and Amgen (NASDAQ:AMGN), two of the larger biotechs which have either underperformed recently due to growth concerns or sold off with the general biotech sector.
It sure looks to us that Amgen will continue with its slow and steady rise after their recent moves, but more importantly that Celgene shall outperform. In the past it has outperformed Amgen, and a bounce off of these levels could be forthcoming.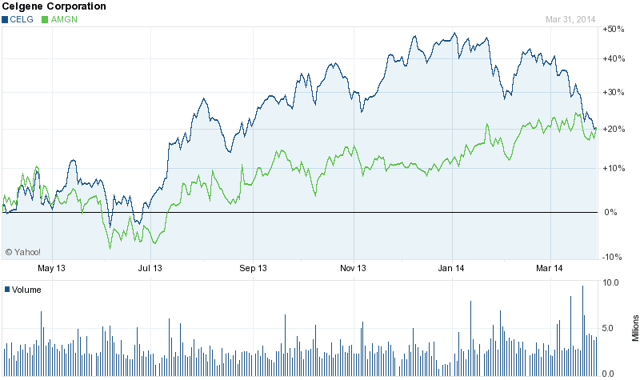 Source: Yahoo Finance
Although we like the general biotech sector overall and believe that any smaller portfolio seeking biotech exposure should do so via the low cost biotech ETFs, we view adding both Celgene and Amgen to a portfolio in a 50/50 mix as a prudent way to play this biotech correction. Celgene possesses most of the future growth and Amgen holds most of the value, in our opinion. It would seem that the volatility with these two positions would be below that of the smaller names one could buy and if multiples grow we could see a nice increase in share prices.
Disclosure: I have no positions in any stocks mentioned, and no plans to initiate any positions within the next 72 hours. I wrote this article myself, and it expresses my own opinions. I am not receiving compensation for it (other than from Seeking Alpha). I have no business relationship with any company whose stock is mentioned in this article.