The Olympics in Vancouver put Canada front and center on the world's stage, for at least a moment. Outside of that, the country has been overlooked, and overshadowed, by the U.S. But that is changing.
The threat of a double-dip recession continued to strengthen last week, with bad news in almost every data release. More people than expected lost their jobs (with initial claims rising to 472,000). And the housing outlook has deteriorated in short order, with the National Association of Home Builders Housing Market Index falling from 22 to 17 this month (and housing starts were down 10% last month). And the Economic Cycle Research Institute's Weekly Leading Index (WLI) fell 5.7% last week, after dropping 3.7% the week before. Then the Philadelphia Fed's general economic index slid to 8 from 21.4. That's enough bad news.
And last week, Russia announced it would diversify its foreign reserves, adding Canadian dollars for the first time…and reducing its U.S. dollar and euro holdings (Russia began reducing its use of the U.S. dollar as a reserve currency last year). And in the last twelve months, the Canadian dollar has gained 10% against the U.S. dollar, and 23% against the euro, according to Bloomberg.
Canada's dollar has gained against ours, and their economy is gaining against ours as well. While our outlook is grim, Canada is growing. The country's population is expected to expand 25% by 2050 (right now its population is smaller than California's, according to Forbes). And Canada is expected to have the highest growth rate of the G7…GDP will expand 55% by 2030, according to a report by the National Round Table on the Environment and the Economy (Financial Post). And then there's the fact that Canada's oil reserves are second largest in the world (Saudi Arabia is first).
And Canada has the lowest sovereign debt of the G7. While the U.S. deficit is now over 10% of GDP, Canada's stood at 2.7% last year. But it's more than that: over the last decade, Canada has reduced their debt. The country's projected debt-to-GDP for 2011 is 37%, that's down 9% over ten years. We cannot say the same.
It's no wonder, then, that foreign investors have funneled $65 billion into Canadian bonds in the last year, double the previous high, according to TD Securities. And it's no wonder that in the first quarter this year, foreign investment in Canadian assets totaled $51.8 billion.
Now, that's not to say that Canada won't experience some headwinds to growth. First, their strengthening currency will challenge their export competitiveness; the Canadian dollar is near parity with the U.S. dollar, and given that the U.S. accounts for 79% of Canadian exports, this may hamper GDP. And growth may also be slowed when the Bank of Canada increases interest rates…which it will need to do once inflationary pressures start to surface (inflation was 1.4% in February). And yes, Canada is battling unemployment (currently 8.1%), but that is expected to fall to 7.2% by next year, according to Forbes.
So, what is Canada doing that the U.S. isn't? A lot. Canada is more attractive to business, with a corporate tax rate to be lowered to 15%, vs. the U.S. rate of 35%. And Canada is inviting to intellectual capital: with immigration policies that attract (and retain) talent. And Canada's financial system is the most stable in the world, according to the World Economic Forum. And their banking regulation was tough enough to prevent much of the speculation and risk-taking that plagued the U.S.
And for investing…take a look at iShares MCSI Canada Index ETF (NYSEARCA:EWC): this funds top holdings are in financials and energy.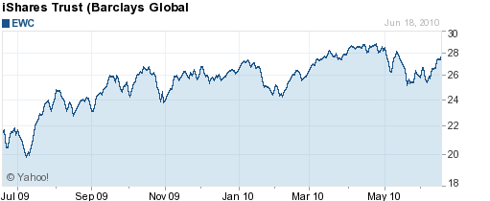 Source: Yahoo Finance
The Bank of Canada projects GDP growth of 3.7% this year, and 3.1% next year. Canada isn't going unnoticed anymore, and the country is beginning to capture its share of attention as a safe haven. And it's deserved.
Disclosure: Rezny Wealth Management does not currently hold a position in EWC; positions can change at any time.