Oil drillers have been Wall Street darlings for years, but profits in exploration could be drying up soon. The U.S. Energy Information Administration recently lowered its forecast for domestic oil production fir 2014 and 2015. Oil prices are expected to moderate as supply outpaces global demand. The EIA gave lowered estimates for the price of oil going forward - $93 a barrel for 2014 and $90 for 2015.
The drop will shrink margins in offshore drillers and impact earnings. Companies like Diamond Offshore (NYSE:DO) and Noble Corp. (NYSE:NE) have seen precipitous declines in stock value. Their P/Es look attractive, but they may be low because of expected weakness in the oil industry. It's a value trap waiting to spring on unwary investors.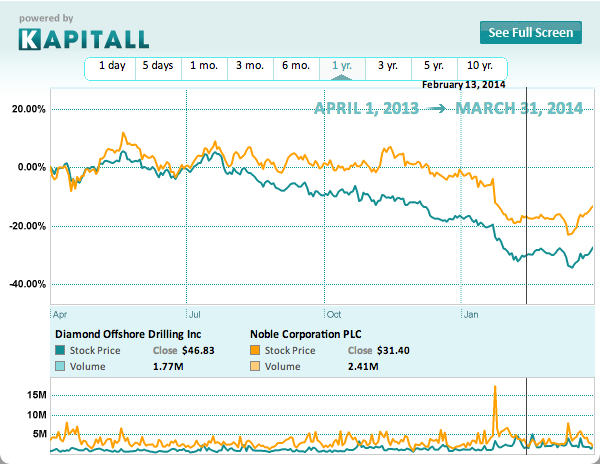 Click here for more information on Diamond Offshore and Noble Corp.
One sector looks like the antithesis of the oil drillers however. Clean energy power generation and distribution companies have been skyrocketing. Acquisition activity is up along with stock prices. Cash flows are high and 2 companies have emerged as leaders in the sector: NRG Energy (NYSE:NRG) and Exelon Corporation (NYSE:EXC). Both have engaged in robust acquisition activity, which has made them two of the largest power generation companies in America.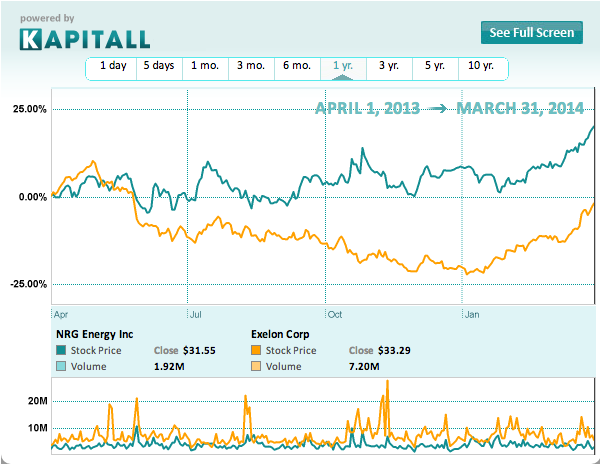 Click here for more information on NRG Energy and Exelon Corp.
NRG Energy may have a clever ticker symbol, but through its shrewd recent acquisition activities it now holds a diverse portfolio equating to over 56,000 megawatts, which makes them the largest power company in the US. The company recently announced 2 large acquisitions: the retail electric side of Dominion Resources (NYSE:D), which serves over 600,000 customers, and the purchase of nearly all assets out of bankruptcy from Edison Mission Energy. In addition, NRG bought Roof Diagnostics Solar, a residential solar company. The additions boost NRG's already diverse portfolio of natural gas, nuclear, solar, wind, and geothermal sources.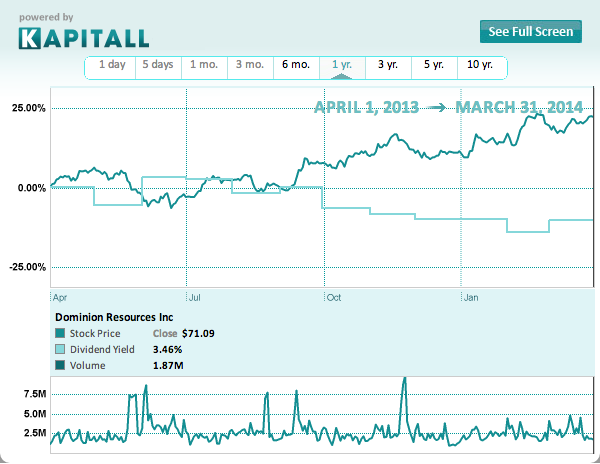 Click here to see more information on Dominion Resources.
EPS for NRG were negative this year, but earnings expectations for next year average around $1.56. Expectations for fast growth have allowed the company to boost its dividend 17% to $0.56 a share, giving it a yield of 1.75%. According to NRG's 4th quarter results, free cash flow before growth came in higher than expected at $1.28 billion bolstering the company's ability to make acquisitions, pay dividends, and institute a share buyback program. Earlier in March, a Goldman Sachs analyst upgraded the stock from "neutral" to "buy."
Another large player in the power generation market with around 35,000 megawatts is Exelon Corporation. Known for its nuclear portfolio, it owns 22 reactors along with a diverse portfolio of hydroelectric, solar, wind, and natural gas plants. The company is always looking for opportunities to make acquisitions and recently engaged in transactions to buy ETC ProLiance Energy, a natural gas supplier. Net cash flows remained strong for 2013, up to $6.3 billion versus $6.1 billion for 2012.
The stock, unlike its competitor NRG, has positive earnings and a forward P/E of less than 15. EPS growth this year was 40% and quarterly earnings growth was 26%. The company pays a high dividend yield of 3.75% making it attractive for income investors. Like NRG, Exelon's stock was recently upgraded as well. Credit Suisse issued an "outperform" rating and the stock has been on a strong upward trend ever since.
Disclosure: I have no positions in any stocks mentioned, and no plans to initiate any positions within the next 72 hours.
Business relationship disclosure: Kapitall is a team of analysts. This article was written by Daniel Cross, one of our writers. We did not receive compensation for this article (other than from Seeking Alpha), and we have no business relationship with any company whose stock is mentioned in this article.