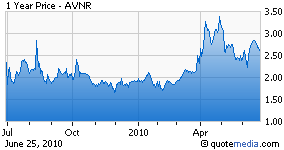 Recent accomplishments for Avanir (NASDAQ:
AVNR
) marked the most exciting quarter in the history of the company, and it is highly likely that big news is on the near-term horizon. Avanir's share price closed at $2.67, a gross undervaluation, in Friday's trading session. I expect Avanir's share price to easily double prior to October when the FDA is expected to approve its key drug, Zenvia. And the stock price should easily reach $10 per share by early 2011, the expected launch time of Zenvia. The details of my analysis will be presented later in this article, but first, I will address the key drivers that make Avanir a compelling "buy and buy more" proposition:
Promising Pipeline with Expandable Applications
The Company's lead product candidate, Zenvia (dextromethorphan hydrobromide/quinidine sulfate), has completed three Phase III clinical trials for the treatment of pseudobulbar affect (PBA) and has completed a Phase III trial for the treatment of patients with diabetic peripheral neuropathic pain (DPN pain). In the past 3 months, three firms (Wedbush, Cantor Fitzgerald, and Cannacord Adams) gave price targets that are more than 2 to 3 times the current share price.
Wedbush analyst Mike King describes, "Avanir is currently an off-the-radar-screen company developing Zenvia, a late-stage asset for the treatment of pseudobulbar affect. PBA is itself a little-recognized, but serious and debilitating, disorder that typically is a consequence of any one of several neurologic insults, such as MS, ALS, or TBI...An investment in Avanir is reminiscent of the opportunity presented to investors when Fampridine-SR was in early development for Acorda (NASDAQ:
ACOR
), which currently boasts a valuation of ~$1.5 billion."
Quite noteworthy is that the company should have a broad label for all patients that have PBA. As per Keith Katkin, CEO of Avanir, " as has been the agreement all along with the FDA, if we study Zenvia in two separate neurologic populations, like we did in the STAR trial, then that should be sufficient for a broad label for all patients that have PBA." What is most exciting is the company's strategy for future expansion, using Zenvia PBA approval as the express gateway to approval of many different types of pain applications, making the sky the limit for Avanir.
2Q2010 Developments
Avanir's management accomplished several key milestones in the second quarter:
Patent protection - The Company received long-term (15 year) patent protection on Zenvia, securing its monopoly on Zenvia for years to come.
Extremely Positive Data - Avanir provided extremely positive safety and efficacy data at the American Academy of Neurology meeting and American Psychiatric Association meeting. They also showed tolerability with common drugs Paroxetine (a common antidepressant) and Memantine, a drug Merz +Co and Forest Labs (NYSE:FRX) market for ALS patients. Commenting on the AAN meeting, Keith Katkin, CEO of Avanir, states "...the physician interest level in PBA is significant and reinforces our belief there is a large unmet medical need". As a Merriman Analyst commented, "Avanir Pharmaceuticals is advancing its lead product, Zenvia, for the unique indication of pseudobulbar affect, a hitherto little-known neurological condition that may affect millions of individuals…In our view, the Phase III STAR trial data are compelling…" Evidence of the excitement about Zenvia is apparent when looking at the stock price action after the Jeffries & Company (JEF) Health Sciences presentation by Avanir on June 8. The stock price had greater than a 25% upward move in a matter of a few days. Also notable is the trading volume in the $5.00 December calls. And furthermore, Avanir boasts institutional holders such as Blackrock, which is one of the most respected hedge funds on the street.
Early start on marketing/awareness efforts- Awareness of PBA is growing and the management team is diligently preparing for commercial launch. Top talent Michael McFadden was hired. Mr. McFadden previously managed markets at Amylin Pharmaceuticals (AMLN). When asked by an analyst of upcoming events prior to approval, Keith Katkin responded, "...you'll see PBA awareness advertorials within all of the medical journals. You'll also see them in the patient-focused journals…"Also, Avanir will attend "a dozen" different neurology and psychiatry meetings. Also, quite noteworthy is that AVNR partnered with ITV and PBS and will be airing a series on PBS stations (estimated late-June to early July) about the impact of PBA on patients' lives. Cannacord Adams analyst comments "AAN doctor opinion on Zenvia has been positive; we think that Zenvia will see good patient and doctor acceptance…"
Raised Capital – Debt-freeAvanir raised over $26 million through a recent stock offering such that Christine Ocampo, CFO of Avanir, stated "we expect our current cash on hand will be adequate to fund continuing operations and the clinical development of Zenvia through the anticipated FDA approval decision date..."
FDA Submission - The Company provided the FDA with all data needed to assess Zenvia in PBA. Approval is extremely likely as Zeniva's two major components are not new molecular entities and the response letter submitted was solid. After reviewing the submission, Cannacord analyst commented "…any delay would be minor and not reflect negatively on Zenvia's approvability or sales potential." Investors will remember Dendreon's (NASDAQ:DNDN) situation after receiving an approvable letter from the FDA, its engagement in subsequent studies, and ultimately approval which turned a $4 stock into one that now trades above $37.
Valuation
In my valuation of the company, I will disregard the current royalties received from GlaxoSmithKline (NYSE:
GSK
) on Abreva sales (approximately $3-$4 million expected this year) and will focus solely on Zenvia, which would be the first drug approved to treat PBA. Per Randall Kaye, Chief Medical Officer, the prescribed period of time on the drug would be "indefinite," not a 12-week limit. This translates into increased revenue potential. And the company has supporting data to prove efficacy and safety over time, as they have over 100 patients with over 2 years exposure to Zenvia.
As mentioned above, Mike King of Wedbush compares the company to one that has a market cap of $1.5 billion. That number is above, but not far off from, my estimates. Cantor analyst says, "We think AVNR is significantly undervalued given its current
market capitalization
and near-term FDA approval potential for its lead product, Zenvia, to treat pseudobulbar affect plus potential value maximizing follow-on indications." Merriman analyst states, "The company's market cap is significantly undervalued due to a previous regulatory delay and lack of knowledge of the PBA indication. In our view, the Phase III STAR trial
data
are compelling…"
Let's examine a price/sales multiple. Cantor Fitzgerald estimates $675 million in peak sales for Zenvia, ramping up and seeing those peak sales in 2015. Personally, I think the estimate is a bit conservative when one factors the indefinite prescribed period and the other applications of Zenvia that should be approved following the PBA approval. But, let's go with Cantor's sales estimate. Although there is wide variation in price/sales ratios, the average biotech trades at 3 times peak sales. Since Avanir has rights to the drug longer than most drug companies (15 years), it could reach much higher multiples. But, even using a more conservative estimate of half that figure (1.5 times price/sales), the market cap of Avanir should be over $1 billion. That's approximately $10 per share, indeed compelling with a potential upside of over 400%! And for more short-minded investors, there are two near-term catalysts:
A Barron's article this weekend mentions that 9 pharma companies (Pfizer: PFE, Merck: MRK, Eli Lilly: LLY, Bristol Myers: BMY, Novartis: NVS, Roche: OTCQX:RHHBY, AstraZeneca: AZN, Sanofi-Aventis: SNY, and Glaxo Smith Kline: GSK) are undervalued and could rally 30%, and

There should be a nice run prior to FDA acceptance, easily pushing the stock to $6. I've taken a sizable position and am quite ready to enjoy the ride!
Disclosure: Long AVNR, DNDN, PFE