Commodities as a whole have vastly underperformed the more traditional asset classes like stocks and bonds over the last three years. A combination of tepid global growth and below-average inflationary statistics has capped the upside of commodities futures markets. Most investors are likely underweight exposure to this asset class which can provide non-correlated returns in a diversified portfolio. As a result, you may have overlooked the recent surge in prices that has been steadily gaining momentum this year.
The iPath Dow Jones-UBS Commodity Index Total Return ETN (NYSEARCA:DJP) is a broad-based basket of 22 liquid commodities futures contracts that is my preferred way to monitor this space. The top five holdings in this ETN include: gold, natural gas, crude oil, corn, and copper. This fund charges an annual expense ratio of 0.75% and has nearly $1 billion in total assets.
A quick look at the chart below shows just how far DJP has gained since the beginning of the year. In fact, the total year-to-date return through the end of the first quarter is +7.35%. This handily beat the Vanguard Total Stock Market (NYSEARCA:VTI) gain of 2.06% and iShares Core U.S. Total Bond Market ETF (NYSEARCA:AGG) return of 1.77%.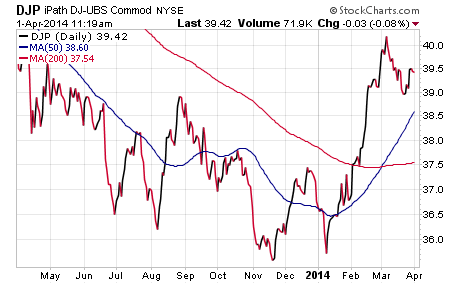 Many investors consider commodities an alternative asset class because they trade on futures exchanges and face different risks than stocks or bonds. Often these markets are more sensitive to supply and production metrics that are indicators of global demand. Several factors have been in play that have boosted commodity prices over the last several months. These include unusually cold weather patterns, rebounding support for precious metals, and stabilizing interest rates. As a result, DJP has found a tailwind that is gathering steam.
Copper is the only one of the top five holdings in DJP that has not been able to arrest its price decline this year. The lack of demand in Asia is seen as the primary contributor to this fall and could indicate a bleak outlook for China as well as other key consumers of this industrial metal. The iPath Dow Jones-UBS Copper Subindex Total Return ETN (JJC) is a pure play on the copper futures market that tracks the daily price movement.
Right now, commodities appear to be at a crossroads, and investors will likely be swayed based on their outlook for global growth and consumption. A perfect environment for commodities to extend their rally would be a situation where there are high inflationary expectations combined with a pickup in demand of high growth nations like emerging markets. Remember that in soft commodities, weather patterns and other risk factors can also weigh on the supply side of the equation as well.
On the flip side, stagnant consumption will likely lead to an extended period of meager returns for commodities as a whole.
Growth investors may benefit by having some token exposure to this asset class in the context of a diversified investment strategy. The fact that commodities offer a unique non-correlated return profile may play a factor in your asset allocation strategy. Income investors on the other hand will probably not reap the benefits of commodities to the same extent, because they don't offer any yield.
From an investment perspective, I prefer to access commodities through the form of an exchange-traded note in order to side-step the tax headache of a K-1 that is generated from an ETF such as the PowerShares DB Commodity Index Tracking Fund (NYSE:DBC). The structure of an ETN differs from an ETF in that it is a debt instrument that is issued by a bank such as Barclays instead of a more traditional pool of assets that invests directly in the underlying commodity. It essentially offers you the ability to track the daily price movement of a given index without taking on the tax implications that futures markets dictate.
The bottom line is that commodities should be back in the conversation and deserve a second look this year as prices have found some support. Additional opportunities will likely present themselves in this arena that tactical investors can use to their advantage.
Disclosure: I have no positions in any stocks mentioned, and no plans to initiate any positions within the next 72 hours. I wrote this article myself, and it expresses my own opinions. I am not receiving compensation for it. I have no business relationship with any company whose stock is mentioned in this article.
Additional disclosure: David Fabian, FMD Capital Management, and/or clients may hold positions in the ETFs and mutual funds mentioned above. The commentary does not constitute individualized investment advice. The opinions offered herein are not personalized recommendations to buy, sell, or hold securities.