Can Stendra cure the symptoms of a stock that is down near 52 week lows? Investors in Vivus (NASDAQ:VVUS) certainly hope so, and there are early signals that the company may have a winner on its hands with the erectile dysfunction drug Stendra.
Vivus and its marketing partner Auxilliam Pharmaceuticals (NASDAQ:AUXL) recently launched Stendra and have taken on a bold internet marketing campaign involving the popular March Madness NCAA basketball tournament. The drug also has a website up with a catchy video, free trial, and more information.
The Erectile dysfunction market is said to be worth $3 billion annually. According to Auxillium, Stendra has already grabbed a 5% share of that market. That translates to about $150 million in annual sales if the pace can be maintained. If the pace gains momentum, sales could really get impressive.
Vivus had put a lot of hope into the anti-obesity sector with its drug Qsymia. Despite a very large potential market, Qsymia seems to have stalled at just 11,000 prescriptions per week. In 2013 gross sales of Qsymia were about $25 million. The slow launch of Qsymia ultimately led to a proxy led by First Manhattan battle for control of the company. Qsymia still has prospects and potential, but the competition in the slow growing anti-obesity space is growing. Arena Pharmaceuticals (NASDAQ:ARNA) has Belviq on the market and Orexigen (NASDAQ:OREX) is trying to get its drug, Contrave, approved in June. Sales of Belviq, while pacing better than Qsymia, have not met with lofty expectations either.
While it may seem couter-intuitive, Vivus may actually fare better in the erectile dysfunction space with competition like the well established Vigra and Cialis. The key with Stendra seems to be that it works faster than its competition, a key selling point with those that suffer from ED.
For investors, there could be an interesting opportunity here. Vivus has a 52 week low of $5.50. It currently trades at $5.95. The key is that Vivus financials (aside from a licensing payment) have yet to reflect the sales of Stendra. This means that the next quarterly report could actually offer up some surprises that many are not expecting. There is little doubt that 2013 was a rocky year for Vivus. If Stendra sales are indeed at 5% of the market now...and growing...There will certainly be the potential that the street will see brighter days ahead.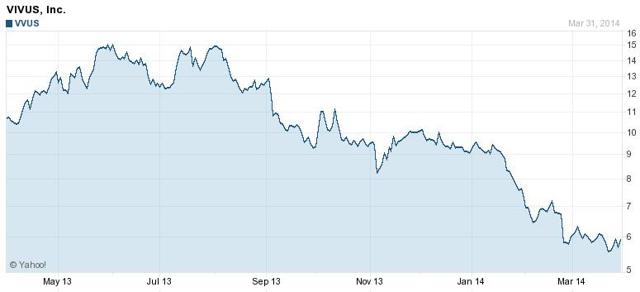 Chart Source - Yahoo Finance
Analysts are already showing some love for the Vivus partner Auxillium. Analyst firm Stifel raised its price target from $25 to $35 in early March based in part on Stendra prospects.
"Stifel increased its price target on Auxilium after the company reported stronger than expected results. The firm reports that the company is benefiting from strong sales of its high margin Testopel product, while its Stendra and XIAFLEX PD products are poised for solid launches in 2014. Stifel is excited about the company's portfolio, and keeps a Buy rating on the shares.
The bottom line is this. Vivus appears to have a hot product on its hands that can make a better sales trajectory than it had with Qsymia. Sales numbers from IMS Health and Symphony Health have been impressive, and the broader market has not yet seen the early sales results. With Vivus near 52 week lows, it could be an ideal speculative play that has potential to turn into a buy and hold equity. Stay Tuned!
Disclosure: I am long ARNA. I wrote this article myself, and it expresses my own opinions. I am not receiving compensation for it (other than from Seeking Alpha). I have no business relationship with any company whose stock is mentioned in this article.
Additional disclosure: I have no position in Vivus, Auxillium, or Orexigen