Amarin (NASDAQ:AMRN) had fallen off of my radar.
After failing to convince the FDA to see things its way with regards to the ANCHOR indication for its sole drug, Vascepa, I pretty much stopped paying attention to the company. There was a CEO shake-up, shareholder questions that needed answering, and lack of clear direction as to where the company was going to be heading strategy-wise.
In my last article on Amarin, here's how I left it:
When you look at the potential positive situations for Amarin, you're going to have to look a couple years out regardless - there doesn't appear to be any short term catalyst for this company, barring any type of analyst upgrades and anything unlikely out of the blue (buyout, etc.). REDUCE-IT completion and profitability from MARINE, if possible, would be years out still.


What does this mean? It means that the future is likely going to laden with continued cash burn and potential coming dilutive financing.


If the stock price can't hold its water, the company is likely to undergo a reverse split in order to maintain its listing, keep paying the executives, and tidy the share structure.


And the interesting thing is, when trying to contemplate a bull case for the stock to remain somewhat objective, it's getting really hard to string something together. What is the case where Amarin survives this without massive dilution? There doesn't seem to be one for the short-term.
That article was out at the end of February this year, and concluded by guessing that Amarin was going to need to do some dilutive financing, and then eventually, a reverse split.
Amarin had been going along, business as usual with a reduced sales force, but still ramping up its new prescriptions for Vascepa. However, the numbers aren't near where the company needs them to be in order to maintain positive cash flow. Conversely, the company is starting to feel the constraints of needing to limit its spending.
But yesterday, we got a small ray of hope from the company in what seems like a relatively savvy "step 1" move for Amarin to leverage the MARINE indication that it already has for Vascepa. The company entered into a co-promotion agreement with Kowa Pharma, and Seeking Alpha provided the details:
Amarin is partnering with Japan's Kowa Pharmaceuticals to co-promote Vascepa in the U.S.
Kowa's 250 U.S. sales reps will join Amarin's 130 sales reps in selling Vascepa. Kowa will be paid a co-promotion fee based on a percentage of Vascepa's gross margins "that increase during the agreement's term, from the high single digits in 2014 to the low twenty percent levels in 2018, subject to certain adjustments."
The initial deal term runs through 2018.
The deal is going to require Amarin to increase the number of its sales of Vascepa, but is also going to leverage Kowa's sales force, almost tripling the number of sales people on the ground to promote Vascepa without costing Amarin an arm and a leg. And, of course, Kowa will be getting a cut of the sales of the product. It's your basic "mutually beneficial" business partnership, right out of your entry level "Business 101" class. Nothing wrong with that.
Elephant Analytics produced a nice piece this morning that laid out the QA details behind the deal, and exactly how the company's sales targets would be effected. For an in-depth look at the meat and potatoes behind the agreement, it's a beautiful read. One of the most important parts of the article concludes what sales would be necessary in 2016 for Amarin to reach cash flow neutral:
For Amarin to reach cash flow break-even in 2016, including full BioPharma repayments, it will require approximately 2.2 million prescriptions that year. This is approximately 42,300 TRx per week, which is achievable with approximately 15,800 NRx per week.

| | | | | |
| --- | --- | --- | --- | --- |
| | TRx | Revenue/TRx | Gross Margin | Gross Margin ($) |
| 2016 | 2,200,000 | $125 | 60% | $165,000,000 |
Lofty goals, but starting to drift towards the realm of potentially achievable.
One of the biggest gripes that I had about the company was that it was wasting time appealing to the FDA after it was shot down for ANCHOR at ADCOM. I thought the company's time would have been better spent immediately looking for a strategy to build on how it was going to keep its ship steady. It looks like, after months of deliberation, the company is finally at the beginning stage of executing a corporate strategy.
While I am in no means advocating a position in Amarin specifically based on this news, I must admit that my interest has perked back up slightly, and I'll be very interested to hear the moves made subsequent to this partnership. From there, we can then potentially re-consider Amarin for investment.
Since the company's ADCOM decision, it's basically been a magnet to $1.80/share without moving much.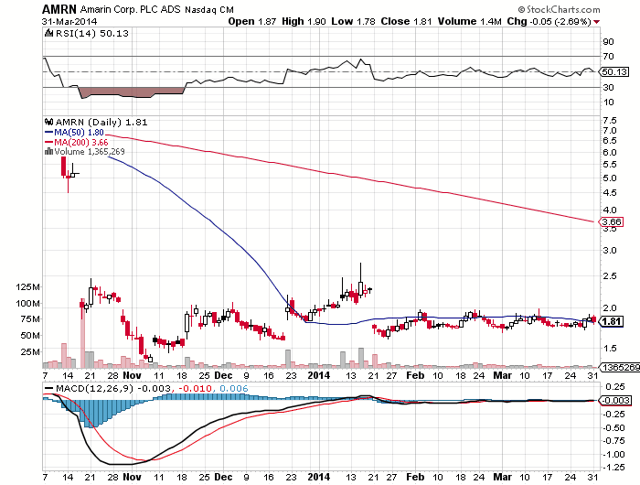 Until that point, the company continues to burn cash and remains at risk for a financing that would ultimately not be beneficial to shareholders.
In response to the agreement, Jefferies has lifted its price target for the company to $3.50, from $3.00. I remain cautiously neutral, and will continue to watch Amarin from the sidelines.
Disclosure: I have no positions in any stocks mentioned, and no plans to initiate any positions within the next 72 hours. I wrote this article myself, and it expresses my own opinions. I am not receiving compensation for it (other than from Seeking Alpha). I have no business relationship with any company whose stock is mentioned in this article.