In the wake of negative reports on the Chinese economy, companies such as Baidu (NASDAQ:BIDU), Qihoo 360 (NYSE:QIHU), and Sina Corp. (NASDAQ:SINA) have begun to experience depressions in share price. Investors Carl Icahn and Benjamin Graham salivate towards poorly interpreted bad news. After all, depressed valuations have the greatest potential for return.
A highly volatile stock with a beta of 2.35, these anti-Chinese sentiments have instigated severe dips in Baidu's price; however, the news simply does not apply. The Chinese economy has begun to experience a transitional period in which a great deal of manufacturing is being outsourced to "new Chinas" such as India. In turn, the Chinese economy has begun to resemble that of a more modern nation, which may include slightly more modest growth rates. Despite slower growth rates in more modern economies like our own in the Unites States, Internet companies grow at remarkably fast rates, even in an economic downturn. For example, Netflix (NASDAQ:NFLX) experienced some of its greatest growth in the two years following the recent market crash.
According to the China Internet Network Information Center, China's growing online population is approaching 600 million users-nearly double that of the entire population of the United States, making it by far the largest online population in the world. In its period of modernization, China's economy will call for greater and greater Internet usage. As it stands, those 600 million Internet users constitute less than half of the nation's population. Below is a chart from the CNNIC showing Chinese internet users in units of 10,000.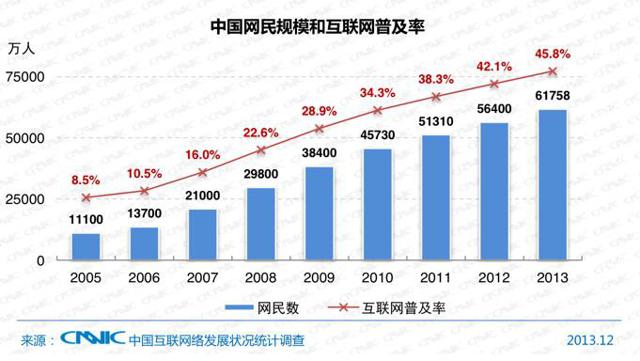 At a glance, censorship should be bad for an Internet search engine company such as Baidu; however, China's blatant, nationwide firewall is the single reason that the aforementioned online population of 600 million users and a general population of over 1.3 billion citizens will never use Google's online search. In 2010, Google withdrew from the Chinese market and has made no efforts to return since the censorship of the company's Hong Kong site. This leaves the vast majority of China's online search engine market share in the hands of Baidu. According to Chinese Internet Watch, as of August 2013, Baidu holds 63.55% of the market share followed by Qihoo 360 with only 21.84%. With both a first mover advantage and a near identical copy of Google's proven model and design, Baidu is nearly unchallenged and will remain the most popular search engine in China by a large margin.
It follows logically that Baidu's valuation would mimic that of Google but on a smaller scale. The two companies provide nearly identical products and do in fact have nearly identical P/E ratios of 31.07x and 31.22x, for Google and Baidu respectively. This should indicate that Baidu's supposedly depressed valuation represents the firm accurately, but for one detail. The two companies operate in vastly different markets with entirely different scale. Google is currently trading with a PEG of 1.40 while Baidu boasts a far more favorable ratio of 1.10. Keeping in mind their near identical P/E ratios, this discrepancy between the two companies' PEG ratios reflects the inaccuracy of Baidu's currently deflated valuation. The rapid growth Baidu enjoys in the Chinese economy should be but is not reflected in its multiple of earnings. By contrast, Qihoo 360 has a P/E ratio of 123.94x despite its slower growth and PEG ratio of 1.38. Sina Corp., which competes with Baidu in a number of online services, has a P/E ratio of 91.92 despite a poor PEG ratio of 3.37. Baidu's depressed valuation and modest multiple have set the stage for a substantial reversal in share price.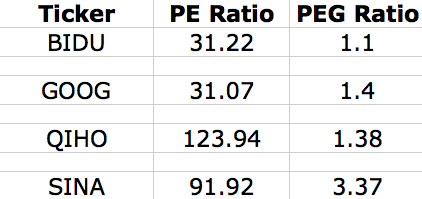 In recent months, the share price has formed a trend of increasing peaks and higher bottoms. The last four major peaks were at prices of 169.75, 181.25, 185.50, 189.34 dollars. The last four major valleys bottomed with session closing lows of 146.54, 147.35, 150.52 and now 150.56 dollars. This pattern of fluctuations indicates an uptrend in the stock's movement. As the last three peaks were well above $180, the share price should comfortably reach that level. Thursday's trading session witnessed the share price dip below the previous bottom of 150 towards the 63% Fibonacci retracement level only to encounter strong, high volume support at that level to finish the day near the open price. This support level which has been tested a number of times in the past week's sessions indicates a minimum downside in Baidu's share price. With benefits such as high barriers to entry, Chinese censorship, and an unchallenged market share of the world's largest online population, Baidu is set to succeed despite any negative sentiments on the Chinese economy.

Disclosure: I am long BIDU. I wrote this article myself, and it expresses my own opinions. I am not receiving compensation for it (other than from Seeking Alpha). I have no business relationship with any company whose stock is mentioned in this article.
Additional disclosure: Heights Capital is a team of students interested in active investment within financial markets. This article was written by Stefan Gooch, one of our financial journalists. We did not receive compensation for this article (other than from Seeking Alpha), and we have no business relationship with any company whose stock is mentioned in this article.