As promised, here is our official unofficial very first update of our portfolio challenge. The ETF Only Portfolio vs. Buy The Dip Portfolio of dividend winning stocks. To briefly recap, the challenge is to see whether a passive investor of ETFs only, can perform as well, or better than, an actively managed portfolio of dividend paying stocks.
The ETFOP
The ETFOP currently consists of the following ETFs: Vanguard High Dividend Yield Index Fund (NYSEARCA:VYM), SPDR S&P Dividend ETF (NYSEARCA:SDY), WisdomTree LargeCap Dividend Fund (NYSEARCA:DLN), Vanguard Dividend Appreciation ETF(NYSEARCA:VIG), and Schwab U.S. Dividend Equity ETF (NYSEARCA:SCHD).
These ETFs are considered by many to be the best dividend payers of their kind and are comprised of most of the finest companies on the planet.
Let's take a look to see how this portfolio has performed in March 2014:

As you can see the total value of the portfolio increased by about $1,400 or 1% for the month including dividends. The dividends are calculated as of the ex-dividend date and the cash is accounted for in two places; the last column on its own, and the total value column that has it added in.
Also note that ONE of the ETFs pays dividends monthly which many folks like. All of my dividend information is gleaned from "Dividend.com" as my authoritative source for all dividends.
March showed all ETFs going ex-dividend which surprised me a bit, but that means the income generated from the ETFOP was $587 which is really not bad at all. It was a good month all around for the ETFOP.
The BTDP
The BTDP consists of the following stocks: AT&T (NYSE:T), Exxon Mobil (NYSE:XOM), Johnson & Johnson (NYSE:JNJ), Coca-Cola (NYSE:KO), Procter & Gamble (NYSE:PG), General Electric (NYSE:GE), McDonald's (NYSE:MCD), Chevron (NYSE:CVX), Apple (NASDAQ:AAPL) General Motors (NYSE:GM), Ford (NYSE:F), Microsoft (NASDAQ:MSFT), Wal-Mart (NYSE:WMT), and Pfizer (NYSE:PFE).
The stocks held in this portfolio are also held in the ETFs that we selected, so we are comparing apples to apples, except for Ford and GM. In order to be fair, I allocated just about the same amount as the total of the ETFOP in each stock.
Let's see how the BTDP did for March 2014: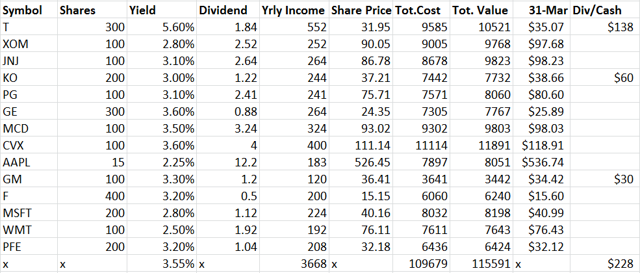 At first glance, we can see that the total portfolio value is up roughly $5,900 or 4.8%, including dividends. Hey now that is not bad at all, but wait, only 3 stocks went ex-dividend in March for a total of $228 in income generated. How will we pay our bills this month. I was somewhat surprised that the end of the first quarter did not have more dividends paid.
The end result of all of this for the first month, is that the ETFOP generated nearly twice the income as the BTDP, but the BTDP increased in value by 4.8%, while the ETFOP increased by 1%.
The Bottom Line
Obviously, it is too soon to make any judgments, but I will give the edge for the month to the ETFOP, because I am a decent fellow of course, and the portfolio did generate more cash to pay expenses.
I am still a BTDP investor for dividends, so let's see how this plays out over the much longer term.
Whether you are a passive or active investor, the key to any dividend producing portfolio for a more secure retirement is the income. Of course staying within your income for expenses is the key to sleeping well at night!
Disclosure: I am long AAPL, CVX, F, GE, GM, JNJ, KO, MCD, T, XOM. I wrote this article myself, and it expresses my own opinions. I am not receiving compensation for it (other than from Seeking Alpha). I have no business relationship with any company whose stock is mentioned in this article.