As someone who follows Apple (NASDAQ:AAPL) quite extensively, I've read a lot lately about capital returns. There's a lot of talk out there about Apple's dividend being raised, a buyback increase, and strong capital returns for many years to come. However, some of this talk neglects a key issue, and that is Apple's available resources. Apple has a lot of cash, but most of it is unavailable in its current form. That's a problem. Apple has really pounded the table lately with its buyback, but I think investors have become spoiled. Today, I'm here to provide a reality check and hopefully return investors' expectations to a more realistic level.
Apple produces a lot of cash:
Apple is a cash generation monster. In the table below, I've detailed what Apple generated in cash from its operations (dollar values in millions) in the past three fiscal years. Remember, Apple's fiscal year ends in September. From that, I've subtracted cash used in investing activities, like acquisitions of other businesses, intangible assets, and other assets. This gives one measure of free cash flow. Some others may calculate it a different way, so check the cash flow statement in the 10-K if you wish to make any adjustments. I also detailed Apple's capital returns for these years.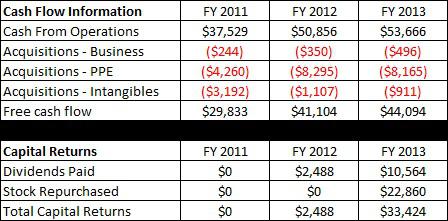 Apple produced a lot of cash in recent years, and the company has really started to return capital to shareholders. Those returns are going to be strong again this year. In fiscal Q1, ending in December, Apple returned about $7.8 billion between dividends and buybacks. That was before Apple bought back $14 billion in stock after shares fell post Q1 earnings. Even if Apple didn't buy back another share in the quarter, Apple's capital returns in the first half of the current fiscal year would be over $24 billion. Adding in two more dividend payments gets Apple to about $30 billion for the fiscal year, and that assumes no buybacks in fiscal Q3, Q4, or anything else in Q2. If Apple does buy back some stock, the company will likely top the $33.424 billion number in my table above.
So that gets us to the main point, and that's looking forward. Those investors that are looking for consistent large dividend raises in the next 5-10 years plus a ton of buybacks may be in for a rude awakening. In the next few sections, I'll detail why.
Apple's cash is mostly outside the US:
What does Apple need for dividend and buybacks? Cash is the obvious answer. While Apple does have a lot of cash, it is important to note where this cash is. As you can see in the chart below, most of Apple's cash is located outside the US. The cash pile noted below is the total of Apple's cash, cash equivalents, short-term investments, and long-term investments. You can find all of this data in Apple's 10-Q and 10-K filings here.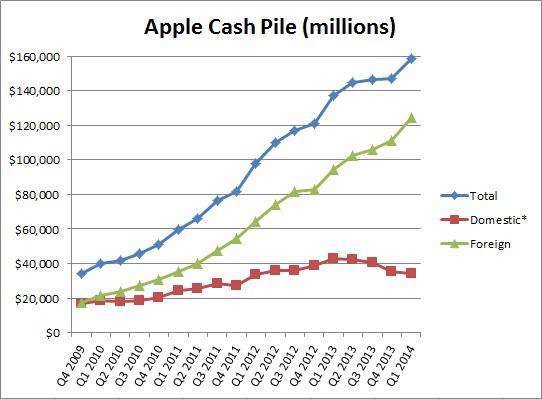 *Domestic number is an approximation as foreign funds are rounded to nearest $0.1 billion.
The key point here is that foreign funds cannot be used for dividends and buybacks. If Apple wants to use those funds, the company has two options. First, the company can borrow against these funds. Apple did that in 2013 with its $17 billion debt offering. The second way is to repatriate funds. In this case, Apple can be on the hook for a large tax bill.
A couple of other points to mention. The chart above is at the end of the December-ending quarter. It does not include the $14 billion in share repurchases Apple made after earnings. When we get the Q2 earnings report in a few weeks, the domestic cash pile is going to take a sizable hit. Yes, Apple produces a lot of cash, but most of that cash is parked outside the US. The other key point is that this is not an Apple-specific issue. As you can see from the table below, many other large-cap tech companies have the same issue. Microsoft (NASDAQ:MSFT), Intel (NASDAQ:INTC), Cisco Systems (NASDAQ:CSCO), and Google (NASDAQ:GOOG) also have a lot of money parked overseas. These numbers are at the end of each name's respective latest quarter. Foreign balances are rounded to the nearest $0.1 billion. Domestic numbers and the foreign percentage are an approximate as a result, but they're close enough to exact for this argument.

*Apple's cash pile includes long-term investments. All other names define their cash balances as only cash and short-term investments.
**Intel has another $2.1 billion of foreign funds available in the US that could be used without additional taxes, so total available is closer to $10.9 billion.
***Cisco took out $8 billion in debt after the quarter ended, to pay back other debt and for capital returns.
Given the fact that Apple bought back so much stock in fiscal Q2, the foreign percentage has likely risen into the 85% to 90% range. We'll get the exact number when Apple reports on April 23rd.
Balance sheet changes:
Apple's balance sheet has expanded greatly in recent years, and some major changes have been made in the last 12 months. In the table below, you can see how the balance sheet ended the last four fiscal years.

*Liabilities to assets ratio.
Again, these numbers don't include what happened in fiscal Q1 or the $14 billion in buybacks. Those numbers will further push down the domestic cash and domestic net cash values. A lot of Apple's balance sheet strength is based on foreign held funds. In the past year, the domestic cash balance only held up due to the debt that was issued. The net balance plunged, and will be even less after this quarter. I'll explain what this all means in the next section.
Going forward - the debt angle:
I'm worried that some Apple investors may not be seeing the true potential for Apple's capital returns in the next couple of years. As I mentioned in my latest Apple article, there are expectations for an increased capital return plan at the upcoming earnings report. Yes, a dividend raise is expected, but there is a growing idea that Apple will increase its buyback amount as well. Some are expecting a very large increase to the current $60 billion plan.
Since Apple produces a large share of its cash outside the US, investors are really banking on one of two items going forward. Either Apple is going to take out a lot more debt to repurchase shares, or the company is going to start repatriating foreign held funds. Apple and most of its peers have not indicated any interest to repatriate and pay these taxes. It might take a change in US tax law for that to occur, and that's a huge debate for another date.
So let's look at the debt angle. If Apple continues buying back stock at a decent clip right now, the company may need more debt. As I showed above, the domestic cash pile has dwindled in recent quarters. A lot of Apple's domestic cash produced goes to the dividend, not leaving much for the buyback. Apple raised $17 billion in debt during 2013, and Apple's timing was great. Interest rates (US treasury) were low, but they have rocketed higher since, as you can see in the table below. The "then" number is from April 30th, 2013, when Apple initially launched the debt issuance.
Note: Apple's interest rate per SEC filing. Spread calculated as Apple's rate over US treasury rate back when debt issued.
$12.5 billion of Apple's debt was from 5 to 30 year maturities with fixed rates (also some 5-year floating rate notes). That's why I chose the three US treasury rates above. As you saw, rates have shot up, with an increase of more than 100 basis points for both the 5 and 10 year rates. Considering how large Apple's raise was, the spread Apple faced was fairly decent. That shows the strength of Apple's balance sheet.
But now that rates have risen a bit, Apple would be paying much higher rates if more debt was taken out now. Additionally, the spread might be a little higher as Apple is adding on more debt, which will weaken the balance sheet a little more. Taking out debt will certainly help Apple with its capital returns. There's an argument that debt for buybacks is good when your after-tax rate is less than your dividend rate. By repurchasing those shares, you have a cash flow savings, since you save more on dividend payments than you are paying in interest. Apple is still at a point where this all works, but the sharp rise in rates makes the math a little worse, meaning it's less of a positive than it was a year ago.
What this means for the dividend and the buyback:
I've stated that I expect Apple's dividend to be raised about 15% this year to $3.50 per quarter, or $14.00 per year. None of what I'm discussing today really impacts my view of the dividend this year. However, investors do need to think about US cash generation and why it is important for capital returns going forward.
That being said, there is a tradeoff. If Apple investors want more dividends, they will have to sacrifice a little from the buyback. Additionally, how much debt will Apple be comfortable with? If there is a ceiling at say $30 billion, $50 billion, or some other number, investors need to realize that once that level is hit, the tradeoff between the dividend and buyback will increase tremendously.
So for those expecting a large buyback over the next five to ten years, you may want to temper your expectations a bit. With the $14 billion repurchase, Apple had about $18 billion left on the current buyback, assuming no other shares were bought back in the quarter. This buyback was originally scheduled to end at the end of calendar 2015, but many think it will finish before then. Again, for that to occur, it may take some debt or fund repatriation, unless you think Apple's domestic cash balance is going to get a lot closer to zero. Remember, Apple is paying out around $11 billion or so a year in dividend payments, which accounts for a lot of Apple's US cash production. I'm sure the company wants some margin of safety.
So I would suggest that Apple investors temper their buyback expectations a bit. $10 billion a year might be more realistic than $15 billion a year. Don't forget that when Apple took out debt last year, shares were around $440. They are now about $100 above that, so each buyback dollar is not as powerful as it was back then. That means the share count won't come down as fast, which hurts potential dividend raise prospects and EPS numbers. $10 billion a year is a little less than 23 million shares at $440, but at $540 it is about 18.5 million shares. Remember too that executive options and other dilutive securities do offset the buyback to some extent. Apple's original $10 billion buyback was designed just to offset any dilution, not to really decrease the share count. Apple expanded that buyback by $50 billion in an effort to get the share count down, and the company has done so in a meaningful way.
Where Apple stands now:
In this section I'll look at where things currently stand for Apple and other top tier techs. Since this article is primarily about capital returns, I'll first start with dividend yields. In the chart below, you can see Apple's yield against Microsoft, Intel, and Cisco. I also included an "Apple $3.50" yield to show what Apple's current yield would look like if Apple raised its dividend to $3.50 today. Google does not pay a dividend currently.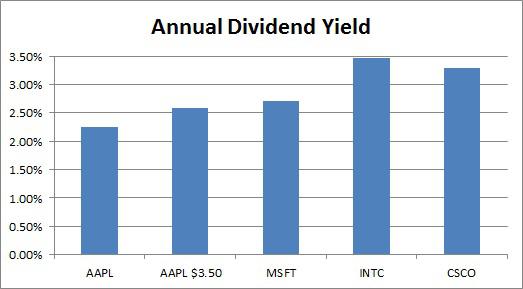 Apple is in fourth place right now, trailing Microsoft by 45 basis points, Cisco by 104, and Intel by 121. If Apple were to raise the quarterly dividend to $3.50 today, those leads would decrease by 33 basis points. Cisco has already raised its dividend this year, and I expect a raise from Microsoft later this year. At the moment, I am not expecting a dividend raise from Intel this year, but that might change later this year (only a small raise perhaps though).
Investors do need to realize that it will take a bit of work for Apple's yield to get closer to its peers. Just to get Apple's yield to 3% right now, Apple would need a quarterly dividend of about $4.06 based on Tuesday's closing price. On the flip side, at the current dividend, Apple would need to fall below $407 (approx.) to have a 3.00% yield. At the $3.50 dividend, shares would need to be under $467.
The other way to compare these names is in terms of growth and valuation. In the table below, I've compared the four tech giants that pay decent dividends and are buying back stock. I excluded Google because Google doesn't have a dividend or buyback. Google offers a lot more growth currently, but also trades at a significant premium. You can view Apple's estimates here, and from that page you can get to all other names.

*EPS Growth and P/E are non-GAAP.
When you convert Cisco's valuation to GAAP, it's close to that of Apple. Apple does have the biggest buyback, which makes up for the lower dividend yield. However, Apple is being pressured a bit due to growth concerns. Microsoft seems to have a solid growth plan in place, so investors are bidding up shares. Intel is seen as a company with growth potential as the company moves its chips into tablets and smartphones. Investors like that potential from Intel. But when it comes to Apple, the current quarter will show mostly flat growth, and investors don't like that. Perhaps later this year when Apple starts to introduce new products the valuation will improve, but at the moment, it's lower than the rest.
Final thoughts:
Apple has poured tens of billions into capital returns, and investors may be getting spoiled. Apple had a bloated balance sheet and cash pile, and the company put available funds to work. However, the company's domestic cash balance has come down, and was propped up recently in the past year by a large debt issuance. Going forward, the dividend will be raised, but investors counting on a sustained large buyback need to bet on one of two items, either a lot more debt or a repatriation of foreign funds.
There are two comparisons that fit well here. First is the person in their 40s with a retirement account. The retirement account is part of this person's net worth and those funds could be used in an emergency, but a penalty will be paid. The same is basically true of Apple's foreign cash balance. The second comparison is Intel. A few years ago, Intel took out a bit of debt and had a very strong buyback. The share count came down nicely and the dividend rose nicely. Recently, Intel's business has hit a speed bump. Intel has gone nearly two years without a dividend raise, and the buyback has slowed down tremendously.
In the end, I'm not here today to ring any alarms or knock down the capital return plan to nothing. Lately, I've seen a lot of Apple talk that seems a bit too optimistic. My goal today was to simply put things in perspective, and remind investors to be realistic when it comes to capital returns. The dividend will go up and stock will be bought back, but investors can't expect the moon at this point unless you are betting on a ton of debt or repatriation.
Disclosure: I have no positions in any stocks mentioned, and no plans to initiate any positions within the next 72 hours. I wrote this article myself, and it expresses my own opinions. I am not receiving compensation for it (other than from Seeking Alpha). I have no business relationship with any company whose stock is mentioned in this article.
Additional disclosure: Investors are always reminded that before making any investment, you should do your own proper due diligence on any name directly or indirectly mentioned in this article. Investors should also consider seeking advice from a broker or financial adviser before making any investment decisions. Any material in this article should be considered general information, and not relied on as a formal investment recommendation.