The cover of Barrons this past week read "Here Comes $75 Oil". The article highlights that due to several new "game changers" in the oil production market that within the next 5 years the oil market would fall to $75 a barrel. The three main reasons that would contribute to cheaper oil are deep-water oil, shale oil, and oil sands. All of these newfound resources are estimated at roughly one trillion barrels in newfound oil. Adding that onto the existing global oil reserve estimated at 1.5 trillion, makes this newfound oil a major factor in the future of oil pricing. The article references Citigroup energy analyst Eric Lee, who believes that most of this new oil could be recovered for around under $75 per barrel, leading to a global decrease in price.
As much as $75 oil sounds nice and would no doubt be a major boon to the U.S. and world economies. Yet after examining existing extraction cost data it is hard for the supply side economics to actually work out and support $75 oil for a sustained period of time. According to the U.S. Energy Information Administration (EIA), they expect worldwide consumption of petroleum products to grow by 1.2 million barrels per day in 2014 and 1.5 million barrels per day for 2015. This increased demand would put worldwide oil consumption at 91.60 million barrels per day in 2014 and 92.97 million barrels per day in 2015.
In 2013, total world oil production came out in at 90.33 million barrels per day, compared to a global consumption of 90.38 million barrels per day. The EIA would agree with the Barron's article that newfound oil reserves will offset the current deficit, but current estimates show that newfound oil reserves would only add 1.3 million new barrels of oil to the existing world oil market. This would put total supply estimates for 2014 and 2015 at 91.67 million barrels per day and 93.00 million barrels per day, a slight surplus, but not enough to justify a 25% decrease in price.
The below graph highlights the EIA's estimates for global oil supply and consumption over the past two years and its forecast for the next two years: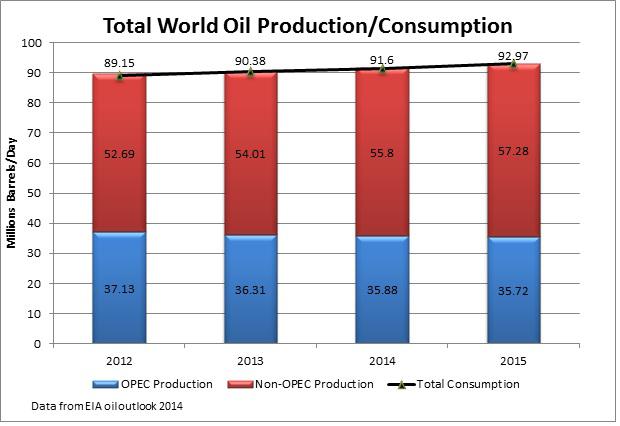 Deep-Water Oil
It is no doubt that OPECs supply of oil to the globe continues to fall and other non-OPEC nations are entering the market to meet energy demands. Deep-water oil drilling was identified in the Barron's article as one of the three supply side game changes. Deep-water drilling in the mid-2000s and up to 2010 was a newfound method of extracting oil from the depths of the world's oceans and provided hope that the world's dependence on OPEC oil would start to decrease. Unfortunately, in 2010 the Deep-water Horizon accident in the Gulf of Mexico that involved BP (NYSE:BP) and Transocean (NYSE:RIG) put a bit of a black eye on future deep-water activities and increased costs from a regulatory standpoint.
Aside from the disaster in the Gulf, the economics alone from deep-water driller are hard to justify $75 oil. For starters, the EIA estimates that on average it costs around $60 per barrel just to drill and produce deep-water oil. That price is just breaking even on costs, with no rate of return. That may seem high, but take for example firms like Transocean, Seadrill (NYSE:SDRL), or Noble Corp. (NYSE:NE) whose deep-water rig day rates can range from $450K to $600K per day. Add on top of that the transportation cost of moving the oil back to shore to be refined and finally sold, and it is easy to see how $60 per barrel is a feasible break-even price.
Exxon Mobil (NYSE:XOM) earlier this year announced that it had intended to develop Hebron in partnership with Chevron (NYSE:CVX), Statoil (STO), and Suncor (NYSE:SU). The Hebron discovery was made over 30 years ago (1981), but due to the sheer costs involved in the development and production of the Hebron site, it has up until now kept this find on the back burner. The production costs alone of the Hebron project will require an average oil price of $58 per barrel and will demand Exxon to sell at a minimum of 240 million barrels from this find just to pay back the construction costs to build such a drill site.
Oil at a price point of $90-$110 per barrel allow projects like this to continue to happen and major oil companies to continue to invest in exploration and development. Without significant upside margin potential, it is very hard for oil companies to justify to shareholders that taking such risks and spending the amount of money necessary to extract the oil makes sense for such a razor thin margin. Additionally, when margins are "fat" in encourages safe extraction behaviors that retrieve oil in a sustainable method with no cut corners, so as to avoid future oil spill disasters.
Hydraulic Fracking Oil
Hydraulic fracking, or fracking as it is more commonly known, has created a major energy boom in the United States. The EIA has estimated that oil extracted from the use of fracking could make up 350 billion barrels. There is no denying that shale oil has tipped the scales on the supply side of the oil graph, but is it enough to bring oil down by almost 25%?
Given the nature of how the oil/gas is extracted, shale oil is more difficult and expensive to extract. The main reason for this is because the oil is heavier and flows much slower. This ultimately drives up the costs of production compared to much more conventional oil extraction methods that would be used by OPEC nations. Given the necessary time, difficulty, and cost, shale production break-evens in the U.S. can range anywhere from $60 to $75 per barrel. At current oil price levels, there is plenty of room left to make a healthy profit, but if prices were to contract, that healthy margin would evaporate, possibly forcing production to decrease or halt entirely.
As oil price contraction becomes a possibility, several of the area's largest producers - Continental Resources (NYSE:CLR), Statoil, and Hess Corp. (NYSE:HES) - are all working to try and bring down the costs of production. Thus far, these firms have been successful at decreasing costs, but given the overall difficulty in extraction, those costs can only come down so far. This should come as a signal that any significant downward change in the price of oil would be a major headwind for the continued operations of these firms, especially as they continue to push to increase output.
The EIA estimates that this year the U.S. will produce an average of 8.54 million barrels of oil per day. Compare this to the EIA's estimate that the U.S. on average consumes 18.49 million barrels of oil per day. Even with the strongest domestic oil output since 1986, the U.S. is still short by almost 10 million barrels per day of just meeting its own demand. When comparing total estimated U.S. oil output in 2014 to the EIA estimates of global oil demand, the U.S. oil production in 2014 will only make up 9.32% of total global demand.
Some might argue that as more wells come online, U.S. production will increase and make up a bigger piece of the pie. One of the biggest criticisms of standard shale wells is the short lifespan of the wells. Global Sustainability estimates that the U.S. will need to drill 6,000 new wells per year at a cost of $35 billion just to maintain current production levels. Given this, the firm believes that by 2017 the U.S. will hit its max production levels and ultimately return back to 2012 production levels.
Tar Sands Oil
The tar sands oil is a type of oil that is extracted through open pit mining where tar sands are removed, taken to an extraction plant where a hot water process is used to separate bitumen from the tar sand composite, which is eventually converted to crude oil. This process, much like the other two processes, is rather costly and requires roughly two tons of tar sands for every one barrel of crude oil that is produced. Added onto the difficulty in extraction and refining of the product, tar sands are really only readily available in Canada, Venezuela, and in certain parts of the U.S. and Middle East. Due to majority of the oil coming from Canada, the need for improved rail and pipeline to move the oil in a cheaper, more efficient way is a major challenge for the industry. Firms like Kinder Morgan (NYSE:KMI) are rushing to expand pipeline to meet demand, but it will take time to completely build out the necessary infrastructure.
In a Scotiabank study that was released last month, the firm found that the Saskatchewan Bakken (tar sands mine) offers the best deal from a production break-even standpoint. The study determined that the Saskatchewan Bakken costs roughly $44.30 per barrel to produce, compared to the Permian basin, which has a break-even of $81 per barrel, the Bakken at $69, and the Eagle Ford at $63.57. The report goes on to state that a majority of oil producers require a break-even price of $77 per barrel just to cover costs and generate a 10% rate of return. Below is a graphic from the article that highlights average break-even costs for several of the existing fracking and oil sand sites in North America.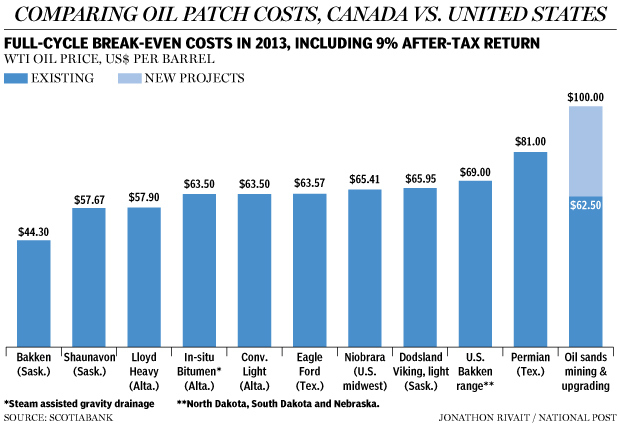 Aside from the cheaper overall cost (comparatively), tar sands also have the advantage of longevity. Once a mine is developed and producing, it can be around years, if not decades, depending on size, whereas a majority of shale wells have a very finite production life, with the average well lasting only three years. A good example of this came in 2009 when Chesapeake Energy (NYSE:CHK) began fracking a well near Oklahoma City that at the time was producing 1,200 barrels per day. That same well at the end of 2013 was only producing 100 barrels per day. The economics for tar sands are there, and of the three "game changers," they are the most consistent and safest choice. Yet given the high upfront costs, it is still hard to see how $75 oil would help this industry continue to grow and develop.
Global Growth and Demand
Looking past the three "game changers" that Barron's highlights, one of the most important factors in its $75 oil calculation that is not calculated in is population growth and increased demand. It is estimated that by 2040, there will be 8.5 billion people on the planet, pushing the overall energy demand up by 35%. A lot of that energy demand will be coming from newly developed and developing nations who will be far less efficient than developed nations in the using of that energy. Additionally, over the next 25-30 years, countries like India and China are estimated to make up more than half of the entire world's energy demand, according to the EIA.
Those statistics alone make it hard for me to believe that $75 oil is feasible possibility anytime soon. I will concede to the fact that the Barron's article did hit on the point that in order to achieve this, the country's fleets would need to move toward other fuel sources, like natural gas. The trucking and rail fleets in the U.S. make up a significant portion of our daily oil consumption. Firms like Waste Management (NYSE:WM) have already moved toward having majority of its trucks run on natural gas, and both GE (NYSE:GE) and Caterpillar (NYSE:CAT) are working to develop a natural gas powered locomotive, as a shift toward cleaner fuels. If firms like Berkshire Hathaway's BNSF, Union Pacific (NYSE:UNP), and Norfolk Southern (NYSE:NCS) were to upgrade their fleets, that would be a step in the right direction. Many more firms would still need to follow suit by upgrading to Cummins' (NYSE:CMI) new LNG/CNG engines to have any significant long-term effect on the price of oil.
Overall, when presented with the supply side economics on oil production and factoring in the rate of consumption, I find it hard to believe that Barron's prediction of $75 oil over the next 5 years as being anything but fiction. In reality, I see oil staying at current levels until significant policy change actually takes effect both in this country and globally to lessen the overall demand of oil by using cheaper, more abundant fuels to fulfill our energy needs. Until then, I will remain long oil.
Disclosure: I am long KMI, XOM, RIG, GE, WM. I wrote this article myself, and it expresses my own opinions. I am not receiving compensation for it (other than from Seeking Alpha). I have no business relationship with any company whose stock is mentioned in this article.