When a company raises its dividend, potential income-driven investors tend to be a bit more interested as to what may be going on with that particular company. With that said, I not only wanted to examine the most recent dividend increase by the TJX Companies (NYSE:TJX), but also highlight a number of reasons behind my decision to remain bullish on shares of this particular department store play.
Company Overview
Based in Framingham, Mass., the TJX Companies, operates as an off-price apparel and home fashions retailer in the United States and internationally. The company operates in four segments: Marmaxx, HomeGoods, TJX Canada, and TJX Europe. As of February 1, 2014, it operated 1,079 T.J. Maxx, 942 Marshalls, 450 HomeGoods, and 4 Sierra Trading Post stores in the United States; 227 Winners, 91 HomeSense, and 27 Marshall's stores in Canada; and 371 T.K. Maxx and 28 HomeSense stores in Europe.
TJX Increases Its Quarterly Dividend 21%
On Tuesday, April 1, the TJX Companies reaffirmed its previously announced quarterly dividend increase of $0.03/share that would bring its upcoming dividend payout to $0.175/share. It should be noted that the increase was originally announced on February 26 when TJX reported its results for both the fourth quarter and full-year 2013.
Not only does this boost represent a 21% increase from its prior dividend of $0.145/share (paid on March 6), it was also in line with its previous increase on $0.03/share that was announced on February 27, 2013.
24-Month Dividend Behavior
Since May 8, 2012, the company has increased its quarterly distribution twice over the last two years (including the company's most recent increase that was announced on February 26). From an income perspective, the company's forward yield of 1.14% ($0.70) coupled with its 24-month dividend behavior certainly make this particular stock a very viable income option for long-term investors in search of a conservatively yielding department store play.
New Buyback Program Is Aimed Enhancing Shareholder Value
Along with the distribution of dividends, share repurchase programs also enhance the value of a shareholder's position by reducing the number of outstanding shares that are available for potential investors to purchase. With that noted, TJX recently disclosed its plans to repurchase between $1.6B and $1.7B or 5% of its outstanding shares by January 31, 2015. I strongly believe that if TJX can follow-through with its share repurchase program, as it intends on doing, there's a very good chance we could see the number of shares outstanding be reduced by an additional 3%-4% over the next 24-36 months.
Recent Performance & Trend Behavior
On Tuesday, shares of TJX, which currently possess a market cap of $43.52 billion, a forward P/E ratio of 17.00, and a dividend yield of 1.14% ($0.70), settled at a price of $61.19/share.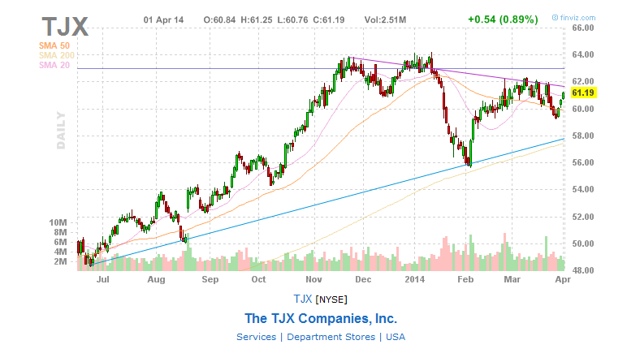 Based on their closing price of $61.19/share, shares of TJX are trading 0.28% above their 20-day simple moving average, 2.09% above their 50-day simple moving average, and 6.57% above their 200-day simple moving average. It should be noted that these numbers indicate both a short-term and mid-to-long term uptrend for the stock, which generally translates into a buying mode for both near-term traders and long-term investors.
Conclusion
For those of you who may be considering a position in the TJX Companies, I strongly recommend keeping a close eye on the firm's recent trend performance, its ability to continue to maintain its dividend, and its ability to continue to enhance shareholder value over the next 12-24 months, as each of these factors could play a role in the company's long-term growth.
Disclosure: I have no positions in any stocks mentioned, but may initiate a long position in TJX over the next 72 hours. I wrote this article myself, and it expresses my own opinions. I am not receiving compensation for it (other than from Seeking Alpha). I have no business relationship with any company whose stock is mentioned in this article.