How many companies do you know that deliver their investors a return on equity of 44%? Or a price appreciation of more than 45% in a year? Not a lot. However, Boeing Co (NYSE:BA) is one of these companies. Increasing globalization and concerns regarding the safety of aerospace travel is increasing the need for aircrafts that are efficient and safe. With Boeing becoming an increasingly popular choice of the airline industry it is obvious that profits and share value will climb. The company also offers tremendous potential to earn returns.
In this article we will be discussing the company's 2013 performance I will then highlight key points regarding my belief that the company will deliver premium returns in the future.
2013
The company completed the year with another record level revenue of $86.6 billion that was 6% higher than 2012. The commercial airplane business reported the highest figure of $53 billion with 648 total deliveries being made including the highest ever deliveries of 737, 777, and 787.
The other major segment, defense, space and security also had a strong performance despite US budget headwinds and hard-hitting global competition with revenue climbing to $33 billion owing to increased deliveries of aircraft and satellites and significant program wins. Other characteristics that prevailed included higher operating margins and progress in improving productivity that allowed Boeing to improve its competitive spot.
Earnings from operations increased by 4.3% to $6.5 billion. Commercial airplanes earnings increased by $1,084 million primarily reflecting lower research and development expenses. The growth rate would have been bigger had unallocated pension expenses not reduced the income by over a billion.
Lower R&D helped the diluted EPS rise nearly 17% to $5.96.
The Future
At the moment Boeing has a backlog of $441 billion. Dividing that figure with last year's sales brings us more than 5 years of confirmed revenue already in stock. The company achieved a key milestone last year that included configuration of the 737 MAX-8 and the beginning of flight testing for the 737 MAX-9 plane. Since detailed designs have been completed and released production can now begin for these models. Final assembly of the 737 MAX 8 is scheduled to begin in 2015 with first delivery scheduled for the third quarter of 2017. The 737 MAX will be 13% more fuel-efficient than today's most efficient single-aisle airplanes. Seeing the present market scenario where growing margins is important the product has the potential to further grow the backlogs.
With regards to the defense unit Boeing adapted the 767-2C fuselage and wings in the KC-46A for the US Air Force's aerial refueling tanker program for the first time in 10 years during 2013. The plane will be flying for the first time this summer. Successful project backing and a reputable history allows Boeing to grasp as much revenue as possible from the tight budgeted US Defense industry. Last quarter the company gained a $750 million order from the US Air Force for engineering services on the B-1 bomber fleet and a multi-year service support contract for the B22.
Improving Market Dynamics in Cargo will be a Plus
Global customer demand for fuel efficient and value creating commercial airplanes remains high as explained by the 508 net orders booked during 4Q13 and additional 30 added in January. Global passenger traffic trends are also strong. The market is gradually improving and appears more stable than last year. This can be seen from the recent 747-8 Freighter orders from Cathay Pacific Airways and Silk Way Airlines highlighting the company's favoured airplanes as they offer grander value proposition and potential for improving the cargo market.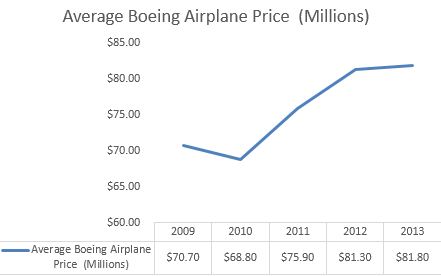 Source: Trefis
The replacement of older airplanes for newer models that offer operating economics and increased fuel efficiency also continues at a healthy pace. Many airline customers around the world are expanding their fleets to support the ongoing growth in passenger traffic. Deferral requests from customers now run below the historical average while requests to accelerate deliveries continue at a steady rate. This, in addition to the rising price of aircrafts (see graph above) has the power to generate revenues at a better pace than what the present backlog holds.
Bottom Line
Why it is the right time to buy?
Boeing's share value is down 9% year to date. Concerns regarding lawsuits being filed against the company owing to the recent Malaysian Airline crisis may continue to scare investors and promote further dampening of price. This, however, provides a good entry point. With all of the above future prospects Boeing remains a good buy even if you want to hold it for the upcoming medium term.
Disclosure: I have no positions in any stocks mentioned, and no plans to initiate any positions within the next 72 hours. I wrote this article myself, and it expresses my own opinions. I am not receiving compensation for it (other than from Seeking Alpha). I have no business relationship with any company whose stock is mentioned in this article.