Overview
ARMOUR Residential REIT Inc. (NYSE:ARR) and Five Oaks Investment Corp. (OAKS) are both high-yielding residential REITs that pay monthly dividends. In this article, I will be taking a look at both in order to determine which is the better investment for investors looking at residential REITs.
ARMOUR Residential
Back in July of last year, I kicked off a series of articles related to low-priced stocks to avoid. In round 1, ARMOUR Residential was one of the three stocks I reviewed. I recommended that investors avoid ARMOUR due to poor earnings growth, poor stock price returns, and a recent string of dividend cuts.
Unfortunately, there hasn't been a lot that has changed since then. Back then, ARR was trading at $4.52. It closed Tuesday at $4.16 for a loss of $0.36 per share between the end of July last year and now.
ARMOUR still has poor overall financials, with a negative profit margin (-446.1%), negative returns on assets and equity (-0.88% and -8.29%), negative quarterly revenue growth (-1.71%), and negative net income (-187.04M).
Since my prior ARR article back in July, you can see from the chart below that ARMOUR's earnings have steadily decreased.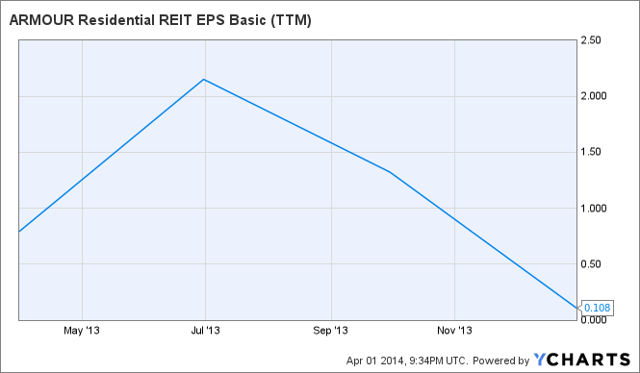 ARR EPS Basic (TTM) data by YCharts
Last week, ARMOUR was downgraded by Compass Point from Buy to Neutral. About a week earlier, ARMOUR was downgraded by TheStreet Ratings from Hold to Sell. I maintain the same position I held back in July of last year, that investors should continue to avoid this stock.
While ARMOUR has been able to steady its monthly dividend at $0.05 per share (at least for 2014), I haven't seen any evidence that the company's poor financials are going to significantly increase at any point in the near future. Besides the stabilization of its dividend, the only other positive that I would make for ARMOUR is that is currently priced lower than it was back in July, for anyone wanting to gamble. But considering the stock's 1-year price return (-36.29%) and 3-year price return (-45.05%), there's a decent chance you will always be able to get this stock at a cheaper price.
Five Oaks Investment
Five Oaks is a recent public REIT that started trading on the NYSE back in March of last year. While Five Oaks has seen a similar price decline compared to ARMOUR, having seen a loss of 23.88% over the past year, the overall financials are in better shape.
Five Oaks has a profit margin of 87.55%, returns on assets and equity of 0.48% and 3.23% respectively, and earnings per share of $0.88.
You can see from the chart below that Five Oaks recent earnings have been recovering, while ARMOUR's have continued to slide.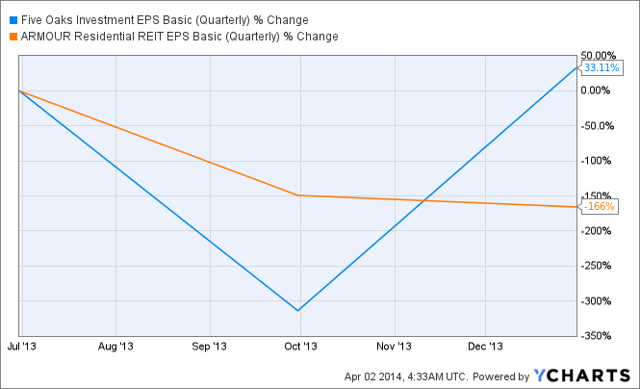 OAKS EPS Basic (Quarterly) data by YCharts
Five Oaks currently pays a $0.125 per month dividend that yields 14.31%, which is nearly exactly the same as ARMOUR's 14.42% yield. Five Oaks has already committed to paying the same dividend for the 2nd quarter of 2014, while ARMOUR has committed to its dividend through the end of the year.
Looking at the chart below, you can see that both companies saw decreases in their dividends over the past year, but ARMOUR's decrease has been far more substantial.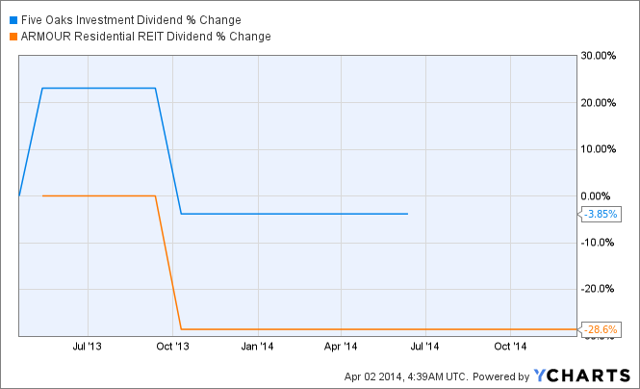 OAKS Dividend data by YCharts
In addition, Five Oaks has seen a stabilization of its book value, while ARMOUR's book value has fallen substantially over the past year.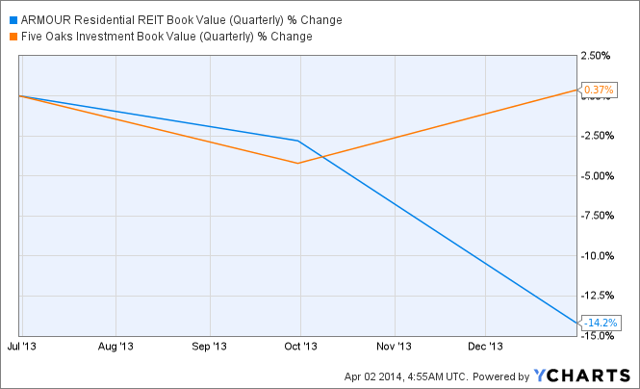 ARR Book Value (Quarterly) data by YCharts
Conclusion
Both ARMOUR and Five Oaks offer similar high-yield monthly dividends. As both are residential REITs, they both share some common risks; however, in my opinion, I believe that Five Oaks is the one that investors should consider. I believe both stocks will offer investors nearly the same dividend returns in the short term, while I believe that Five Oaks has a higher probability of providing price returns on its stock as well. After reviewing the portfolios of both companies, I feel that Five Oaks is better-positioned to limit risk and see continued improvement in its overall financial condition.
While ARMOUR continues to see negative values in several key metrics, such as returns on assets and equity, revenue growth, net income, etc., Five Oaks has seen more stable recent financials. Because of this, I recommend investors continue to avoid ARMOUR. For investors looking for high-yield dividends, I believe that Five Oaks is worth considering as a buy. As always, I suggest individual investors perform their own research before making any investment decisions.
Disclosure: I have no positions in any stocks mentioned, and no plans to initiate any positions within the next 72 hours. I wrote this article myself, and it expresses my own opinions. I am not receiving compensation for it (other than from Seeking Alpha). I have no business relationship with any company whose stock is mentioned in this article.