Johnson & Johnson's (NYSE:JNJ) share price went up 20% in one year. That's not surprising considering the progress the company has been making as reflected in its yearly performance. Innovation remains at the heart of the company with new products introduced within the last five years making up 25% of total revenue. Of course this requires investment in R&D as well as a strong hit to the bottom line but that's what makes Johnson & Johnson competitive and allows the company to survive the long term.
In this article we will have a quick look at how Johnson & Johnson performed during 2013. We will also see how the company is doing in terms of generating better future prospects for investors.
2013
Source: Presentation
Total sales climbed 6% to $71 billion with growth emerging from all three segments: Pharmaceuticals, Consumer, and MDD. The positive thing was that prices remained stable while volume gains (7.6%) led sales that were negatively impacted through currency fluctuation. Since Johnson & Johnson generates more than half of its revenue outside of the US, the currency impacts were likely to prevail.
Ensuring a reliable supply of products to the marketplace, particularly in the analgesics and upper respiratory products, caused OTC sales in consumer to climb 7% compared to the previous year. Similarly, brands such as Neutrogena and Aveeno brought in sales for the skin care department. Pharmaceutical remained strong as well with an 11% increase in segment sales as a result of market share gain in products such as REMICADE.

Source: 10K
MDD benefited from the acquisition of Synthes which led to higher growth rate net of the trauma business the company divested last year. Cost of products sold as a percentage of sales decreased compared to the previous year. This was the result of a positive mix resulting from higher sales of higher margin products, lower costs associated with strong volume growth in the pharmaceutical business, and cost reduction efforts.
The decrease was partially offset by incremental intangible asset amortization expenses related to Synthes, the medical device excise tax introduced in 2013, and increased amortization expenses as a result of the royalty buyout agreement with Vertex for INCIVO.
The adjusted EPS of $5.52 reflected an annual increase of more than 8%. For the future, there are minute but important points to know that will collectively assure sales growth.
The Future
Let's begin with pharmaceuticals. Last year Johnson & Johnson's REMICADE brought more than $6 billion in sales. The highly successful product has 2015 till its patent expires in Europe while for the US the date extends to 2018. Unless a better alternative is introduced, medicines provide a good outlook at whether or not the product will be successful from its initial phase. This alone tells us that REMICADE will continue to contribute growth to the segment whose industry is anticipated to grow by 3-4% going forward.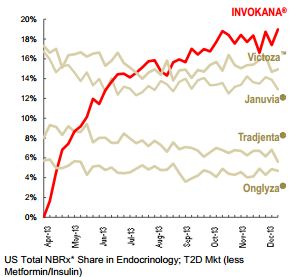 Source: Presentation
Following the same principle, the company's INVOKANA, an oral type 2 diabetes agent, has beaten its competitor months after being granted approval last year (see graph above). It presently maintains the number one status as an agent under endocrinology as seen through its NBRx share. The product has a long way to go and sales from here are likely to cause a positive impact on total returns.
Apart from internal developments, acquisitions such as that of Depuy Synthes, the world's largest orthopedics company will allow Johnson & Johnson to address markets such as spine that it had previously struggled to perform in. Synthes' expertise in the segment will help Johnson & Johnson to acquire technology and grow the $4 billion sales contribution. Eventually, this will benefit investors.
Such successful products justify Johnson & Johnson's R&D spending. Last year, the company spent $5.8 billion on research in pharmaceutical alone. Those numbers are nothing to worry about especially considering the company's past performance. Johnson & Johnson's plan to file more than 10 NMEs for approval in 2013-2017 and over 25 additional line extensions for end market products will result in another portfolio of goods that will become market leaders in their own departments.
Moreover, expansion in China where healthcare expenditures are expected to increase 14% per year up until to 2017 will likely result in another boost since the company's operations within the region go back 28 years and consumers are familiar with their previous products. The company recently generated $2.8 billion in sales from the region. Given the population, unmet medical needs, demographic changes, and finally the steps the government is taking to enhance the healthcare system, there is tremendous opportunity for the current and patent pending products that Johnson & Johnson has to introduce.
Bottom Line
This article only discussed pharmaceuticals and MDD segments. Johnson & Johnson holds a dominant position in consumer care where its baby products are favored worldwide. The company experienced a modest 1.7% gain in revenue last year, but it is acceptable since the department makes up 21% of total revenues. Growth in pharmaceuticals will ensure Johnson & Johnson continues delivering first class returns in the future. Therefore, I recommend buying the stock.
Disclosure: I have no positions in any stocks mentioned, and no plans to initiate any positions within the next 72 hours. I wrote this article myself, and it expresses my own opinions. I am not receiving compensation for it (other than from Seeking Alpha). I have no business relationship with any company whose stock is mentioned in this article.