The news yesterday that Gazprom (OTCQX:GZPFY) is hiking the price of Ukrainian imports by 44% should come as no surprise in the current political climate. The various loans, aide packages and other forms of monetary support which have been pledged to Ukraine by the USA, EU and others recently could be swallowed up relatively quickly. Ukraine has stated they will try to shift usage and consume more natural gas from their neighbors to the West. I do not see how that will help given that the rest of the EU is also dependent on Gazprom and Russia.
Many in the USA have been calling for greater exports of US shale gas to help solve the problem. I am not sure that there are enough ships in the world, ports constructed or storage facilities built to make that a practical solution. Instead of exporting the gas, we should be exporting the technology and expertise developed in the USA during the recent natural gas boom.
The Ukrainian Shale Gas Potential
According to a US Energy Information Association (EIA) study last year;
"The Ukraine State Service of Geology and Mineral Resources (Gosgeonedra) has announced shale gas resources in the country of 7 trillion m3 (Tm3) or 247 Tcf.1 However, the basis for this estimate has not been released and the figure includes some tight gas resources. The newly created Geological Research and Production Center in Poltava plans to coordinate shale gas studies in Ukraine, while monitoring water quality in drilling areas. Ukraine's current Production Sharing Agreement (PSA) involves a 5-year exploration period and up to 45 years for development. Tender fees are modest: $60,000 for the tender and $10,000 for the geologic information package."
247 trillion cubic feet is a lot! To put it another way, it is about half of what is available in the USA. There is a lot of discrepancy over the total amount. The EIA goes on to say that about 195 trillion cubic feet of gas are recoverable, others have estimated lower. Towards the end of last month, the WSJ put together a nice interactive map of the shale gas deposits in Europe. It is clearly seen that Ukraine contains one of the largest deposits in Europe, second only to Poland.
Infrastructure Takes Time
Ukraine is a struggling economy with poor infrastructure and high unemployment. All of these are things that act as a barrier to full integration in the EU anytime soon. Turning Ukraine into a major energy producer would be beneficial to the both the EU and Ukraine. From a geo-political standpoint it would be beneficial to all 28 members of NATO including the USA. Surely it would be better to invest in the infrastructure than in subsidizing Russia's exports.
It is true that infrastructure takes time to build, but look at some of the great government led building projects of the past. How long did it take Hitler to build the autobahns or the United States to build the Federal Highway System? I just depends how badly you need it.
There is a large eager and available workforce and much of the infrastructure already exists.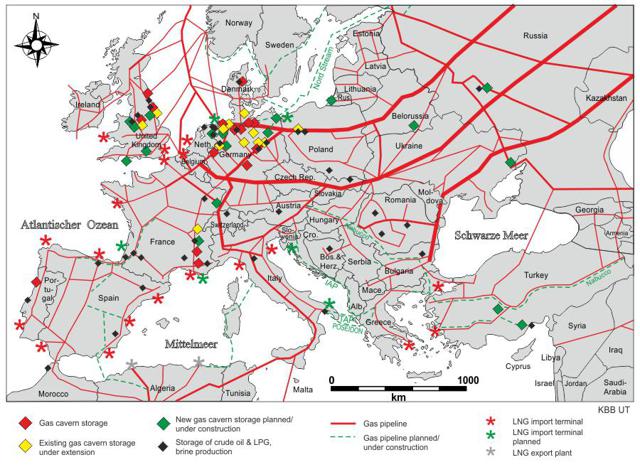 Source (kbbnet.de)
All that is needed is the will and the money. As we said earlier, Ukraine is not capable from a financial standpoint. Some of the largest companies in the world are. Companies like Exxon (NYSE:XOM), Shell (NYSE:RDS.A), BP, Eni (NYSE:E), Halliburton (NYSE:HAL) and many others. We all know who they are. This time, it might pay to get in before the war happens.
First to Benefit
So who was interested in a Production Sharing Agreement with Ukraine?
Shell, Chevron (NYSE:CVX), Exxon, Eni and BP all responded to the tender offer.
Shell was the first to be granted PSA in the eastern part of Ukraine. Under the terms of the agreement, Shell would receive 70% of the profits from the concession.
It came as some surprise last month when the company announced they had ended talks over the agreement. I believe this is the area that many experts highlighted as a possible next target for Putin after Crimea. It is stable for now, but if Putin does push further into Ukraine he will probably try to gain control of this region. Perhaps the threat is enough or the company anticipates a long drawn-out period of uncertainty.
(Correction: The announcement above relates to a separate project off shore in the Black Sea. Talks Stopped due to the annexation of Crimea. It is a good example of what could happen in Eastern Ukraine if Russia makes further moves into the country. As things stand Shell is still progressing under the 70% terms of the PSA that covers an area of almost 8000Km2.)

Chevron and Eni both have stakes in Western Ukraine close to the Polish border. This area is obviously much more stable. Its proximity to Poland and the other companies working there may make this a prime location. An express pipeline to Germany and the rest of Western Europe.
There is more infrastructure in Poland many companies have been busy: Chesapeake (NYSE:CHK), Range Resources (NYSE:RRC), Shell, Statoil (NYSE:STO), Exxon Mobil, EQT Corp. (NYSE:EQT), Consol/Noble Energy (NYSE:NBL), Chevron, Talisman Energy (NYSE:TLM), Ultra Petroleum (NASDAQ:UPL), Anadarko Corp (NYSE:APC), Cabot Oil & Gas (NYSE:COG), Southwestern Energy (NYSE:SWN) and National Fuel Gas (NYSE:NFG).
I am sure all of them would quite happily operate in the Ukraine also given some political reassurances from the West and some more encouragement from Ukraine. I believe EIN let its Polish licenses lapse in favor of moving into Western Ukraine.
Conclusions
I am not normally a proponent of fracking. I do feel that it is preferable to losing half your country or ending up at the center of World War III. I believe that the political will exists to rapidly develop the Ukrainian deposits. All of the companies mentioned here have the opportunity to benefit except perhaps Gazprom. The financial incentives should be clear to anyone who has witnessed this type of development in the USA over the last few years. Although recoverable deposits are 60% less than the USA, it is still the 2nd largest in Europe and still untouched. If the new government in Ukraine is willing to keep or improve the terms of the PSA, we could see a similar boom.
This type of boom is exactly what is needed to stabilize the Ukrainian economy and the geo-political region. Ukraine will also need to explore other options for sustainability in the future, but this would be a good first step.
There are large unusable areas of Ukraine due to the Chernobyl disaster. I am not sure if solar arrays care that the ground they are sitting on is radioactive, but the energy they produce would not be. In the future that may be one way to get some use out of land which will be uninhabitable for the next 20,000 years or so.
The obvious downside would be war, and I am sure this was the major reason Shell has backed out for now. War has never stopped the oil and gas industry operating before, they are just more likely to favor the safer locations. I am not sure that there is another way to fix the many issues currently facing Ukraine. Continued expansion in Poland may make it easier to supply Ukraine, but not if Russia turns off the gas taps.
Disclosure: I have no positions in any stocks mentioned, and no plans to initiate any positions within the next 72 hours. I wrote this article myself, and it expresses my own opinions. I am not receiving compensation for it (other than from Seeking Alpha). I have no business relationship with any company whose stock is mentioned in this article.
Additional disclosure: This article may contain certain forward-looking statements. I have tried, whenever possible, to identify these forward-looking statements using words such as "anticipates," "believes," "estimates," "expects," "plans," "intends," "potential" and similar expressions. These statements reflect my current beliefs and are based on information currently available. Accordingly, such forward-looking statements involve known and unknown risks, uncertainties and other factors which could cause actual results, performance or achievements to differ materially from those expressed in or implied by such statements. I undertake no obligation to update or provide advice in the event of any change, addition or alteration to the information contained in this article, including such forward-looking statements.