Note: Mainstreet Equity trades on the TSX under the symbol "MEQ". All currency presented, including the summary, are in CAD.
In keeping with the theme of great owner operators, I present Mainstreet Equity (OTC:MEQYF) or "Mainstreet", one of my favorite real estate investments right now. Like Morguard, which I've previously written about, they are both terrific businesses with great management leading at the helm. I find it difficult to pick one over the other and so it's really matter of your investing style. Morguard is a larger and more diversified deep value investment, if that's what you prefer. While Mainstreet is more of a "(massive) growth at a reasonable price" type that is exclusively focused on apartments. My solution: just buy both.
Mainstreet has great investor presentation on its IR website and it tells me everything I want to know as an investor: what they do, how they create value, their track record, and future opportunities.
What They Do
Mainstreet targets the mid-market segment in Western Canada and this is what their portfolio looks like:
Surrey, Abbotsford (British Columbia): 2,217 units
Calgary (Alberta): 1,638 units
Edmonton (Alberta): 3,533 units
Saskatoon (Saskatchewan): 917 units
Toronto (Ontario): 260 units (to be divested)
So why mid-market and Western Canada? Management believes Western Canada is poised to continually grow rent, revenue, and NOI due to superior fundamentals:
Limited new supply - current market rents do not justify new constructions due to high replacement costs
Strong economic growth - Alberta real GDP grew by 3.3% in 2013 and RBC Economics projects acceleration to 3.9% in 2014
Robust demand - net migration in target markets will support additional demand
The above drivers have trickled down to growth in rental rates and CMHC (Canada Mortgage Housing Corporation) forecasts further growth in 2014. The two-bedroom average rent is expected to rise by 4%, 3%, and 2.4% in the Calgary, Edmonton, and Saskatoon markets.
From the presentation, the following are some of the mid-market characteristics:
Typically less than 100 units
Fragmented Mom & Pop ownership
Owner neglect and mismanagement
Greater deferred maintenance
Owners have limited access to capital
Higher vacancy / Lower rents
It sure looks like the type of condition that a well capitalized consolidator could add significant value, and that's exactly what Mainstreet is about.
How They Create Value
So this is probably the most exciting part of my article as they are simply phenomenal.
Take a look at this summary from Mainstreet's financial reports on how they operate: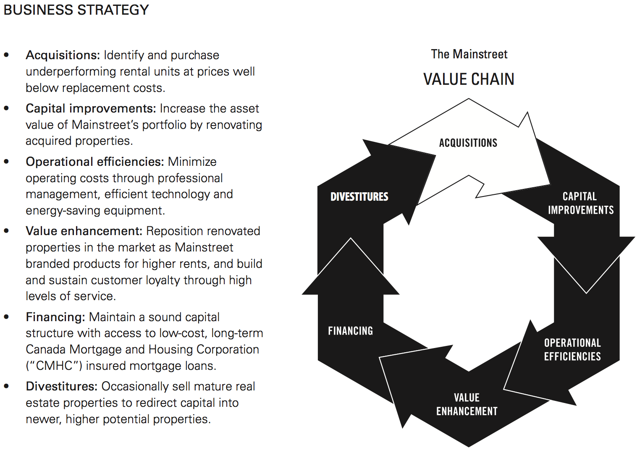 You can see they are not just buying properties and getting bigger, but actually adding value and actively managing the portfolio in an opportunistic fashion.
This compares to your typical REIT acquisition strategy, which looks a lot like financial engineering:
Acquiring properties at market cap rate (say 6%)
Use cheap debt and equity to fund the acquisition (say 50/50 debt/equity, with dividend yield at 6% and cost of debt at 3%)
Acquisition is "accretive" and multiples expand in anticipation of more deals
Higher share price makes equity a cheaper acquisition currency
Repeat the cycle in a reflexive manner
Now don't get me wrong, there's nothing wrong with financial engineering. Value is value however you can get it. The problem is sustainability. Unless we get a Japan-like deflationary environment, it's almost a given (in my view) that interest rates will keep rising. In this type of environment, reflexivity can work against you:
Higher interest rate increases cost of debt
Higher debt financing cost lowers share price
Higher overall cost capital reduces number of attractive transactions
Fewer deals further lower share price
Some of the decline have already occurred during last year's REIT sell off, so the brunt of the effect may already be priced in. Going forward however, outperformance will come from superior property management and run-of-the-mill companies can no longer count on just financial engineering transactions.
Back to How They Create Value
Visually this is what adding value looks like: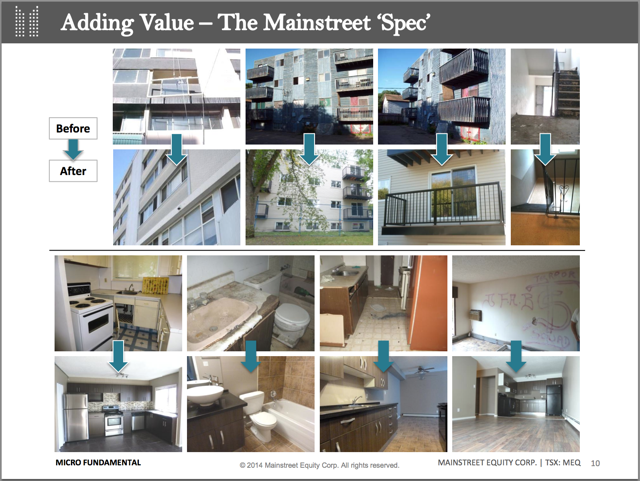 It definitely looks a lot more livable after transformation.
Another competitive advantage Mainstreet enjoys is through economies of scale: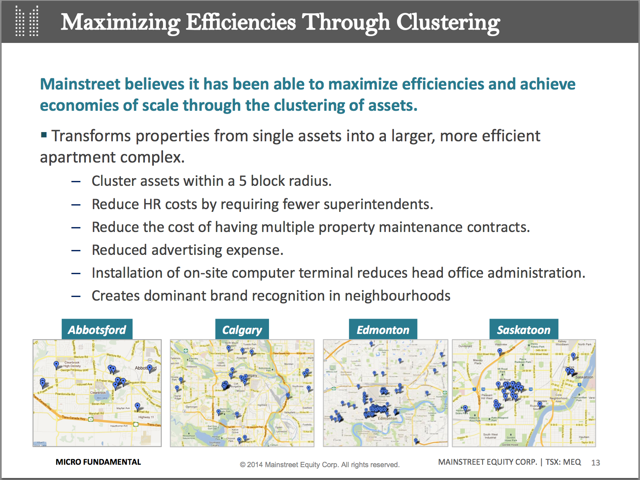 The mid-market also inherently offers better operating efficiencies vs. larger complexes: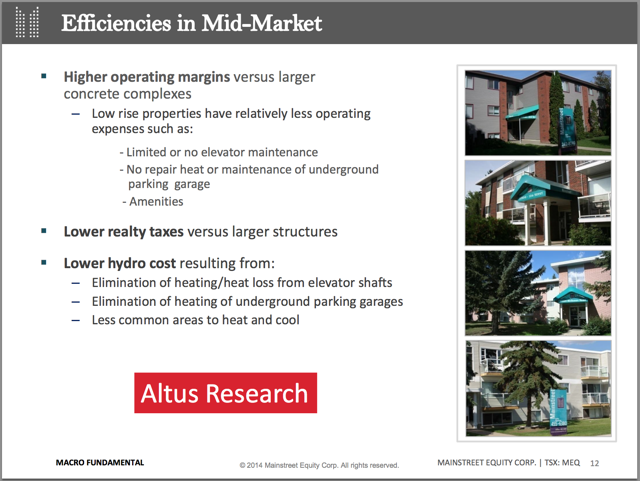 Combine the factors, Mainstreet is a dominant player in an attractive niche while its competitors are weak and fragmented.
Their Track Record
Let's put some numbers to what they have been able to achieve.
Right in the top of every financial report, they are not shy about touting their streak of 13 consecutive quarters of double digit year-over-year growth in FFO and NOI.
And like they said, they have been able to achieve better NOI margin because of the segment they operate in as well as their strong operational efficiencies:
| | |
| --- | --- |
| Peers | NOI Margin (2013) |
| Mainstreet Equity | 67% |
| Boardwalk REIT | 62% |
| CAPREIT | 57% |
| Morguard North American Residential REIT | 51% |
A few case studies: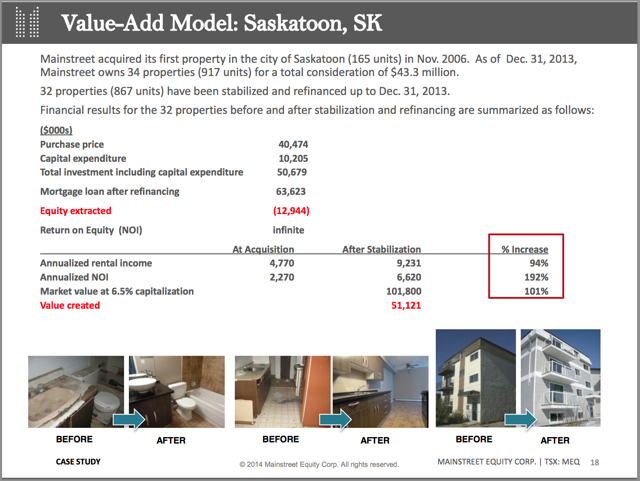 Amazingly, management actually extracted equity in the 32 properties they have stabilized. And we are talking about 32 properties here, not some isolated incidence.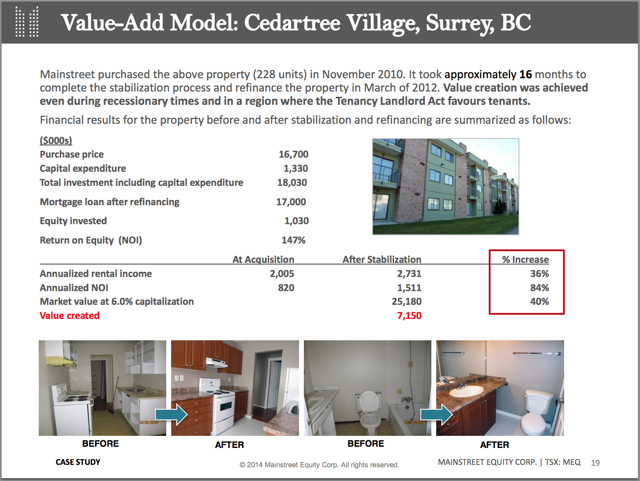 A recent example of a single property in Surrey. Return on equity of 147% after 16 months of stabilizing the property.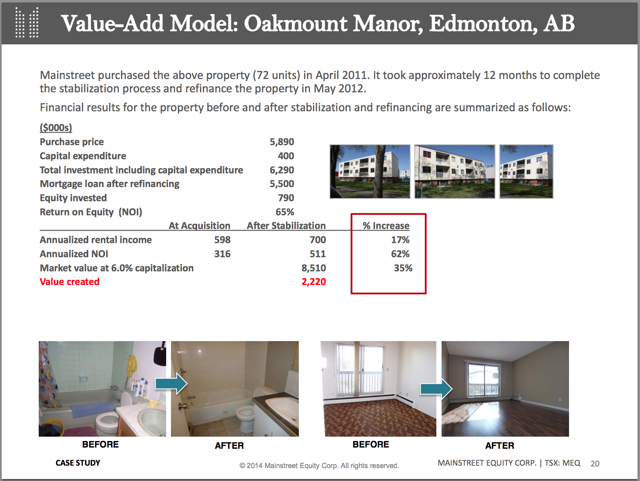 Just a mere 65% ROE here.
Looking at the 833 units acquired in 2012 and 702 units acquired in 2013, the appraised value of those properties have increased by 15% and 20% respectively.
The value-add process exemplified by the above examples have contributed to significant shareholder returns: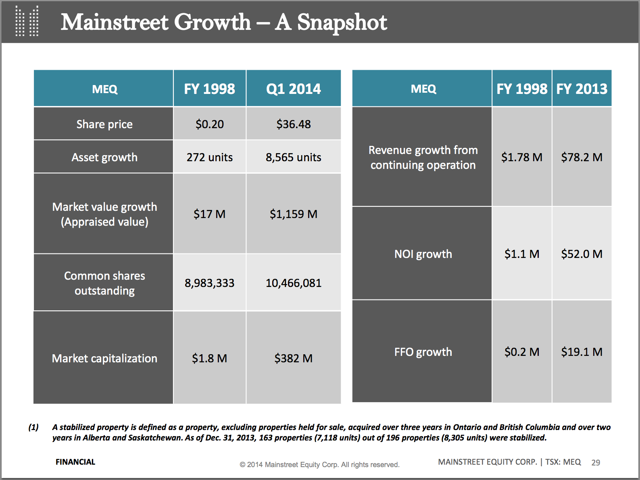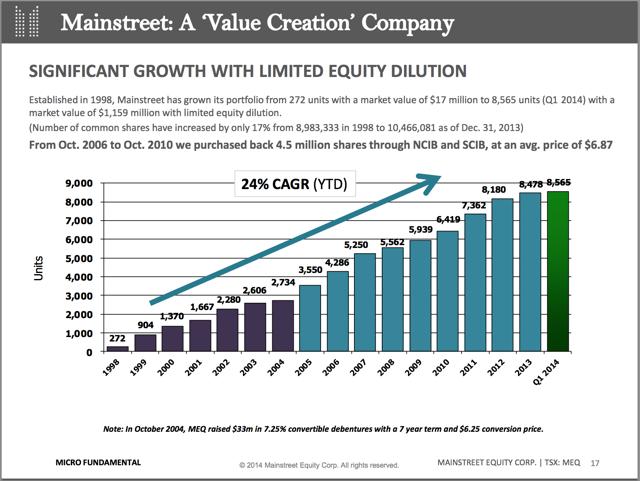 Portfolio units grew at 24% CAGR while share count only increased by 17% (or 25% fully diluted) in 15+ years, with no dilution since 2009. Shares were repurchased at average price of $6.87, including a substantial issuer bid (a tender) that bought back 23.8% of outstanding shares at $6.25/share in late 2008, right in the heart of the financial crisis.
Future Opportunities
Great so they've done well, but what about the future? Management believes they currently have 9.4% market share in target markets. They see the potential to almost double market share to 18% and still have room for significant growth. Given their past successes, there's no reason why they can't continue to do just that.
As a value-add business, Mainstreet has many unstabilized properties at all times and currently 14% of the portfolio is considered unstabilized. Simply stabilizing these properties alone should lower vacancy and increase rent and NOI. By how much? Management has a slide that quantifies these drivers: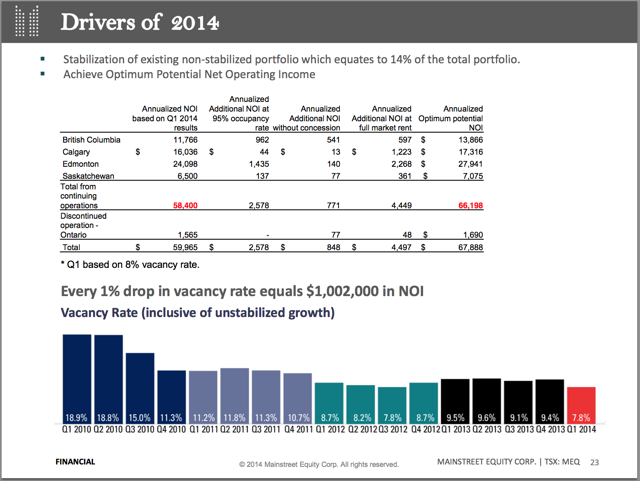 Risks
I honestly cannot come up with any company specific risks other than the usual risks of recession (highly unlikely) and supply/demand fundamentals (which is favorable). Corporate governance, oddly enough, is the biggest risk I can muster.
First, let's see good part. From Mainstreet's website, here is a profile of the man leading Mainstreet, CEO Bob Dhillon:
Bob is Mainstreet's founder, a leading Canadian real estate owner and asset manager with more than two decades of experience in acquiring and repositioning all types of properties. Bob made his real estate start while still a teenager, buying a pair of houses in Calgary, renovating them and selling them for a tidy profit. He was hooked, and soon moved into larger residential buildings, where he discovered a talent for finding under-valued property and repositioning it. As he built a private property portfolio from the ground up, he honed and perfected a model of acquiring under-priced properties and renewing them to a much higher and more valuable standard.
Obviously, an IR website will try to paint a good picture on everything. However, it does seem that Mr. Dhillon is not only great at managing real estate (as evidenced by Mainstreet's success), but someone who is genuinely passionate about his job.
The problem is with a very suspect option issuance during fiscal 2009 (ends Sep 30), at rock bottom prices. Options to purchase 925,000 shares were issued to executives and directors with average exercise price of $5.51. Now it does appear to be legitimate and within the rules. They're not backdating options or anything like that. And in most years, executive compensation has been reasonable and no options were issued in the past 3 years:

Here is director compensation in fiscal 2013: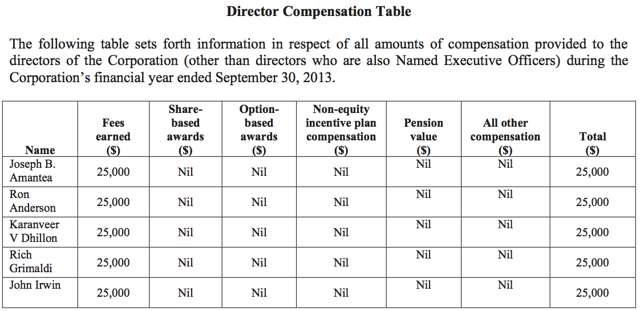 Again, very reasonable here. It makes that option issuance even more puzzling.
One rationale is the board believes that net of the large buyback in fiscal 2009, outstanding and diluted shares actually decreased. However, I don't believe doing one shareholder-friendly action justifies doing something shareholder-unfriendly. There is also a poison pill in place that inhibits anyone from acquiring more than 20% of shares.
Absent these issues, Mr. Dhillon should be well incentivized to enhance shareholder return as he owns 36% of the company. Also, Vision Capital, a Canadian real-estate focused hedge fund, has recently acquired a 10% stake in Mainstreet. I think they are just passive investors here, but having a large, engaged shareholder should help prevent poor corporate governance practices in the future.
Aside on Vision Capital: I don't know that much about them, but I have seen their CEO Jeffrey Olin many times on TV. He seems to be a smart, long-term oriented investor. You can find a few of his TV appearances from this link on their website. Their funds have also delivered strong performance since inception: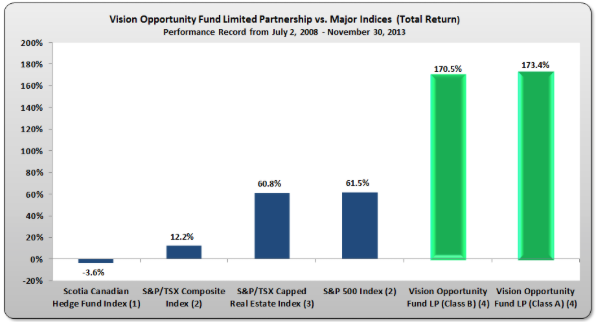 A Note on Interest Rates
While I think it's probably old news at this point, rising interest rates is a secular headwind that every commercial real estate owner will face. (I have heard the argument that rent growth should offset higher interest costs, but I think that is net neutral at best. You would still need to deal with fewer availability of viable acquisitions).
In the case of Mainstreet, I believe higher interest rates will have a negligible effect until at least 2021. Wait, how is this possible you ask. First, 94% of debt is fixed-rate. Second, check out the maturity schedule: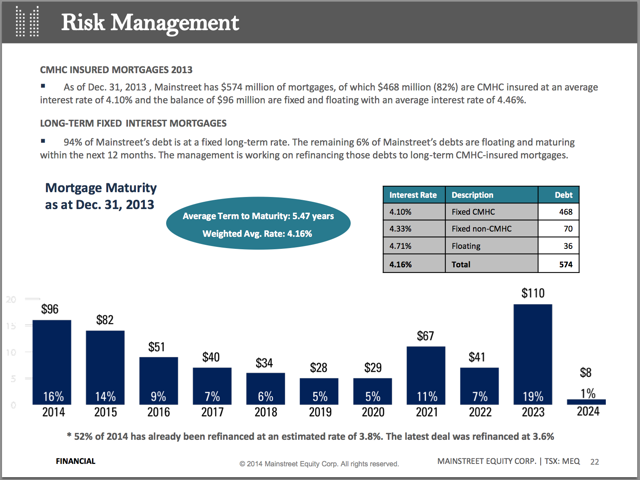 Looking at both, it's clear that most of the near term maturities are at interest rates higher than current rates. Assuming steady climb in rates till 2018, most of the debt should get refinanced at similar interest rates, if not lower. In fact, as mentioned above, 52% of 2014 maturities are already refinanced at 3.8%. 50% of debt is locked in beyond 2019 at 3.84% and only 5% of debt matures in each of 2019 and 2020. A few percentage point increase on ~$28 million of debt in 2019/20 is simply not material.
Lastly, Mainstreet is a corporation, not a REIT. They don't have to distribute earnings (Mainstreet currently pays no dividend) and thus have internally generated capital to fund acquisitions without issuing shares.
Valuation
With these "Outsider"-type companies, I am usually content to buy at any price that is reasonable. Mainstreet currently trades around 17x my estimate of 2014 FFO and NAV is $55/share from independent appraisal. A few thoughts on valuation:
While 17x forward FFO doesn't look much of a bargain, the multiple may actually be cheap because profitability is currently understated. The unstabilized portion of portfolio experiences temporarily higher vacancy rates as units go through renovation, which depresses overall rent and NOI. As one of the previous slides show, simply optimizing existing portfolio alone can increase potential NOI to $66 million (vs. $52 million in fiscal 2013).
Net asset value is probably a better approach. Given the uncertainties on timing of stabilization process, I have relied on the IFRS disclosure on NAV instead of doing my own model. Their assumptions are as follows:

So the good news is shares are trading one-third discount to NAV, but there is always the question of how sustainable the current cap rate is.
There is a good sell-side report from M Partners that explains why the recent Edmonton apartment acquisition by Morguard Corporation substantiates Mainstreet's book value. (It was actually sent to me by IR email alert, though there is no business relationship with Mainstreet.)
The following table taken from their report summarizes the "read through" to Mainstreet's Edmonton portfolio (43% of suites):

The report also pointed out that "to generate an unlevered return/cap rate of 5.0% paying $200,000 per suite, this would require monthly rent of $1,282 (assuming 65% NOI margins); this is significantly higher than MEQ's Edmonton rents, which last quarter averaged $902."
Another point to remember is there are 2 variables to cap rate: discount rate and growth rate. Specifically: cap rate = discount rate - growth rate. While some of the cap rate compression has been driven by lower discount rate, growth rate is high in Mainstreet's target markets. This is especially true for Mainstreet as NOI typically rise significantly after stabilization process.
Conclusion
We've seen why I think Mainstreet is a pretty awesome company. Really, the only question is what's the right price to pay for it. While I am not completely confident with the cap rate assumptions to pinpoint an intrinsic value, I do think current price seems reasonable. For a great business that can compound at over 20%, that's good enough for me.
Disclosure: I have no positions in any stocks mentioned, but may initiate a long position in MEQYF over the next 72 hours. I wrote this article myself, and it expresses my own opinions. I am not receiving compensation for it (other than from Seeking Alpha). I have no business relationship with any company whose stock is mentioned in this article.
Additional disclosure: I purchased MEQ on the TSX.