The information blackout is understandable but it substantially increases the risks to anyone holding the stock. At any moment and at any time, the company could suddenly announce a complete collapse in its business and the failure of finding any palatable strategic alternatives. Into this darkness, the market is likely to sell CWTR stock on the mere sniff of any news. In particular, signals pointing to a bankruptcy will force selling first and asking questions later.

However, this is exactly where the speculative buying opportunity comes when trading at the edge of bankruptcy. These kinds of quick trigger reactions quickly exhaust willing sellers. Into the proceeding vacuum should come short-covering and/or "bargain hunters" who find the lower entry point worth the risk.
I wrote this passage in October 2013, in the wake of a press release from Coldwater Creek (NASDAQ:CWTR) that essentially put the company on bankruptcy watch. Since then, investors have only heard from the company when it reported more dismal results for its fiscal third quarter. At that time, CWTR reported year-over-year declines in net sales (-18%) and gross profit (-27%). Net loss increased 77% year-over-year. Cash fell to $6.8M from $31.3M from a year earlier, not likely enough cash to make it through more losses over the holiday season. President and CEO Jill Dean tried to sound hopeful:
While we are encouraged by the favorable customer response to recent deliveries, the holiday selling season is still underway and the environment remains highly competitive. Moving ahead, we believe the essential steps to accelerate our turnaround and to deliver stability to our top-line involve successful execution of our strategic merchandising and marketing initiatives, aggressive cost cutting measures and disciplined inventory management.
On Monday, March 31st, 2014, the Dow Jones stepped into the information vacuum on CWTR by speculating that the company will soon file for bankruptcy. The stock responded just as I suggested it might in response to such news/rumor: a swift and nearly complete sell-off. The stock closed with a 76% loss on the day.
Following the strategy of the bankruptcy trade, I waited to see whether the company would issue a quick press release denying the rumors. With nothing forthcoming, I went ahead and dove in just ahead of the close of trading. I risked the after hours news cycle betting that a bankruptcy filing would not likely follow so quickly on the heels of rumor. With more silence from the company the following day and double-digit gains in the stock (CWTR ended up 40% on the day), I decided to call-in the trade. In these situations, companies fighting bankruptcy rumors are typically quick to issue public denials. The on-going silence suggests there is indeed a very high likelihood of an imminent bankruptcy filing; I have no desire to push my luck further than I can see it.
The strategy for the bankruptcy trade ends here. If the company surprises with a belated denial, I will consider buying into what will certainly be a rush to reverse most of Monday's losses. However, I would not expect the stock to gain much from there without some new news and a freshly positive catalyst.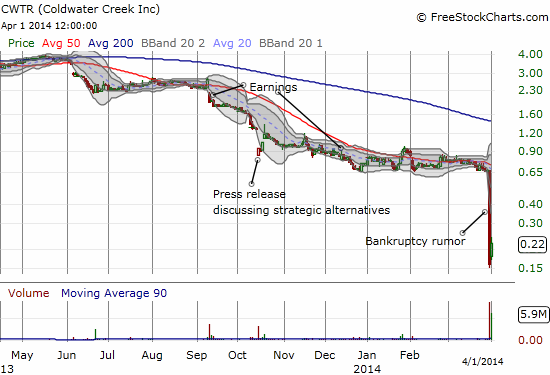 A company on the brink
Source: FreeStockCharts.com
Be careful out there!
Disclosure: I have no positions in any stocks mentioned, but may initiate a long position in CWTR over the next 72 hours. I wrote this article myself, and it expresses my own opinions. I am not receiving compensation for it (other than from Seeking Alpha). I have no business relationship with any company whose stock is mentioned in this article.
Editor's Note: This article covers one or more stocks trading at less than $1 per share and/or with less than a $100 million market cap. Please be aware of the risks associated with these stocks.