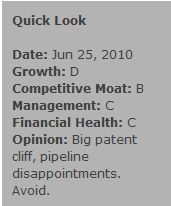 Eli Lilly (NYSE:LLY) is one of the largest of the "big pharmaceutical" companies, focusing especially on the clinical areas of the nervous system, endocrine system (hormones), cancer, and the cardiovascular system (heart and lungs). The firm also has a substantial veterinary drug business.
Lilly's largest and most important drug is Zyprexa, which is used to treat schizophrenia and bipolar disorders. In 2009, Zyprexa totaled $4.9 billion dollars in sales, putting it easily within the top 10 selling drugs worldwide and representing about 22% of Eli Lilly's total revenues. Cymbalta, a strong antidepressant, delivered $3.1 billion in sales, an impressive 15% increase over 2008 and 14% of the firm's total sales. Other blockbuster contributors include: Humalog, an insulin substitute ($1.96 billion); Alimta, a lung cancer treatment ($1.7 billion); Cialis, for erectile dysfunction ($1.56 billion); Gemzar, a pancreatic cancer drug ($1.36 billion); and Evista, for osteoporosis ($1.03 billion). In all, the company has a pretty impressive portfolio of drugs, with less concentration risk than many competitors.
First, the positives. Branded drug development is an immensely profitable business, with operating margins in the high 20% range on tens of billions of dollars in sales. Patent protections usually extend for at least a decade, providing drug firms with "mini-monopolies" once they get a compound approved. Eli Lilly's near-term forecast is strong, as Cymbalta continues to gain approval for new indications, and the company focuses on expanding their overseas sales, where they lag competitors like Pfizer (NYSE:PFE). Also, the stock pays a handsome 5.7% dividend yield that is easily supported by free cash flow (50% payout ratio). The company's 42 consecutive years of dividend hikes make it reasonable to assume that more will be forthcoming. Finally, the near-16% earnings yield on the stock is cheap enough to mitigate much of the risk.
That big risk on Eli Lilly, like many branded drug companies, is the upcoming "patent cliff" it faces in the 2011-2013 time frame. Many of the above blockbuster drugs will lose patent protection in those years, allowing generics makers to copy the formulas and sell them at drastically lower prices. Generic competition on a drug usually leads to as much as 80% sales declines, usually within a few years. Take a look at Eli Lilly's patent expiration calendar:
Zyprexa: loses protection in 2011.
Gemzar: compound lost protection in 2010, already facing generics overseas.
Cymbalta: loses protection in 2013.
Humalog: loses protection in 2013.
Put all of those together and you come up with $11.32 billion dollars in 2009 sales, meaning that by the end of 2013, Eli Lilly will need to replace something close to 40% of its revenues (after adjusting for leftover sales). Clearly, this is *the* headline risk in the stock, and it is a serious one.
Like many competitors, Lilly has a variety of strategies to try and mitigate this upcoming cliff. First, the firm spent $6.5 billion in 2008 to purchase ImClone, primarily for that company's cancer drug Erbitux. Currently Erbitux is about a $400 million a year drug for Lilly, but the company is pushing for expanded indications to grow sales (though it was rejected for lung cancer in Europe last year). Additionally, Erbitux is a biological drug, which shields it from generic competition in the U.S., for now.
Secondly, the company invests heavily in its drug development pipeline. While most large pharmaceutical firms spend around 15% of sales on R&D, Lilly invests 20%. As a result, the firm has a deep pipeline, with 68 total compounds, 30 of which are in later stage (Phase II or III) trials. Most of these are at least a few years away. More near-term, however, is recently approved blood thinner Effient, a competitor to mega-blockbuster Plavix (Bristol-Myers Squibb (
BMY) and Sanofi-Aventis (NYSE:SNY)), the world's second highest selling drug with over $8 billion in 2009 sales. Effient has produced better efficacy (rates of benefit) than Plavix, and if the drug can grab even a slice of Plavix's market, the windfall would be huge for Lilly.
Will it be enough? Right now, the outlook is not particularly positive. Effient has been, frankly, a major disappointment since being approved last July. While most industry analysts had expected over $100 million in sales for its first year, quickly ramping up to blockbuster (>$1 billion) status, Effient has delivered just over $36 million of sales in 9 months, and only about $13 million in the past 6 months. The product got stuck with a FDA label warning of the risk of significant bleeding. This, along with doctor's trust and familiarity with Plavix (which has been on the market for more than 10 years), has presented high barriers to Effient's uptake.
Eli Lilly has a weak recent track record of drug approvals and a clear overpayment for ImClone. Put it all together, and it throws Lilly's patent loss mitigation strategy into question. Additionally, the recently passed healthcare reform has already caused management to lower estimates for 2010. There are real reasons to avoid the stock. MagicDiligence recommends MFI investors look elsewhere.
Disclosure: Steve owns PFE