Astute investors know that at any given point, a company's share price and its intrinsic value can differ from one another. Even so, they know that price will track intrinsic value (whether it grows, shrinks or languishes) over the long run.
JPMorgan Chase (NYSE:JPM) closed at $60.67 on Tuesday, April 1st, 92% of its all-time closing high price of $65.67.
The problem is JPM hit that high in March 2000, just over 14 years ago, at which point the bank had $391 billion in assets, versus its current $2.4 trillion. And that fact makes it a stand-out against several of its big-bank peers, as the chart below shows: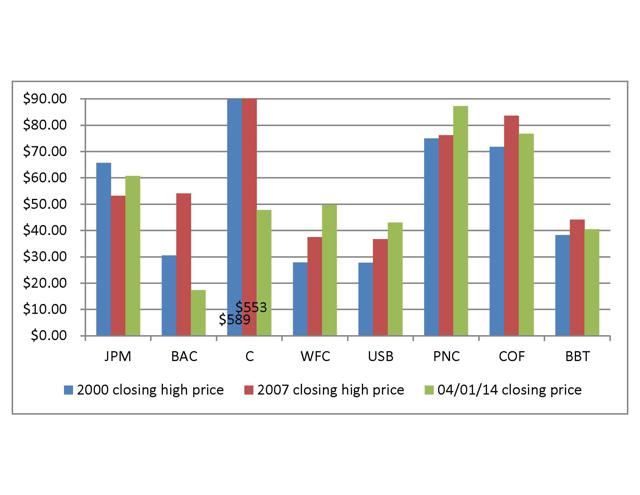 The chart contains the eight largest US banks ranked in declining asset size order. Closing high prices are shown for 2000 and 2007 (both of which years contained near-term highs for the overall stock market) and the April 1st closing price.
Let's first look at Citigroup (NYSE:C). C's 2007 high of $553 was 6% below the $589 of 2000. So even the years before the financial crisis weren't all that great for it. C's price collapsed thereafter, done in by poor operating performance and massively dilutive common share issuances. The story is similar for Bank of America (NYSE:BAC), just not as severe.
But take C and BAC out of the mix, and five of the six other banks' current share prices are materially above the 2000 highs, Wells Fargo's (NYSE:WFC) in particular. And WFC, US Bancorp (NYSE:USB) and PNC Financial (NYSE:PNC) had higher prices in 2007 than in 2000, which JPM did not.
It's fair to give Citigroup's long-term stock price performance an "F," but if WFC gets an "A," does JPM get anything above a "C"?
With over $2 trillion in assets, JPM is now massive. It got that way from acquisitions. Which begs the question of whether those acquisitions were good or bad for JPM's stock price. Clearly, the $59 billion Bank One acquisition (announced January 2004, closed July 2004) has been good for JPM's share price and intrinsic value. JPM's current price is 55% higher than the price on the day prior to the deal's announcement. Perhaps only someone of CEO Jamie Dimon's caliber could properly knit together all the previous acquisitions.
But where does Dimon and JPM go from here? It's true that JPM's earnings have been hampered by massive fines and blunders like the London whale trading debacle. But EPS growth has also been helped by harvesting excess loss reserves, an aid that's coming to an end.
Will the level of asset growth typical in a healthy economic environment drive robust JPM stock price growth? That depends on what other things come with that healthy environment. Higher interest rates aren't the long-run panacea for bank earnings that some analysts seem to think they are (eventually all assets and liabilities reprice, and historically JPM's net interest margin has never been all that great). And those rate increases will reduce the carrying values of its bonds, which will reduce book value. So growth may prove to be only a modest blessing.
JPM currently trades at 1.5x tangible book value per share and 9.6x the median FactSet 2015 EPS estimate. The 2015 estimate implies a return on tangible common equity in the neighborhood of 16%. And it sports a 2.6% dividend yield. JPM is probably slightly undervalued today, given today's low implied cost of equity capital. So if rates do rise, it will look less cheap, perhaps even overvalued.
WFC looks more expensive, trading at 2.1x tangible book and 11.7x 2015 EPS, but its forecasted return on tangible common equity is around 18%. And the ride has been a relatively stable one for long-term investors.
Does the bumpy ride JPM's stock took in the past tell us anything about its future? Clearly today's management team is superior to that of its past. But in June 2004 as the Bank One deal closing approached, Dimon had predicted a $100 or higher JPM share price by June 2009. Nearly five years hence, the stock still hasn't even surpassed its considerably lower pre-Dimon high.
Is Dimon still chasing that $100 goal, and if so, will shareholders end up happy that they did? Only WFC is an unambiguous "thumbs up" for the virtues of bank bigness, with C and BAC both clear "thumbs down."
On which side will JPM ultimately weigh in?
Disclosure: I have no positions in any stocks mentioned, and no plans to initiate any positions within the next 72 hours. I wrote this article myself, and it expresses my own opinions. I am not receiving compensation for it (other than from Seeking Alpha). I have no business relationship with any company whose stock is mentioned in this article.