Bob Evans Farms, Inc. (NASDAQ:BOBE) is a 65 year-old Midwestern and Southern based packaged food and casual dining restaurant chain. Restaurant sales account for approximately 75% of revenues, while the remaining 25% comes from packaged food sales in grocery store freezer aisles. These products are sold under the Bob Evans, Owens, and Country Creek brands. In the chain's 560 restaurants, which serve breakfast, lunch, and dinner, long time specialties include pork and sausage products as well burgers.
For the first time in the firm's history, BOBE embarked upon significant capital expenditures over the past 1-2 years, remodeling all 560 restaurants at a cost of roughly $300 million. I recently visited one such location in Cape Coral, FL and was impressed with the modern yet classic feel of the restaurant. I found the food to be of excellent quality, the service to be attentive, and was impressed with some of the new in-restaurant features. Many Bob Evans Restaurants, as part of their renovations strategy now include in-store bakeries, soup and meals to go menus, as well as carry out to car service. Each of these features should serve to increase the average amount each diner spends, while still offering a value dining experience. A corollary to the renovation of the restaurant portion of the business, management has consolidated production and distribution facilities for the packaged food lines, which should further add to overall efficiency.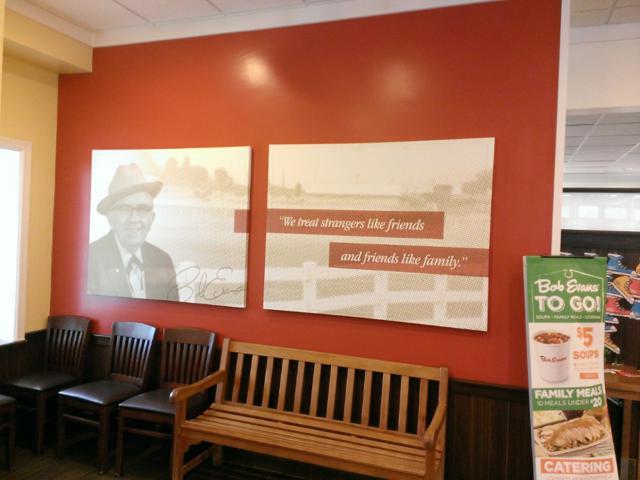 Inside the Cape Coral Bob Evans. Note the banner on the right-side highlighting the new To-Go menu (photo by the author).
BOBE 5 Year Chart

(Yahoo! Finance, BOBE)
Catalysts to the Upside
The end of the significant multi-year remodeling cycle could potentially double earnings per share in FY 2015 - Capital Expenditures down (~$300 million in renovations), Free Cash Flow up.
Potential for increased same store sales due to revamped interiors, in-store bakeries, wider take out menu, carry-out to car service for takeout pick up.
Recently completed consolidation of plants & distribution centers should decrease costs and increase efficiency.
Despite poor weather, winter sales in Florida stores (the vast majority of which have been remodeled) improved by 4.4%. Weather moderation should lead to increased store sales nationwide.
Poor weather also increased sow and production costs, moderation should bring back stronger margins.
Recent earnings misses (in part on higher input costs), lead the market to discount current guidance.
The conclusion of a $225 million buyback program, with an additional $100 million authorized for 2015, will support the share price and boost EPS.
With management and institutional investors having such a high stake in the firm (over 98% of shares) these key constituencies will not tolerate flat to middling growth long; if the renovations and production efficiencies don't push margins and EPS higher, activists (likely supported by institutional investors) will assuredly push for either a spin-off of the prepared foods group, a sale of restaurant real estate, or even both to unlock value.
Capital Expenditures and Free Cash Flow
| | | | | | |
| --- | --- | --- | --- | --- | --- |
|   | Q3 2013 | Q4 2013 | Q1 2014 | Q2 2014 | Q3 2014 |
| CapEx | 24m | 47.8m | 53.3m | 64.4m | 39.6m |
| FCF | 19.1m | 0 | -5.3m | -41.3m | -5m |
Most of the CapEx for the renovations has already taken place. FY15 and FCF gains are 3 months away.
Recent Revenue and EPS
| | | | | | |
| --- | --- | --- | --- | --- | --- |
|   | 2010 | 2011 | 2012 | 2013 | 2014 Q1-Q3 |
| Revenue | 1.7b | 1.7b | 1.7b | 1.6b | 696.1m |
| EPS | $2.37 | $2.19 | $2.54 | $2.39 | $1.23 |
Revenue will hopefully be aided by increased same store sales and EPS should get an added kick from the $100 million buy-back program for FY2015.
| | |
| --- | --- |
| Price to Earnings | 13.3 |
| Dividend Yield | 2.5% |
Both attractive figures relative to the dining sector.
(Data points from Bloomberg Terminal Professional Services)
Analyst Valuations
Oppenheimer & Co. puts a $58 per share target in the next 12-18 months on BOBE.
FrontFour Capital Group (shareholders) - sees the stock at $64.00 per share, 30% EBITDA Growth.
Activist fund Sandell Asset Management (8% stake), is pushing for a spin-off of the packaged food business & a restructuring of the firm's real estate holdings.
In such a break-up, they see the sum of the parts valuation of BOBE at $70.00.
(Oppenheimer & Co. Research & Barron's)
Recommendation
BUY - BOBE - 1 year Price Target $60.00 - ~20% upside as of writing.
With the conclusion of major capital expenditures in FY14 (ending 6/30), BOBE stands poised to reap the rewards of its multi-year store renovations. Even modest increases in same store sales and production efficiencies would lead to a significant EPS bump, and the potential for activist actions each point to reasonable upside in the next 12-18 months. In the meantime, BOBE's 2.5% dividend yield will reward the wait. It is time for retail investors to appreciate Bob Evans Farms!
Disclosure: I have no positions in any stocks mentioned, and no plans to initiate any positions within the next 72 hours. I wrote this article myself, and it expresses my own opinions. I am not receiving compensation for it (other than from Seeking Alpha). I have no business relationship with any company whose stock is mentioned in this article.