At some point one starts to wonder whether the analysts covering Veeva (NYSE:VEEV) need to seek financial therapy for their TAM Denial Syndrome.
A few months ago, we pointed out how the sell-side work on Veeva was exhibiting elements of 'backfire'. We can now safely say these analysts have become hopelessly entrenched.
As a quick refresher, the basic premise of 'backfire' is that when confronted with facts that prove them wrong, opinionated individuals in highly specialized professions react very differently from the uninformed. Basically, instead of changing their minds and acknowledging the correct facts, they entrench themselves even deeper into their existing view.
Today, Morgan Stanley (NYSE:MS) upgraded Veeva to overweight based on a "TAM expansion" thesis.
YES, A TAM EXPANSION THESIS!
Here is how it reads:
"Veeva is a TAM expansion story, in our view, and the company is executing on that front with early success in both Vault and Network. However, the scope of the investment debate has narrowed to Veeva's seat growth potential in Sales Force Automation (SFA), which in turn has driven a 40% pullback in the stock from the highs." MS Veeva, April 2, 2014
Is this a joke?
It's been nearly five months since we exposed this mess, and not a single report has bothered to address the current market size. Now, Morgan Stanley wants you to focus on how that TAM is going to grow from here.
Do these guys think they are going to pull off a Kansas City Shuffle?
As for the fact that $5 billion is nowhere remotely close to what the market size is today, well, we got precisely one sentence on that in the report.
"There has been significant debate regarding the potential size of Veeva's market opportunity, and while we view the $5b current market opportunity presented at the IPO as fair, we think the bigger story is the $44b IDC estimates Life Sciences companies spend on IT each year, and how much of that Veeva can capture over time"- MS Veeva, April 2, 2014
Fair?
It's off by a multiple of 5X!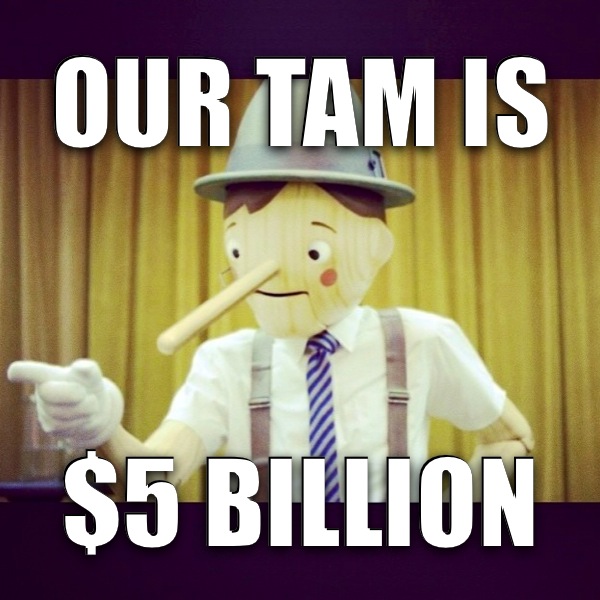 Yes, we have painstakingly researched the top 50 and modeled out the seat penetration problem. But to be frank, that issue pales in comparison to the ASP problem in core CRM. We have identified data points for pricing at top ten pharma in emerging market deployments that if the whole market converged to such a level would imply a sub $200 million TAM for LS CRM today. While we do not expect this to happen, we cannot take any research seriously that simply has no interest in addressing such a material element. Furthermore, we can assure you that Veeva's ASPs will come under pressure because of their high market share in the United States. Incremental seat additions will be coming from much lower ASP markets, and renewals in the USA are likely going to exhibit pricing pressure. There are smaller competitors that could price at $50 a seat for a large seat deal, and still make money. And we are aware of pricing from larger competitors for smaller seat deals that are as low as $70 a month. Run those numbers against the 400k reps in the top 50 and tell us with a straight face that the current TAM presented at the IPO is "fair." Yet, in this entire 24-page report the word ASP doesn't come up even once!
Furthermore, how can you call Vault a $2 billion TAM? Or model $870 million in revenue for it by 2028?
All of EMC IIG did $647 million in revenue last year. This is across all verticals, and not just Life Sciences. And if you understand this space you will realize that the price point replacement proposition here is nowhere near the same as it was with Siebel in CRM. And with most of these pharmas having enterprise wide agreements in place; Veeva will more often than be fighting nothing but the annual maintenance contract.
We have done extensive research, which shows MDM customer master is $200 million max and a highly commoditized space.
Furthermore, if you have gone through implementation after implementation you will get familiar with things like Informatica cloud as well as Onekey integrations, which will give you some serious insight into just how strong the competition is here.
Suffice to say when we go through this math, we can't help but wonder whether this model was constructed in Neverland.
And what is this nonsense about the SFDC contract renewal:
"Veeva also signed an early renewal of their contract with Salesforce.com (NYSE:CRM) on favorable terms, extending it by ten years through 2025, and thereby removing a key risk"- MS Veeva , April 2, 2014
Favorable? To whom? Salesforce.com obviously!
Veeva's 10-K risk disclosures regarding this contract's 'true-up' provision look like they were cut and pasted from our last report. And the key risk from SFDC has always been its PAAS nature and the ability of customers to leverage the existing development ecosystem to build their own solution, and not of SFDC promoting their own competing life sciences specific solution. The terms of this renewed contract make that risk even more clear.
The sad thing here is that these analysts don't realize that when you expose something that stinks as bad as this TAM story does, people tend to come forward. The discrepancy is just so huge that they can't resist chiming in. So, this is not a debate between Bulls and Bears. This is a debate between those seeking the truth, and a group obfuscating it; who seem willing to go to just about any length to help bury it.
We're sure none of you will be surprised but in our view the real market that is "rigged" is the sell-side coverage and investment banking practices of these institutions bringing these tech companies public. Maybe Mr. Lewis will be doing his next book on the "SAAS TAM Boys" and our crusade for the truth.
Disclosure: I am short VEEV. I wrote this article myself, and it expresses my own opinions. I am not receiving compensation for it. I have no business relationship with any company whose stock is mentioned in this article.
Additional disclosure: LONG CRM AND CEGEDIM