Forestland is an extremely important natural resource and also a generally under-allocated investment option. This article seeks to highlight the businesses of some real estate investment trusts ("REITs") that own and manage substantial forest holdings, as well as some of the strengths and weaknesses of entities within this asset class.
REITs must distribute at least 90% of their taxable income in order to eliminate the need for the entity to pay corporate income tax. Generally, REIT dividends are taxed as ordinary income, but under the current laws, dividends paid by timber REITs are taxed as long-term capital gains. Because of this, timber REIT dividends are presently taxed at a similar rate to the qualified corporate dividend rate.
This makes timber REIT dividends distinguishable from most other REITs, as well as other asset classes that are usually considered by income-oriented investors, such as bonds and MLPs. This also makes the risk profile for the asset class slightly discernible from most other public securities because the dividends are sensitive to changes in capital gains tax rates rather than income or qualified dividend tax rates.
The sub-prime crisis and the subsequent decline in housing construction & valuation were particularly hard on the demand and pricing for wood products. While wood is used for a great many things, some of its most substantial uses are in the construction and decoration of real estate. For example, timber, plywood and pressboard are all important building materials for the construction of a home's "bones" and floors, and wood is a common component in many of the furnishings and decorations that go into residential and commercial properties, such as tables, desks, chairs, beds, frames and often even the stuffing in your couch.
The decline in residential construction and renovation clearly had a significant effect on the demand for many wooden products. As demand decreases, pricing power weakens. But when demand for wood falls, these companies must reduce the rate at which they harvest their forestland. This must result in the acreage having a greater amount of trees per acre, and for those trees to be larger on average than they would otherwise be. Essentially, the provable unharvested wood reserves increase.
As demand for wood grows, pricing power should also return. This means that in the future, if housing construction increases, the wood that goes into the construction and furnishing of that home should increase along with it. Moreover, this recent period of weakness should force the businesses to identify measures that can reduce costs, which should help these companies keep a larger portion, if not all, of any future price increases as additional profit.
Weyerhaeuser (NYSE:WY) is the largest forestland REIT in the United States, owning about seven million acres and managing another 14 million, and it is also one of the youngest REITs. Though the company has deep roots, and was founded in 1900, the company converted to a REIT in 2010 after selling off some of its consumer product segments to Domtar (NYSE:UFS) and distributing the proceeds from the sale to shareholders.
In selling its consumer products segment, Weyerhaeuser streamlined its business and became more of a direct commodity play on the price and demand for timber, and also reduced its labor force. More recently, WY has arranged to combine its substantial single-family homebuilding and land development subsidiary, Weyerhaeuser Real Estate Company ("WRECO") with TRI Pointe Homes, Inc. (NYSE:TPH). The combining is expected to be a tax free transaction that will result in shareholders receiving shares in the combined homebuilder, and the remaining WY having an even greater focus on timber. See the image below, identifying WY's continued focus on timber (Source: WY's 3/11/14 presentation):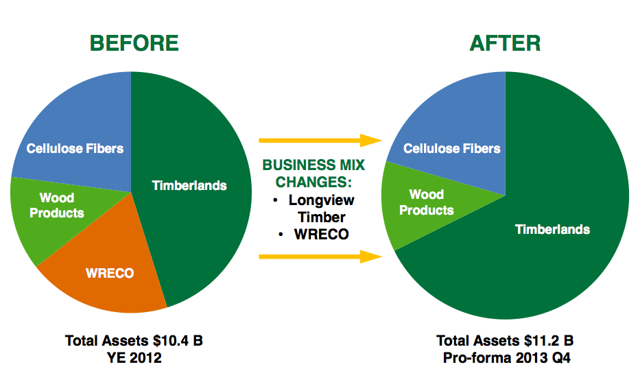 Another interesting example of a forest REIT is Rayonier (NYSE:RYN), which owns diverse tree acreage within the United States and also within New Zealand. Unlike Weyerhaeuser, Rayonier's primary business is performance fibers, though it does have a growing exposure to timberland. Its performance fibers business has its focus on cellulose specialties, such as acetate, ethers and high-strength viscose.
The company's largest business involves acetate, which makes up about 80% of its cellulose specialties business and which is used in products such as cigarette filters and LCD films used in computer monitors and TVs. Around 82% of Rayonier's acetate business is in cigarette filters, making this its largest single revenue source. See the image below breaking down Rayonier's cellulose specialties business segments and end use (Source: Rayonier's 12/10/2013 investor presentation):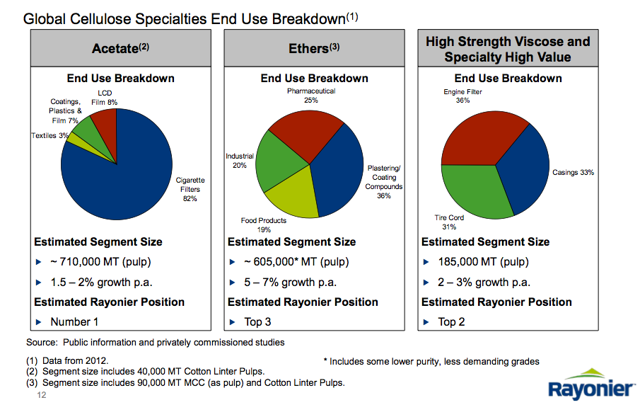 Rayonier's significant exposure to acetate is not really ideal at the current time, because cellulose demand and pricing have been weak. Moreover, RYN recently expanded its cellulose production capacity, largely in response to customer demand, and it is now unclear whether that added capacity will actually be needed in the near term, and there are also some concerns that cellulose pricing could weaken further.
Further, Rayonier's move to expand its specialty cellulose capacity came at the expense of its absorbent materials business, which produces fluff pulp for products like sanitary napkins and diapers, and which RYN stopped producing in mid-2013 in order to convert its production capacity to cellulose specialties. In the long run, it is possible that the move could turn out to be worthwhile, as cellulose specialties should be a higher margin business than fluff pulp. The downside would be that the move results in a less diverse revenue stream, which is often a risky move to make.
Rayonier is in many ways at the very other end of the forestland spectrum from Weyerhaeuser, with one focusing on timber and the other focusing on cellulose, but both companies appear to agree that the best course of action is to focus and also to separate existing business units from one another. Much like how WY is now in the process of separating its homebuilder, RYN intends to separate its performance fibers business from its other businesses. Both divestitures/spin-offs are expected to occur in mid-2014, or relatively soon.
The separation of Rayonier's business units will also result in a REIT specializing in timberland and homebuilding. This REIT is likely to have a competitive dividend and also become a potential acquisition target by larger timber REITs, including Weyerhaeuser and Plum Creek Timber (NYSE:PCL). Moreover, it is entirely possible that this REIT could end up selling or spin-off its homebuilding segment, much like WY is now doing.
For investors that wish to allocate into timberland, cellulose and forestland businesses, there are also ETF options that provide a more diverse basket of forestry related investment. The two primary ETFs would be the Guggenheim Timber ETF (NYSEARCA:CUT), which has a 0.70% management fee, and the iShares S&P Global Timber & Forestry ETF (NASDAQ:WOOD), which has a 0.48% management fee. Nonetheless, an allocation into both WY and RYN prior to their upcoming business separations does provide an investor with fairly diverse exposure to forestland businesses through some of the best in class acreage and operations.
Disclosure: I am long WY, RYN. I wrote this article myself, and it expresses my own opinions. I am not receiving compensation for it (other than from Seeking Alpha). I have no business relationship with any company whose stock is mentioned in this article. I am not personally long RYN, but a family member owns shares, and family investments are considered in their totality.