US markets are trading at highs and the rest of the world is following suit. We are quite close to all-time highs in the world indices and that is quite significant given the issues faced with China's slowing growth and Russia's continued actions pertaining to Ukraine. The markets are pretty muted this morning as the ADP figures were within the acceptable range and everyone focuses on the employment data due out tomorrow and Friday.
There is a lot of news that has come out in the past 24 hours which is moving the market and certain stocks in particular. Some of this news is indeed making certain names a buy in our book, however we do think that readers might want to take a step back in certain cases and exercise restraint as we still see risk in the near term.
Chart of the Day:
With world markets trading very near all-time highs, our attention is upon the FTSE as it has run into some pretty stiff resistance in the last few months. If the world index is to break out, we would suspect that the FTSE needs to break out too and help push Europe higher. This might be a market that readers want to pay attention to over the next few weeks.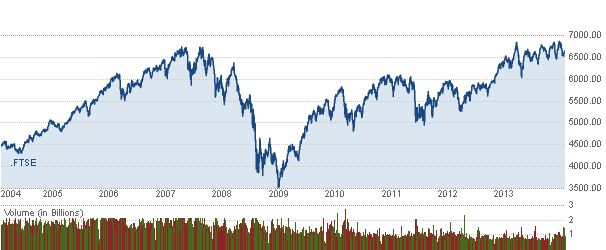 Source: CNBC
We have economic news today, and it is as follows:
MBA Mortgage Index (7:00 a.m. EST): Est: N/A Act: -1.2%
ADP Employment Change (8:15 a.m. EST): Est: 215k Act: 191k
Factory Orders (10:00 a.m. EST): Est: 1.1% Act: 1.6%
Crude Inventories (10:30 a.m. EST): Est: N/A Act: -2.379 M
Asian markets finished higher today:
All Ordinaries -- up 0.26%
Shanghai Composite -- up 0.56%
Nikkei 225 -- up 1.04%
NZSE 50 -- down 0.12%
Seoul Composite -- up 0.26%
In Europe, markets are trading higher this morning:
CAC 40 -- up 0.01%
DAX -- up 0.10%
FTSE 100 -- up 0.06%
OSE -- down 0.03%
Amazon Event Today
Today marks the day that Amazon (NASDAQ:AMZN) will hold their event to make an announcement that the financial media has been speculating about since the company made the announcement. There are many ideas of what will be announced, but Business Insider reports that Amazon will be announcing a streaming device, much like Apple TV or Roku that would allow customers to stream to all of their connected devices within their home (see article here). Of all the ideas we have heard recently, this one makes the most sense and would be the horse we bet on if wagers were being taken.
The other news that Amazon has had recently is that it secured the exclusive rights to 24, the TV show, which should make the service a bit more attractive to consumers and lead some who solely subscribe to Netflix (NASDAQ:NFLX) to give Amazon's product a try. We use both services, and although both have their strengths, our preference is still Netflix due to our frustration with many options on Amazon being rental options.
Another Tesla Settlement
Tesla (NASDAQ:TSLA) appears to have reached another settlement with a state, which was giving it some trouble in regards to their dealerships/show rooms. We were quite worried about how the Ohio litigation and politics would play out, because not only are the dealers powerful in the state, but the traditional car manufacturers have operations (either that they control or for work they outsource) that employ a significant number of individuals in the manufacturing sector.
The state Senate unanimously approved a bill that allows Tesla to keep its three dealerships already in operation opened but keeps them from opening further store fronts (see AP story here). This mirrors the deal reached in New York and could serve as a template for future deals across the nation. Although many might initially think that this hurts the company's growth prospects, we would argue that the company only wants to target the largest markets and that they can grow sales through their current footprint for years to come. Tesla cannot manufacture cars fast enough right now and has to deal with production constraints, even as they expand internationally. Keeping current stores open is a win for the company.
GM's Barra On Hill
Yesterday General Motors' (NYSE:GM) CEO Mary Barra testified before the House, today she shall once again be at the Capitol to testify before the Senate. There is not a whole lot known right now as investigations are still underway, but the initial reports all seem to indicate that General Motors will be paying billions as there are numerous parties outside of just the accident victims who could claim losses from what appears to be fraud. If we were a GM shareholder, we would be sellers of the stock if the company agreed to set up a fund to handle payouts to victims because we have seen the abuse that a system such as that has led to down in the Gulf.
Diabetes Drug Finally Approved
MannKind's (NASDAQ:MNKD) Afrezza was recommended for approval by an FDA advisory committee, which is sending the shares sharply higher after previous attempts were met with requests for further data. The oral insulin drug could be a blockbuster down the road, however the FDA will need to act by April 15th to approve the drug, which is a key point for readers. Usually the FDA follows the recommendation of their advisory committees, however they have in the past either asked for more data or gone in the opposite direction of the recommendation. This is why buying on the news this morning may not be the best move as approval is not guaranteed.
Recent reports had caused a sell-off in MannKind shares, and that is why we are not at all surprised by the sharp rise today. However, we would warn readers that there are still risks here with the FDA and this is not a sure thing.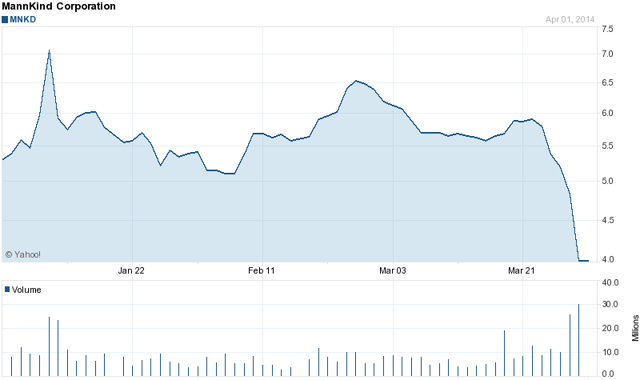 Source: Yahoo Finance
This morning we are seeing a short squeeze and investors who had been chased off by recent analyst comments moving back in. Many were skeptical that the recommendation would be given, thus the 80% move higher.
Disclosure: I have no positions in any stocks mentioned, and no plans to initiate any positions within the next 72 hours. I wrote this article myself, and it expresses my own opinions. I am not receiving compensation for it (other than from Seeking Alpha). I have no business relationship with any company whose stock is mentioned in this article.