SGOCO Group Ltd. (NASDAQ:SGOC) had a very impressive 2013, to say the least. A turnaround story that began early in 2012, the company laid out a four-point strategic initiatives plan with its primary focus on strengthening the brand, product portfolio, expanding the distribution channels, and developing solution based services for high growth industries. The management has had great success implementing this strategy, cutting costs, and increasing margins. The hard work has paid off and the stellar earnings are a reflection of that. Every quarter reported in 2013 was simply outstanding, and there are no signs of slowing into 2014. We are only weeks away from the next earnings report. SGOCO is set to release Q4 results and full-year results for 2013. This quarter will have the added benefit of Golden Week, and let's not forget that in November, China passed its 60-point reform plan.
This quarter's earnings report Q4 is a major catalyst for the company and its shareholders. The company will also report full-year 2013 results. It appears we may have another blowout quarter on our hands. According to the company, earnings will be reported in mid-April. However, no official date has been given. If history repeats itself (and I think it will), the stock is in for a major move to the upside. With a review of past earnings and how the stock has reacted, the potential can easily be seen. Let's take a quick look at the company, its products, Golden Week in China, and, most importantly, how the stock has reacted to past earnings releases.
SGOCO offers innovative display products and services to distributors and businesses in various industries.
Click to enlarge images.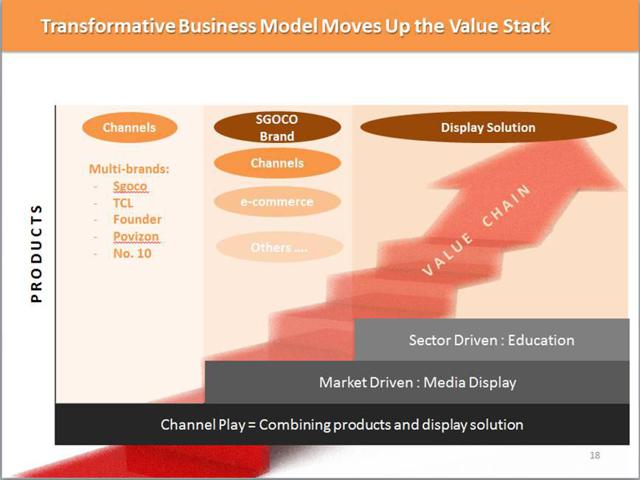 SGOCO offers branded products with rich feature sets at competitive prices. The company is targeting China's rapidly developing Tier 3 and Tier 4 cities, with the aim of establishing a dominant market position.
Below is a brief description of some of SGOCO's key brands.
SGOCO - The company's flagship brand
No. 10 - A China-focused brand helping to extend the company's reach in Tier 3 and Tier 4 markets
POVIZON - A China-focused brand helping to extend the company's reach in Tier 3 and Tier 4 markets
TCL - Through a licensing agreement with TCL, one of China's leading TV manufacturers, SGOCO sells TCL branded monitors through its own distribution channels
Founder - Through a licensing agreement with Founder Group, one of China's leading PC manufacturers, SGOCO sells Founder branded TVs through it s own distribution channels
SGOCO is also working on developing and selling a wide range of application specific products (ASPs) such as tablet PCs for commercial and consumer use, all-in-one e-reader notebooks, cell phone devices, mobile internet devices, e-boards that integrate software and hardware functionalities, rotating screens, CCTV monitors for security systems, billboard monitors for advertising and public notice systems, as well as touch screens for non-keyed entries. In addition, SGOCO is working on developing and selling application specific multimedia systems and services composed of display products and TVs with software control systems for sale to commercial customers with the potential for recurring revenues.
Main Operations
In-house development and distribution for branded products
Outsource manufacturing to quality suppliers
Transitioning from a "heavy-asset" to a "light-asset" business model
Main Products
LCD/LED monitors and TVs, portable display products (all-in-ones, e-boards, tablet PCs, etc.), ASPs (application-specific products) targeting industry customers.
Primary Market
It's focused on China's rapidly growing third and fourth tier cities, and sales through regional distributors across 19 provinces in China.
Growth
The macro trends shaping China bode well for SGOCO's long-term growth. The population is shifting from rural to urban. In 2011, China was 51% urban, and by 2025 that number is expected to reach 65%. China's middle class is growing; about 55m Chinese households in 2010 had middle-class standards of living and are estimated to reach 280m by 2025. Urban income and consumption are growing in 2011 urban per capita disposable income grew 8.4%. China's share of global consumption is predicted to rise to 23.1% in 2020, overtaking the U.S. as the largest consumer market. Private spending in China is only 35% of GDP compared to 70% in the U.S. and 59% in Japan. Growing PC and internet penetration PC growth correlates with monitor sales and is predicted to grow 9%.
In 2012, Chinese Internet penetration was only 38% compared to more than 70% in mature markets. Among China's one billion mobile subscribers, 40% are mobile Internet users. China has a growing demographic: its third and fourth tier cities represent over 161 million households compared to 54 million households in Tier 1 and Tier 2 cities. Lower-tier cities comprise 87% of China's population and 64% of retail sales. China currently has 100 cities with more than one million people each, and by 2025 China will have more than 220 cities with more than a million people.
The Stock
The market cap for SGOC is around 58 million. There are 17.46 million shares outstanding with the majority of the shares being held by insiders. The float traded in the market is approximately 2.88 million shares. SGOC's stock is up 199% over a one-year period, with a 52-week range of $0.70-$8.33. Gross margins come in around 8.5%. As of September 2013, cash and cash equivalents of 13.7 million and working capital of 85.7 million. Inventory increased in September 2013 to 25.7 million up from 5.7 million at the end of 2012. This increase was in anticipation of upcoming sales orders including Golden Week sales in October.
2013 Blowout Quarters
The past quarters have been outstanding. Let's take a look at how the stock traded just before and following the Q1, Q2, and Q3 earnings reports.
On June 5, 2013, the stock was trading at $1.01 and on June 12, 2013, it hit $3.37 with massive volume of 7.2 million
On Aug. 5, 2013, the stock was trading at $1.69 and on Aug. 21, 2013, it hit $4.56 with massive volume over 6 million
On Nov. 13, 2013, the stock was trading at $3.30 and on Nov. 20, 2013, it hit $8.33 and over $9.00 in the after-hours again with massive volume of over 8 million.
The last quarter, Q3, from July to September is usually a slow season for the company and SGOCO still posted spectacular numbers. Total revenue increased 65.0%. Gross profit increased 268.2% year over year.
I anticipate the current quarter, Q4, to be the most impressive of all. Many factors contribute to this prediction. One is the extremely busy season generated by Golden Week. This is by far the busy season. Also, the company is expecting continued growth leading to another quarter of solid revenues and earnings. Additionally, we may also see positive effects of the China reform plan passed in November. SGOCO has turned itself into a high-growth company, has posted a string of impressive quarterly results, and is doing business in a high-growth country in a rapidly growing sector. Each one of these factors provides indications that this may be the best quarter we have ever seen.
What Is Golden Week?
Golden Week is a week-long Chinese holiday during which millions of mainlanders set off on vacation, hit the shopping malls, and dine out. This seven-day period, Oct. 1-7, provides a snapshot of how consumers in the world's most populous nation are faring in what has been volatile year for the world's second-largest economy. I expect retail sales during this year's Golden Week to be better than last year. Last year, retail sales during the holiday period rose 15% on-year, from 17.5% growth in the previous year. It is expected that LCD TV sales revenues grew, due to a shift from 32", which dominated in 2012 -- as it enjoyed the highest rate under the energy-saving subsidy program -- to larger sizes. During this year's holiday, 50" and larger sizes are expected to account for more than 25% of sales. In addition to larger sizes, high-end specifications including 4K2K and smart TVs gained share in holiday sales.
SGOC was featured on Thestreet.com by Roberto Pedone on Feb. 20, 2014, in a article titled "5 Stocks Under $10 Ready To Explode." The stock was also featured by Pedone on Feb. 14, 2014, in a article titled "4 Stocks Under $10 Making Big Moves."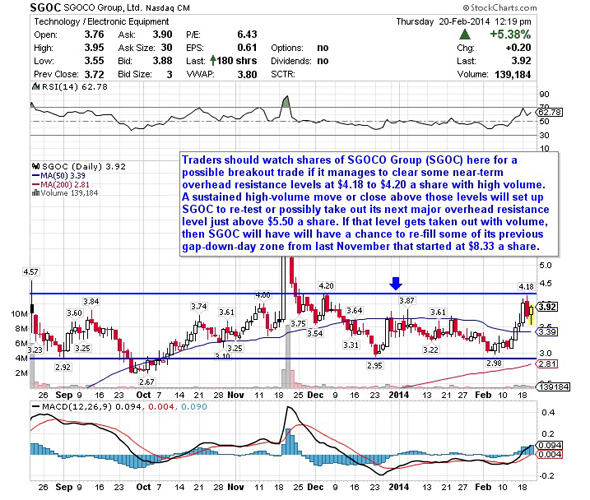 From a technical perspective, SGOC moved higher here back above its 50-day moving average of $3.40 with above-average volume. This stock recently formed a double-bottom chart pattern at $2.95 to $2.98. Following that bottom, shares of SGOC have now started to move higher and move within range of triggering a breakout trade. If SGOC manages to take out some near-term overhead resistance levels at $3.61 to $3.87 and then $4.20 with high volume.
Traders should now look for long-biased trades in SGOC as long as it's trending above Thursday's low of $3.24 or above $3, and then if it sustains a move or close above those breakout levels, with volume that hits near or above 372,995 shares. If that breakout hits soon, then SGOC will set up to re-test or possibly take out its next major overhead resistance levels at $4.50 to $5.50.
The stock didn't break the resistance and has since pulled back. However, this is good news because it gives a solid entry point to buy the stock. The volume should start to come in ahead of the earnings. Three-month average volume is only 372,995.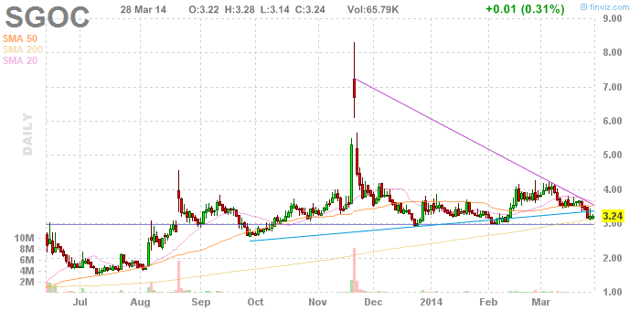 Conclusion
SGOCO is an amazing turnaround story of 2013. The company has provided a very bullish outlook in its prior releases. With the near-term catalyst just weeks away, I believe the current weakness in the stock price provides a good entry point. Any day now, the company will put out a press release and announce the actual date of the Q4 and full-year 2013 results. When that happens, the volume should start to increase. Depending on how good the numbers are, the former high of $8.33 is well within reach. I believe they will execute and deliver another incredible quarter.
Disclosure: I am long SGOC. I wrote this article myself, and it expresses my own opinions. I am not receiving compensation for it. I have no business relationship with any company whose stock is mentioned in this article.
Editor's Note: This article covers one or more stocks trading at less than $1 per share and/or with less than a $100 million market cap. Please be aware of the risks associated with these stocks.