By Michael Cintolo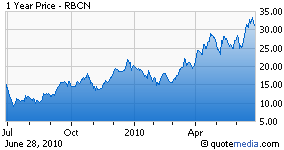 One tiny company I'm keeping my eye on is Rubicon Technology (NASDAQ:RBCN), which isn't a household name, but is helping to lead the way forward in the LED industry. Here's what I wrote about the firm in Cabot Top Ten Report earlier this month:
If MEMC Electronic Materials (WFR) was the raw material supplier (silicon) that benefited greatly from the solar and chip boom of the 2005-2007 period, then Rubicon looks like the winner in supplying raw materials (in this case, sapphire substrates) for the current and upcoming LED boom. The company is a leader in producing these substrates in the Western hemisphere, and is the world leader in larger sapphire wafers, which the industry is moving toward (and which have significantly higher barriers to entry than smaller wafers). The stock is strong today because demand is miles ahead of supply–LEDs in notebooks, networks, LED monitors and TVs are using more and more LEDs, and the industry is racing to expand capacity to meet that demand. That, indirectly, is pushing prices for Rubicon's wafers up; prices roared ahead 20% sequentially in the first quarter, and management sees higher prices going ahead. Revenues have soared the past couple of quarters and the firm just booked its first profitable quarter in two years. Eventually, this industry will over-expand and prices will fall … but management believes that's at least a couple of years off. In the meantime, we see major growth ahead.
Since that time RBCN has broken out powerfully from a choppy base, successfully completed a share offering and, importantly, has refused to give up ground during this week's slide in the market. The stock is relatively thinly traded, but business is picking up in a big way, and if the LED trend continues for a few more quarters, Rubicon will have a bright future. I think a little could be bought around here, or preferably, on a pullback toward 30.
Disclosure: We don't own any shares at this time
Originally posted on June 24, 2010