By Elyse Andrews
Last week brought new developments in the BP oil spill saga. First, a judge overturned the moratorium on deep-water drilling. Then the containment cap that had been collecting some of the oil was knocked off (it has since been replaced).
The U.S. government recently said that 60,000 barrels of oil could be flowing into the Gulf every day. At that rate, an amount equivalent to the Exxon (NYSE:XOM) Valdez disaster could be spewing into the Gulf every four days.
Several million barrels of oil have spewed into the Gulf since the spill began in April and tar balls have started washing up on the shores of Louisiana, Mississippi, Alabama and Florida.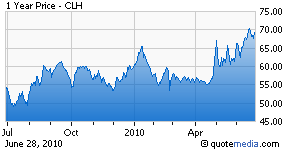 This crisis is clearly far from over and an enormous clean-up will be required to restore the region. There are many organizations and companies working on the effort already and one of them, Clean Harbors (NYSE:CLH), was recently featured in Cabot Green Investor. This is what Editor Brendan Coffey wrote:
Clean Harbors is the market share leader in hazardous waste services and a leader in overall environmental remediation and other services. Clean Harbors is a well-run company that was founded by current CEO Alan Kim in 1980 as a four-man outfit dedicated to cleaning out oil tanks. Last month, the company sent a phalanx of employees to begin cleanup efforts in the Gulf. Among its responsibilities are recruiting and training local residents to assist in the cleanup, providing containment equipment and boats, equipment and services to remove the oil from the water, and removing and disposing of the waste in its own incinerators and landfills. In mid-May, Clean Harbors announced that the effort would boost current quarter revenues by 15% to 20% over previous estimates of $352 million. Those earnings will be announced in August.

Given the scope of the Deepwater Horizon well disaster and the established reputation of Clean Harbors, we suspect this effort is only beginning and will benefit the company for months if not years to come. Even before the disaster, BP was cited as one of Clean Harbors' loyal customers and Clean Harbors had worked closely with local governments in recovery efforts after Hurricane Katrina. While the company operates nationwide, it has clusters of operations in New Orleans and east Texas that provide a wide base of nearby expertise to draw on. It also has clusters of facilities in the northern Atlantic coast from Maryland up through its home base in Massachusetts to Maine, the Chicago area and southern California, along with extensive operations throughout Canada.

Clean Harbors gets 15% of its $1.4 billion annual revenue from field services, primarily emergency cleanups like the Gulf disaster. Another 49% comes from technical services, like the carting and disposal of hazardous waste. Around 32% of sales come from industrial services such as routine cleaning and maintenance of systems such as oil refinery systems and emergency power outage services. The remaining 4% comes from exploration services, such as aerial surveys of land, drill camps and civil water engineering. Overall, Clean Harbors has over 50,000 customers on its roster, including a majority of the Fortune 500. Its biggest segment is the chemical industry (21% of sales), followed by refineries and general manufacturing with 11% of sales each. Segments like healthcare, government, biotechnology and utilities customers also provide notable business.

Clean Harbors hasn't been waiting for disasters to expand sales - since 2006, the company has spent around $500 million to acquire six companies and a half interest in a seventh to increase its footprint in western Canada, California and recycling services nationally. It is now the largest hazardous waste incinerator operator in North America, and the second largest owner of landfill volume. The company has been operating a little under capacity of late because of canceled projects and few emergency projects, but that looks like it has changed, not just because of the Gulf disaster but also thanks to the modestly improving U.S. economy.

Right now, the company looks very likely to generate 2010 sales close to $1.45 billion, the high end of its revenue guidance for the year. Wall Street analysts expect $2.65 earnings per share for the year too, with some projections that sales could go as high as $1.5 billion. Up until the recent economic crisis, Clean Harbors had been exceptional at meeting or beating estimates. It had a few missteps since missing consensus the past five quarters running, but management has been at the helm for many years and it's a good bet they will get the company back on track with investors now that the economy is stabilizing.
And CLH's chart looks good as well. Shares began to see increased buying after the late April break of BP well. Shares then leapt $9 a share on huge volume–including its largest trading day ever–after the company's official announcement of its Gulf cleanup involvement.
With so much work ahead in the Gulf region, there's little doubt that Clean Harbors will be a growing enterprise for years to come. And once the market sorts itself out, the stock is likely to follow it higher.
Author's Disclosure: I am not invested in CLH.