This Great Graphic was tweeted by the Financial Times' Cardiff Garcia, which he got from Goldman Sachs. It tries to assess the outlook for wage growth based on different measures of unemployment, including short-term unemployment rate.
The problem is that wages do not seem to be tied to the measures of the unemployment rates. This is to say that wage growth is being considerably weaker than the improving labor market would suggest.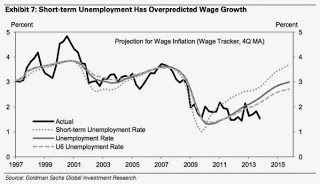 Wages are understood to be an economic function of supply and demand. Yet the relationship appears to have broken down. One response is that it is simply a question of time, Back in 1998-1990, wages grew faster than expected based different unemployment measures. This was a short run anomaly. An alternative hypothesis begins with the observation that since 2001, wage growth has typically under-performed what the levels of unemployment would suggest. Could this be the implicit threat posed by China? It joined the WTO in late 2001. This hypothesis suggests that politics, as in power, may be a better explanatory variable for how the social product is divided between profits and wages.
Given that the forward guidance of the Federal Reserve is evolving and, most recently, it dropped the reference to a 6.5% unemployment rate, and the comments by Yellen, investors will be watching earnings very closely. Recall that in February, the weather prevented many from going to work, but their salaries were not impacted. This helped generate a statistical quirk of a larger than expected increase in hourly earnings. They rose 0.4% for a 2.2% year-over-year rate, which is the upper end of the range for the past three years.
Disclosure: I have no positions in any stocks mentioned, and no plans to initiate any positions within the next 72 hours. I wrote this article myself, and it expresses my own opinions. I am not receiving compensation for it. I have no business relationship with any company whose stock is mentioned in this article.