We are speaking of V, as in MV=PQ, of course.
All the latest news of recent days point in the same direction: the continued slowdown in money velocity.
From a quantitative standpoint, check out the graph below of the M1 multiplier, published Sunday by the St Louis Fed, which has contracted sharply in the Great Financial Crisis.
It has plunged an average of 1.60 to 1.80 to less than 1.
All those who have been crying wolf (hyperinflation), due to the expansion of the Fed's balance sheet of money supply, should think about the implications of this graph.
Money multiplier in the United States
Terrifying…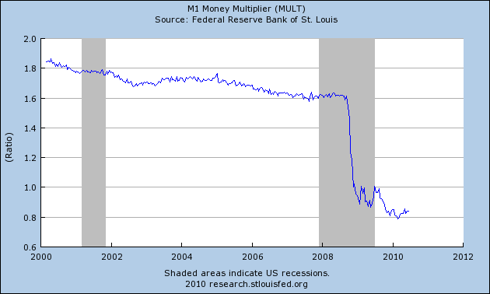 This is the sort of statistic that bolsters our longstanding opinion that the Fed will have to launch another QE programme, especially given the end of the stimulus spending leverage, fears that the European crisis will spread and still unfavourable lending conditions. In the meantime, the behaviour of the CPI isn't going to improve those conditions.
The results of the latest FOMC meeting bolster the prospects that the Fed Funds will remain at their historic low until at least year-end 2011.
The Japanese CPI, another quantitative statistic, out yesterday morning, is really terrible.
Core CPI declined once again in May, down -1.6% y-o-y, to an historic low.
Since 1999, this index has remained above 0% with the exception of five months in the midst of the worldwide credit bubble (2007-2008).
And if we take my very personal deflation criterion, which is inflation below the ECB's famous annual target range of +1.80% to 2%, Japan has been in deflation since…1992, with the exception of six months in 1997/98 when it "surged" to +2.4%.
With the Tokyo inflation figures as bad as ever, their situation offers little hope in that country.
Core CPI in Japan
Mr, Trichet's secret wet dream?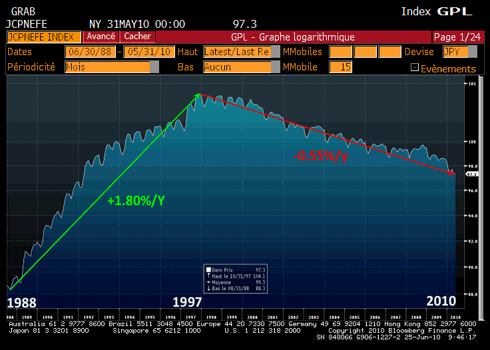 The situation is not much better from a qualitative standpoint either. Judge for yourself how the events below will affect the development of credit in the years ahead.
UK banks warned debt threatens recovery. The UK's economic recovery is at risk if the nation's banks do not move swiftly to raise the £750bn-£800bn needed to refinance their borrowings due by the end of 2012, the Bank of England warns on Friday.
EU Rehn: Weak EU Banks To Be Recapitalized If Need
Greece shakes the markets again as Bank warns of eurozone shocks
Local Debt in China Worries Its Auditor
States of Crisis for 46 Governments Facing Greek-Style Deficits.
Disclosure: Long 20 years OAT and 30 years BTP Zero Coupons, EDF Corp 5 Years 4.5%, Grece 2 Y and 10 Y bonds, Long Eurostoxx50 ETF