Many investors continue to settle for very little in the way of yield due to the low interest rate environment that continues to persist. There have been many false starts when it comes to fears of rising interest rates. Even if rates come up from record low levels, the U.S. and the global economy appear too weak to sustain a meaningful increase for the foreseeable future. Many central banks are likely to keep rates low, because the world continues to be challenged by economic and political issues.
Furthermore, with many governments loaded with debt (like the U.S.), it's in the best interest of those (officials) in power for rates to remain low. Imagine what the U.S. budget would look like if the U.S. government had to pay 4% or 5% for a ten-year bond, instead of the current rate of around 2.7%. It's clear to see that it could go broke if rates rise too much. This is just one more reason why interest rates are likely to remain at low levels. Another reason why rates are probably going to remain near current levels is because inflation remains low. For all these reasons, I believe the risk of a major spike in interest rates is low, and that is why investors need to continue to find solid ways to put their cash to work.
I don't like to pay "retail" for my investments, so I am constantly looking for buying opportunities, especially when it involves high-yielding stocks that will generate a significant yield in my portfolio. With this in mind, let's take a closer look at a couple of high-yielding stocks that are offering investors an ideal buying opportunity due to a recent pullback.
Both of these firms are business development companies, or "BDCs," which typically offer investors very high yields. These types of companies make debt and equity investments, and earn income from fees, interest payments, capital appreciation, and other sources. They then pay a very large portion of this to shareholders, which explains the high yields in this sector. There are some potential downside risks to consider, which include the following: Business development companies tend to announce secondary offerings more frequently than other companies, especially when the share price exceeds net asset value. In order to limit this risk, I suggest that investors buy on pullbacks below net asset value, or shortly after a secondary offering or other dips. Some investors believe that rising interest rates could pose a potential downside risk, but most BDCs have a significant amount of floating rate securities, which means portfolio income can rise with interest rates. Here is a closer look at the two companies:
Prospect Capital Corporation (NASDAQ:PSEC) is one of the largest companies in the business development sector, and one of the best-known. Prospect Capital invests in a number of industries, which include healthcare, financial services, energy, and manufacturing. This portfolio diversification reduces risks for shareholders. Due to the scale Prospect Capital has and its long-term track record, it is respected by many investors and analysts. In fact, Jim Cramer has even blessed Prospect Capital in the past due to its management and track record, he stated:
I always thought it was a well-run outfit. It has that really high yield, which is a red flag, because a lot of high-yielders have been trimming their yields. It is well run, though, and I'm going to bless it. I've known them for years.
As one of the best-managed companies in this sector, pullbacks in this stock are relatively infrequent, and are therefore, worthy buying opportunities. Right now, there is a pullback in this stock that is worth buying. Take a look at the chart below, and you will see that this stock was trading around $11.20 per share in late February, but now trades for about $10.80. At current levels, the stock is trading near the low end of the recent range, and yet, it remains in a bullish uptrend, as shown by the light blue trend line on the chart. Investors who have bought pullbacks at this level in the past have been rewarded, as the stock continued to generally trend higher and produce a generous monthly dividend.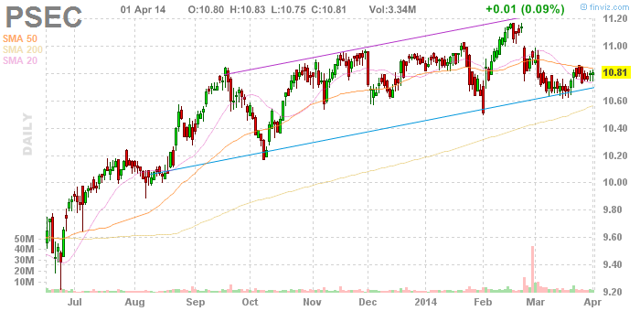 The reason for this pullback seems to be due to concerns that index-maker "CRSP" might remove Prospect Capital from the Russell index. This appears to have caused some selling pressure, but it seems overdone. First of all, it might not happen at all, or (if it does), it may not lead to much selling. At least one company insider thinks the current pullback is worth buying, and he just put a lot of money where his mouth is.
On March 20, 2014, John F. Barry (an officer) purchased 100,000 shares at $10.86 each, in a transaction valued at $1,0860,000. This follows up on other insider buys that have taken place over the past few months. When multiple insiders buy shares, this can be a very strong buy signal for other investors to follow. I particularly like seeing that Mr. Barry just spent a very significant amount of money buying this stock in a pullback. To me, that confirms that this dip is a solid buying opportunity.
Prospect Capital pays a monthly dividend of 11.04 cents per share, and that provides a generous yield of about 12.3%. The next dividend is coming up, and shareholders of record on April 30, 2014 will be eligible for the next payment, which will be made on May 22. In February, analysts at Wunderlich upgraded Prospect Capital shares to a buy, and set a $12 price target. This implies capital appreciation upside of about 10%, which would be a bonus for investors who are already collecting a 12.3% yield.
Here are some key points for Prospect Capital Corporation:
Current share price: $10.83
The 52-week range is $10.05 to $11.62
Earnings estimates for 2014: $1.27 per share
Earnings estimates for 2015: $1.26 per share
Annual dividend: $1.33 per share, which yields 12.3%
Horizon Technology Finance Corporation (NASDAQ:HRZN) is a business development company that provides senior and subordinated loans, bridge loans, senior revolving loans, equipment loans, and more. This company focuses on investing in the technology sector, which includes: data storage, internet, media, networking, software, drug discovery, medical devices, specialty pharmaceuticals, medical information technology, and others. This stock was trading for about $14 per share in March, but a slight earnings miss (of about 1 penny per share) and an analyst downgrade knocked the shares to slightly below $13. To read more about the earnings miss and subsequent downgrade, read this article. This pullback has created a significant buying opportunity that even company insiders are participating in. The shares offer a very generous yield, and appear to have bottomed out over the past couple of weeks, which means it could be poised to rebound next.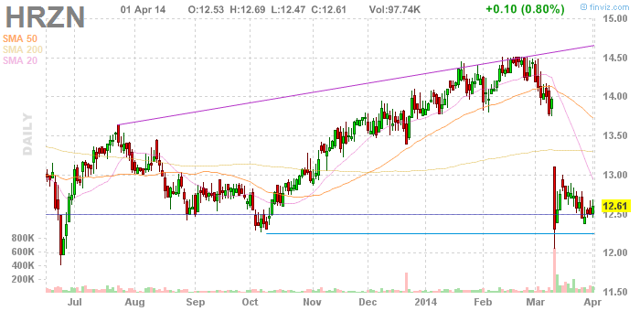 As the chart above shows, this stock has found strong support in past pullbacks at around the $12.60 range, which is where it is trading now. This appears to be a strong support level for the shares, and that means downside risks could be limited at this price. The chart also shows that investors who bought on pullbacks near this level did not have to wait long for it to rebound. Since the stock has spent the past couple of weeks building a base, the next step could be a rebound. I expect the shares to trend back to at least $13 in the coming weeks, especially since the 200-day moving average is $13.31 per share.
Multiple insiders have been buying this stock in recent weeks, which is another bullish sign that the shares are undervalued. On March 17, 2014, Gerald Michaud (an officer) bought 1,900 shares at $12.86 each, in a transaction valued at $24,434. On November 11, 2013, Mr. Michaud also bought 7,200 shares at $13.89 each, in a transaction valued at around $100,000. On March 17, 2014, Robert Pomeroy (an officer) purchased 1,500 shares at $12.86 each, in a transaction valued at $19,290. On November 12, 2013, Mr. Pomeroy also purchased 4,000 shares at $14.07 each, in a transaction valued at $56,280.
Horizon Technology pays a monthly dividend of 11.5 cents per share, and that provides a generous yield of about 11%. The next dividend is coming up soon, and shareholders of record on April 17, 2014 will be eligible for the next payment, which will be made on May 15. If the high yield was not enough, this stock has capital appreciation potential, since it trades below book value, which is $14.14 per share. It's also trading below the price target of $15.80 per share, which was set by analysts at Zacks earlier this year. I believe the shares are a strong buy now due to the high yield, insider buying, and for the upside potential in a rebound to at least $13 per share in the coming weeks.
Here are some key points for Horizon Technology Finance Corporation:
Current share price: $12.62
The 52-week range is $12.17 to $15.51
Earnings estimates for 2014: $1.46 per share
Earnings estimates for 2015: $1.55 per share
Annual dividend: $1.38 per share, which yields about 11%
Data is sourced from Yahoo Finance. No guarantees or representations are made. Hawkinvest is not a registered investment advisor and does not provide specific investment advice. The information is for informational purposes only. You should always consult a financial advisor.
Disclosure: I am long HRZN, PSEC. I wrote this article myself, and it expresses my own opinions. I am not receiving compensation for it (other than from Seeking Alpha). I have no business relationship with any company whose stock is mentioned in this article.