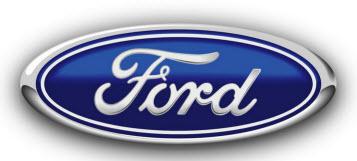 I have seen a rash of bullish articles recently touting Ford's (NYSE:F) March sales beat as a reason to jump back into the stock right now. I am not so sure. In the following sections, I will lay out my case as to why I believe Ford's stock will be subject to muted gains throughout 2014.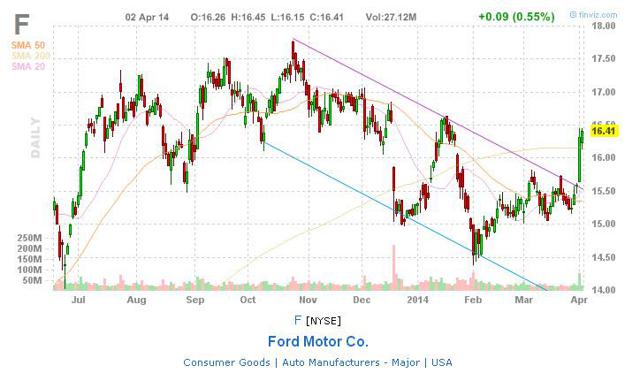 (Chart provided by Finviz.com)
Ford's March sales beat has mitigating factors
Ford reported March vehicle sales that were higher than expected. Ford unit sales were up 3.4% to 194,000 to eclipse the consensus estimate of analysts who predicted a 1.1% gain. Sales for the Fusion model were up 9% to 32,963 to set an all-time record for March. Shares of Ford spiked up off the stronger than expected report.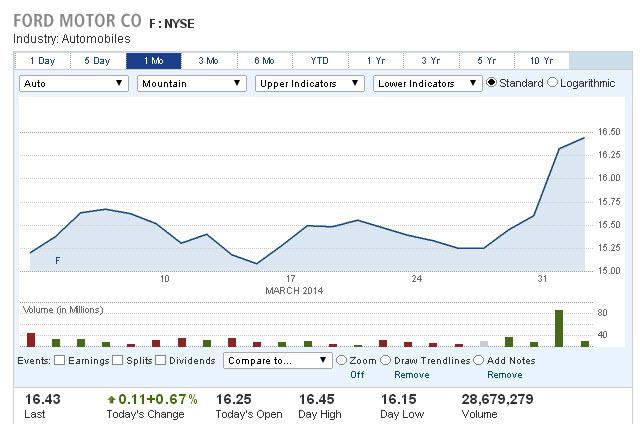 (Chart provided by CNBC.com)
Here is the catch. Ford's sales were down 6.1% year-over-year in February at 183,000. This missed the consensus estimates for February. My, what a short attention span the market must have. I posit the sales beat in March was a direct result of the miss in February. I believe many potential buyers delayed their would-be February purchases until March due to weather constraints. So I say take the March sales beat with a grain of salt, so to speak.
Ford's expenses are set to rise directly affecting the bottom line
Record number of new products
Ford's expenses are set to substantially rise from a record number of new products being introduced this year. All the accompanying cost associated with the launch of new products will have an impact on the bottom line no doubt.
Chinese facilities expenses
Ford is greatly increasing capacity in China as we speak. This is great news for the out years. Nonetheless, for 2014 it is not good news. Further, China's growth is actually slowing right now. We will cover this later.
New aluminum truck redesign
Ford is in the midst of transitioning the F-150 truck to a new high strength Aluminum-Alloy body. This process could affect both sales and expenses via production line downtime and other related costs.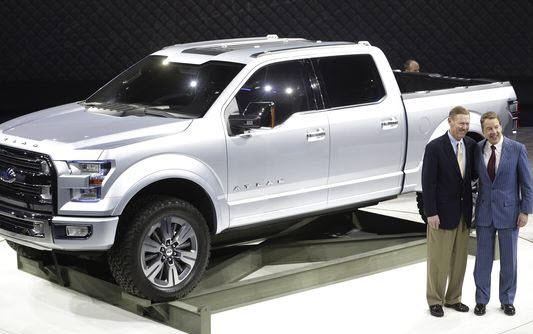 (Image provided by usatoday.com)
Many of these 2014 bottom-line pressures are related to investments Ford is making for the future. Unfortunately, this may subdue the stock in the near term.
The company is up against major macroeconomic headwinds
Relatively high US unemployment and a lethargic recovery in Europe are impediments to Ford's stock moving higher. Moreover, there have been recent indicators that China's growth is slowing. If China, which boasts the world's largest auto market, is slowing this is not good news for Ford.
Nomura recently launched coverage of Ford with a neutral rating and price target of 15. Nomura's Hendrikse stated,
"We believe increasing macroeconomic headwinds will affect Ford and GM's (NYSE:GM) profitability negatively relative to very high expectations for fiscal year 2015 earnings-per-share recovery."
Nomura stated it expects U.S. seasonally adjusted auto sales of 16 million units this year, a 3% increase for the year and a drop from 7.6% growth in 2013.
Finally, Ford's Russian joint venture is cutting production and about 950 jobs at two factories in response to the falling ruble and deteriorating demand in the country.
All these issues taken together do not paint a pretty picture for the macroeconomic outlook for the company. I could be completely wrong, but I have seen this exact situation before with many companies. Macroeconomic and geopolitical headwinds are out of the control at the company. Only time will tell if Ford can execute in this environment.
On The Other Hand
Ford is investing in its future. The increase in the company's capital spending plans for mid-decade from $6 billion to $7.5 billion should improve future sales opportunities. Additionally, Ford's recent comments about potential special dividend payments and share repurchases bode well for the stock. Finally, the financial services division is expected to remain profitable and contributing positively to the bottom line.
Conclusion
I posit Ford's investment future could be an impediment to the stock for the remainder of 2014. Furthermore, macroeconomic headwinds do exist. Nevertheless, it remains to be seen how much of an impact these headwinds will have on the stock. The March sales beat may not be as terrific as it seems due to sales being delayed from February. I would definitely not buy on this recent pop due to the sales news. In fact, I would wait at least until after the next earnings announcement prior to starting a position. I believe Ford is doing all the right things to grow the company, but foresee a better entry point coming.
Disclosure: I have no positions in any stocks mentioned, and no plans to initiate any positions within the next 72 hours. I wrote this article myself, and it expresses my own opinions. I am not receiving compensation for it (other than from Seeking Alpha). I have no business relationship with any company whose stock is mentioned in this article.