Edward R. Murrow first coined his famous catchphrase during the WWII German bomb raids on London; repeating the nightly farewell that had been popularized throughout the British capital city. From nervous whispers down dark alleys, against brick thrashing shells in the distance, Mr. Murrow's "sign-off" was first born. Transplanted to a less tenuous setting in CBS radio studios on a night perhaps more dreary than the average American eve, Mr. Murrow echoed "good night and good luck", to a nation tense from an ever threatening World.
The War On Credit
In 1940 America the War had been felt only in reminiscent ripples, by "tweets" on telegraph receivers and two week old newspapers. Pearl harbor still stood strong and broad on Oahu's South Face, while mothers and wives hung close to those on which they'd grown to depend.
Not so dissimilar from those days, we now face threats that only quietly whisper their motives from Asia and Europe. Constructed by years of fiscal white lies and monetary insanity, the body bags have yet to be filled. Municipal governments in China still depend on increasing real estate values, while European banks holding large debts of failing Southeastern states still stand. The United States Economy has "recovered faster than anyone could have imagined" and the S&P 500 at one time had nearly doubled from its lows. But still the whispers; 10 year U.S. Treasuries nearing 3% yields, LIBOR trending higher, market technicals showing a shift towards negative confidence, and this week's economic data hanging in the balance...
Quintessential Indicators
This week is a pivotal moment for the global economy for many reasons, not the least of which are the developing technicals of the S&P 500 [SPX]. Take a look at the QUINTESSENTIAL MEANING OF LIFE chart below...
Click to enlarge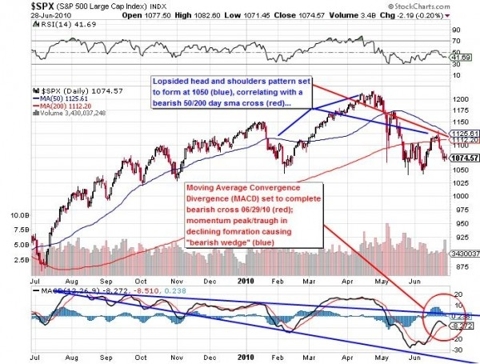 Economic Data
In economic news this week we have an immense block of information set to hit the street. Monday we saw that incomes rose by 0.4% in May and consumer spending turned higher by 0.2%. The consumer spending portion was an upside surprise, but it was mostly in the auto sector which tends to be volatile.
Tuesday we'll get consumer confidence which is expected to stay constant at 63.3, while Wednesday will focus on Chicago PMI, the EIA Petroleum Report, and MBA Mortgage Applications. We'll be watching the PMI for signs from Midwest manufacturers and the EIA report for signs of further dry storage supply increases. EIA may be fighting tropical depression Alex over traction in the Crude Oil space.
Look for a volatile morning session on Thursday as the Initial Claims , ISM Manufacturing, Construction Spending, and Pending Home Sales reports cross tickers. ISM is expected to drop to 67.0 in the June reading and Construction Spending projected to fall from a 2.7% gain to 0.5% loss in May. Initial claims will be closely watched for signals on the heels of the ADP report from Wednesday; all in preparation for the May Employment situation report on Friday. Also due on the final day of trading this week, will be the Factory Orders report at 10:00 am, which should set the tone for the final hours of trading ahead of the weekend.
Remember it's all about the S&P 500 [SPX] until we say so! Stay vigilant and nimble. We see this market on the edge of further downward momentum. There is a battle just over the horizon and bombs may well fall when we least expect it. To those prepared and those forewarned...
"Good night and good luck."
Disclosure: Long SDS