On the surface the ProShares S&P 500 Aristocrats ETF (BATS:NOBL) appears to warrant its nobility themed ticker. After-all, according to the ETF's fact sheet the fund has "outperformed" the S&P 500 index, changes its holdings infrequently and has a relatively low net expense ratio of just 0.35%. Plus, it tracks an index that requires its constituents to have not only paid but also increased its dividends for at least 25 consecutive years. We all know the names, companies like Coca-Cola (NYSE:KO), Johnson & Johnson (NYSE:JNJ), Kimberly-Clark (NYSE:KMB), Procter & Gamble (NYSE:PG) and Wal-Mart (NYSE:WMT), among 49 others.
What more could you want, right?! Well, except for not paying for something you can do on your own.
Now proponents of this particular aggregation vehicle can tout the "benefits" - performance, diversification, great companies, etc. - all day long. But at the end of the day the fund cannot do any better than the underlying holdings. In fact, by the very consequence of paying a fee, the fund must perform worse than the held securities. Ironically, those who pay for such a service guarantee not performance, but rather the lack thereof.
Of course there are a great many people out there willing to endure this constant fee. Yet they should be aware of the facts and the idea that it's certainly not "too difficult" to do on your own. In general, I would like to express three cautions.
You Can Do The Same Thing (Only Cheaper)
Perhaps if we were talking about a large, even lower fee index like the SPDR S&P 500 ETF (NYSEARCA:SPY) or the Vanguard 500 Index (MUTF:VFINX) my tone would be slightly different. But with just 54 holdings, it simply isn't that difficult to replicate the passive NOBL approach. Let's walk through an example to see what I mean.
For illustrative purposes let's say you have amassed $54,000 worth of investable funds and you're only interested in owning companies on the S&P 500 Dividend Aristocrat Index list. One option would be to entrust your funds to the nice people at ProShares by buying the ETF representing the 54 Dividend Aristocrat companies. Along with this would come a transaction fee - call it $7 - and a yearly expense of 0.35%. In the first year this adds up to $196. If the balance recovered and stayed constant at the originally deployed $54,000, next year's fee would be $189 for a 2-year cost of $385.
Alternatively, one could go out and buy the individual stock in each of the 54 companies. Assuming a $7 transaction fee this would equate to $378 - surely more "expensive" in the first year. Yet, it is paramount to underscore that you are not charged an ongoing fee to hold individual stocks. As a long-term investor, your year two "fee" would be exactly $0. Over two years, without selling, the scenarios are effectively equivalent. What happens from year 2 to eternity is much more interesting. If you buy and have no intentions of selling, your lifetime fee for owning those 54 companies is $378. On the other hand, the NOBL exchange traded fund just keeps on billing you, regardless of your intentions. If your balance stays constant this would represent roughly $3,800 in fees over two decades - ten times what an individual would pay to own the same holdings. Worse, your reward for an increasing balance is even more fees.
Obviously there are a few criticisms to this simplified example. For instance, you might say "that's great, but I don't have $54k to invest." To this notion I would like to make two points. First, it's an effectively linear game in nominal terms. That is, if you had $27,000 to invest it would take roughly 4 years to break even on fees, with $13,500 it jumps to 8 years and so on. Conversely, $108,000 would just take 1 year.
More importantly, if you're making systematic contributions you will always be ahead in the fee game. For instance, perhaps the first month your choice is $1,000 worth of NOBL or $1,000 worth of Aflac (NYSE:AFL). Both start with the $7 transaction fee ante. Yet from there you could go a lifetime without paying a fee by holding AFL as compared to a constant 0.35% for NOBL. Now it is true that you aren't immediately diversified, but it is clear that you can get there in short order. Perhaps next month you go with Chevron (NYSE:CVX) followed by Genuine Parts (NYSE:GPC) and so forth - you'll be diversified before you know it.
For those chiefly concerned with dividend income, simply know that in the long-term whatever distributions you receive are going to be less than what you would receive by owning the underlying holdings. When you own an aggregation vehicle like NOBL it's as if you're paying a yearly toll to get access to your dividend claims. This is surely a great business for ProShares, but perhaps a questionable one for the ETF holder.
You Can't Avoid "Objectionable" Companies
The second caution comes in the form of avoiding "objectionable" companies - for whatever reason. When you buy shares in the NOBL exchange traded fund you are purchasing stakes in those 54 companies at precisely the same time - without regard to valuation or underlying objective. From this stems a variety of problems.
For instance, you could think the prospects and relative valuation of almost all of the holdings are reasonable today. But on occasion you might run into something like Brown Forman (NYSE:BF.B):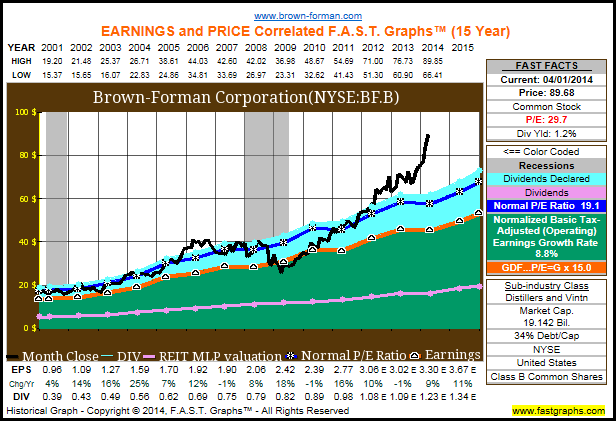 Whether or not this historically high valuation is warranted is up to you to decide, but the point is that in buying the Aristocrat Index today you do not have a way of saying "I'd like to buy the others but hold out on BF.B for now." For that matter, perhaps you have a moral objection to alcohol regardless of the current valuation. Once again your protests will not be heard.
More pertinently, by purchasing 54 securities at once you might be partnering with a company you know little or nothing about. For instance, maybe you haven't previously researched Switzerland-based Pentair (NYSE:PNR). What's a reasonable price to pay for a company you know nothing about?
Now it is true that by avoiding some companies you won't track the index perfectly. In turn, the performance won't be the same and thus it follows that you might inadvertently discard higher returns in effort to "actively avoid" or morally object to certain kinds or business characteristics or valuations. So this caution is certainly not as large of an issue as the aforementioned higher fees. Yet in using aggregation vehicles simply realize that you are throwing away your flexibility, along with your opportunity to have specific expectations about the businesses that someone else partners with on your behalf.
Other "Not So Noble" Items
Finally, a third caution comes in the form of additional "not so noble" items. For example, on the ETF's fact sheet when referencing the "strict" dividend increase qualification it comes with this note:
Required years would drop to 20 if needed in order to have at least 40 companies or to meet index sector diversification rules.
In other words, if for some reason the number of companies fitting the fund's criteria fell, this ETF would be willing to loosen its standards to ensure that an arbitrary number or percentage was achieved. To me, this ideology seems to echo of Peter Lynch's "diworseification" or allowing mortgage requirements to become lax to drum up business. Granted, 20 straight years of dividend increases is still quite impressive, but if there were only 39 companies that had increased dividends for 25 years then so what? You would have an index with 39 holdings.
The note regarding the expense fee is particularly unsavory. Presently NOBL waives a portion of the expense ratio, from 0.78% to its current 0.35%. Yet this also comes with a qualification:
Amounts waived or reimbursed in a particular contractual period may be recouped by ProShare Advisors within five years of the end of that contractual period…
How do you like that? Not only would you be paying more in fees than you might otherwise need to, but the ETF Company is suggesting that it could cost you even more in the future. Colgate-Palmolive (NYSE:CL) doesn't put a disclaimer on its dividend payments suggesting "note, part of this payment might be taken back if we happen to need it or decide we didn't actually want to pay that amount." The idea of a future fee should be irksome if not shady.
Look, on the whole I'm not arguing the point that there a great number of people out there that simply don't want to deal with this finance stuff. Even Warren Buffett advocates that a typical investor would do just fine by owning a low-cost S&P 500 index fund. I agree. Yet if you're going to take the time to proclaim that you only want to partner with companies who have increased their dividend for at least 25 years, then something like the ProShares S&P 500 Aristocrats ETF should come with some cautionary remarks. It simply does not take that much exertion to replicate the small index.
In my view, these types of funds are why people in the finance industry have jobs. They get paid to do something that you can do on your own. Some might convince you that you merely cannot do it or that it's too hard. Yet think about what's happening here. With NOBL, the fund says: "we buy these 54 companies, and then we sit here." In turn you pay them 0.35% (at least) each and every year for them to sit on their hands rather than for you to do the hand sitting. It's easy sure, but there's nothing "noble" about it. It possesses neither outstanding nor excellent nor impressive qualities or any other casual definition you might classify noble as being. Perhaps I'm off base here, but it seems that it's just expensive short-cut.
Disclosure: I am long PG, JNJ, CVX, KO, WMT. I wrote this article myself, and it expresses my own opinions. I am not receiving compensation for it (other than from Seeking Alpha). I have no business relationship with any company whose stock is mentioned in this article.