The last time I wrote about Wells Fargo & Co. (NYSE:WFC), I stated:
"… I will only buy a small position right here because I believe I can get it at a cheaper price in the near future." Since the time the article was published, the stock has popped 17.25% versus the 6.79% gain the S&P 500 (NYSEARCA:SPY) posted. Fortunately I was able to plow some money into it, but unfortunately I didn't plow enough into it. Wells Fargo is a bank holding company which operates in three segments: Community Banking, Wholesale Banking and Wealth, Brokerage and Retirement.
On January 14, 2014, the company reported fourth quarter earnings of $1.00 per share, which beat the consensus of analysts' estimates by $0.02. In the past year, the company's stock is up 34.52%, excluding dividends (up 37.36% including dividends), and is beating the S&P 500, which has gained 20.5% in the same time frame. With all this in mind, I'd like to take a moment to evaluate the stock on a fundamental, financial, and technical basis to see if it's worth buying more shares of the company right now for the financial sector of my dividend portfolio.
Fundamentals
The company currently trades at a trailing 12-month P/E ratio of 12.79, which is inexpensively priced, but I mainly like to purchase a stock based on where the company is going in the future as opposed to what it has done in the past. On that note, the 1-year forward-looking P/E ratio of 11.67 is currently inexpensively priced for the future in terms of the right here, right now. Next year's estimated earnings are $4.26 per share and I'd consider the stock inexpensive until about $64. The 1-year PEG ratio (2.28), which measures the ratio of the price you're currently paying for the trailing 12-month earnings on the stock while dividing it by the earnings growth of the company for a specified amount of time (I like looking at a 1-year horizon), tells me that the company is expensively priced based on a 1-year EPS growth rate of 5.6%. Below is a comparison table of the fundamentals metrics for the company for when I wrote all articles pertaining to the company.
| | | | | | | | |
| --- | --- | --- | --- | --- | --- | --- | --- |
| Article Date | Price ($) | TTM P/E | Fwd P/E | EPS Next YR ($) | Target Price ($) | PEG | EPS next YR (%) |
| 08Aug13 | 43.27 | 11.73 | 10.76 | 4.02 | 60 | 2.53 | 4.63 |
| 06Nov13 | 42.44 | 11.17 | 10.59 | 4.01 | 60 | 3.06 | 3.65 |
| 02Apr14 | 49.76 | 12.79 | 11.67 | 4.26 | 64 | 2.28 | 5.60 |
Financials
On a financial basis, the things I look for are the dividend payouts, return on assets, equity and investment. The company pays a dividend of 2.41% with a payout ratio of 31% of trailing 12-month earnings while sporting return on assets, equity and investment values of 1.4%, 13.9% and 9.8%, respectively, which are all respectable values. Because I believe the market may get a bit choppy here and would like a safety play, I don't believe the 2.41% yield of this company is good enough for me to take shelter in for the time being. Below is a comparison table of the financial metrics for the company for when I wrote all articles pertaining to the company.
| | | | | | |
| --- | --- | --- | --- | --- | --- |
| Article Date | Yield (%) | Payout TTM (%) | ROA (%) | ROE (%) | ROI (%) |
| 08Aug13 | 2.77 | 26 | 1.4 | 13.6 | 9.9 |
| 06Nov13 | 2.83 | 32 | 1.4 | 13.8 | 9.9 |
| 02Apr14 | 2.41 | 31 | 1.4 | 13.9 | 9.8 |
Technicals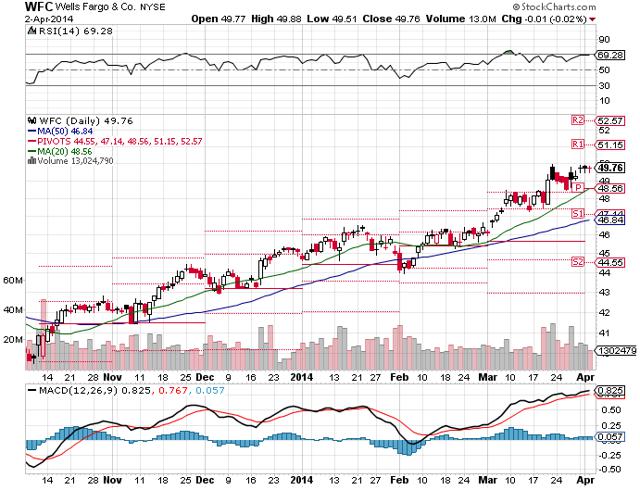 Looking first at the relative strength index chart [RSI] at the top, I see the stock in overbought territory with a current value of 69.28. I will look at the moving average convergence-divergence [MACD] chart next. I see that the black line is above the red line with the divergence bars decreasing in height, indicating bearish momentum. As for the stock price itself ($49.76), I'm looking at $51.15 to act as resistance and $48.56 to act as support for a risk/reward ratio which plays out to be -2.41% to 2.79%.
Recent News
The company shows that it has pretty good top brass by shuffling CFO Tim Sloan to Head of Wholesale Banking. David Hoyt, the current Head of Wholesale Banking is retiring after 32 years in the business. John Shrewsberry, the current head of the Securities business will be moving over into the CFO position.
The company increased its dividend 16% from $0.30 to $0.35 after it received its results from the Comprehensive Capital Analysis and Review. The company is also going to be allowed to buy back 350 million shares which will retire about 6.6% of the outstanding shares.
The company was upgraded by Atlantic Equities ten days ago. The upgrade from "Neutral" to "Underweight" was due in large part to the huge margin by which the company passed the stress test.
Conclusion
The company announced Wednesday that it reached a new ten year agreement to provide and service credit cards for Dillard's. It is actions like this from the bank that make it one of the best as Dillard's is one of the top department stores around and has some of the nation's top clientele. Fundamentally, Wells is inexpensive on next year's earnings but expensively valued on the earnings growth potential. Financially, the dividend has been increased by 16% and is well supported by earnings. Technically, it appears the stock can experience downward momentum right now as it is in an overbought state. Due to the low dividend yield, bearish technicals, and high valuation based on earnings growth potential I will not be pulling the trigger on this name right now.
Disclaimer: This article is meant to serve as a journal for myself as to the rationale of why I bought/sold this stock when I look back on it in the future. These are only my personal opinions and you should do your own homework. Only you are responsible for what you trade and happy investing!
Disclosure: I am long WFC, SPY. I wrote this article myself, and it expresses my own opinions. I am not receiving compensation for it (other than from Seeking Alpha). I have no business relationship with any company whose stock is mentioned in this article.