A Leader:
Pandora (NYSE:P) is a company that everyone hears about today - pun intended. The company is at the forefront of streaming radio, a very large market that touches a wide array of consumers. As interesting a product that Pandora offers along with its large target market, it's lead in the audio streaming space is far from the whole picture. Being in first place is great, as long as it translates into the bottom line as well.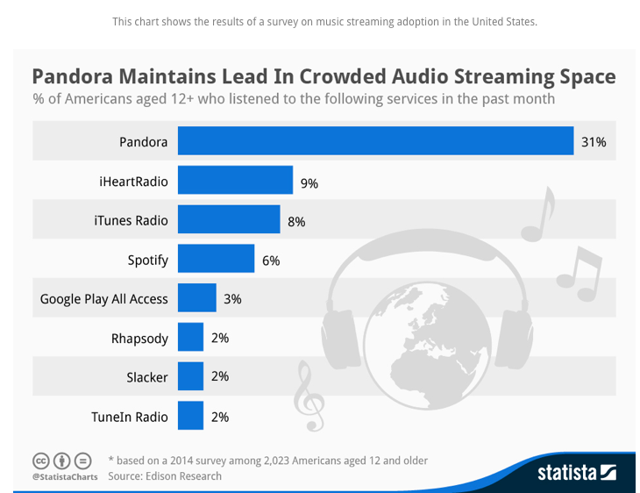 (Source)
It is no surprise that Pandora is ahead of its direct peers such as iHeartRadio and Apple's (NASDAQ:AAPL) iTunes Radio. Pandora is ingrained in its user base since it has been around longer, and offers a unique analytical approach to its music.
Pandora states that in its Music Genome Project each song is analyzed using up to 450 distinct musical characteristics by a trained music analyst. Pandora states that this wealth of music knowledge in its project allows their application to respond to each individual's tastes for a more personalized radio.
Is This Leadership Being Translated?
Its no surprise that Pandora has been growing, the company conducts business in the wide touching and highly used area of streaming music. Over the course of 2008 to 2013, streaming music both ad and subscription supported have grown tremendously by 293% and 367% respectively. Pandora has been a beneficiary of this growth as it has allowed Pandora to offer a service in these growing segments.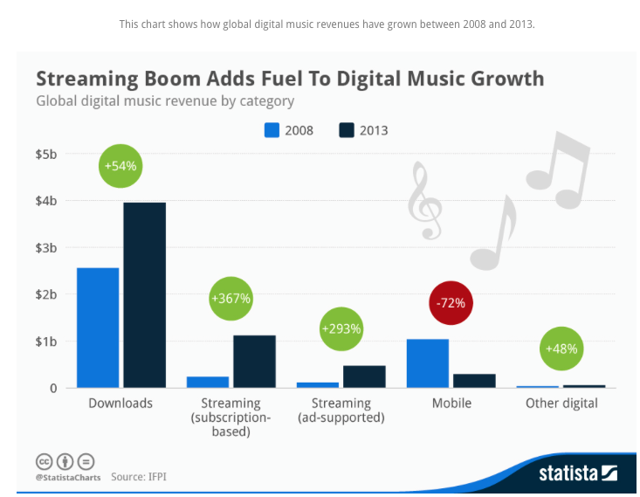 (Source)
Pandora has an obvious lead in the streaming music market, and has been a beneficiary of growth in the two main music streaming markets, but it may not be meaningfully impacting the bottom line.
Two of the key elements investors look at when researching Pandora is the cost of their content and their revenue from both advertising and subscriptions. Over the course of 2006 to 2013, Pandora's content acquisition costs have been on the rise. Content costs were up 21.7% from February 2012 - January 2013 when compared to February to December 2013.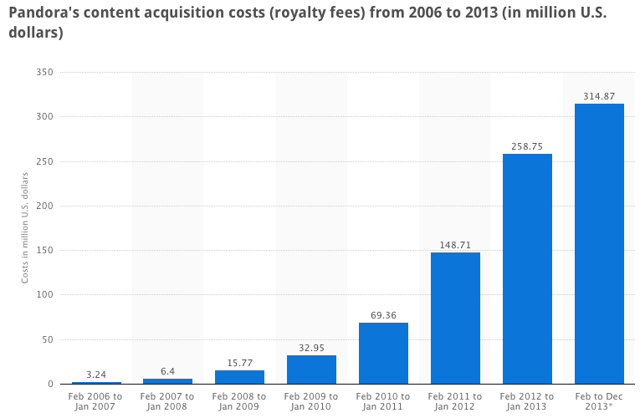 Although when looking at Pandora's revenue for the same timeframes, it is up by a higher margin. Advertising is up 30.4% and subscription revenue us up 113.54% over the same periods.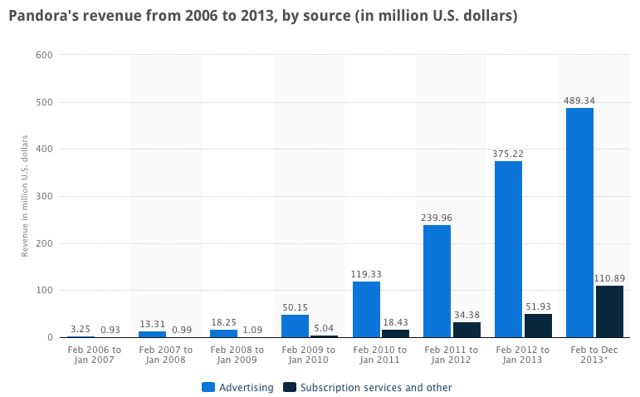 Pandora saw some reprieve as well, as a judge recently ruled that the rate Pandora must pay for to ASCAP will be left unchanged, at 1.85%. ASCAP is a giant licensing organization that leads music publishing.
Pandora's revenue from both sources have outpaced the growth in content costs, but the top line is not pulling up the bottom line. On a quarterly basis, the company's revenue has grown significantly, while its net income has remained relatively consistent and negative.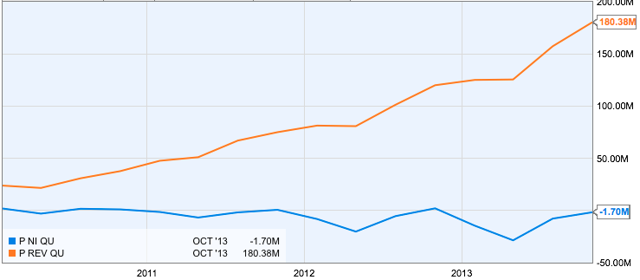 Pandora is having a touch time translating its top line revenue growth into bottom line income growth.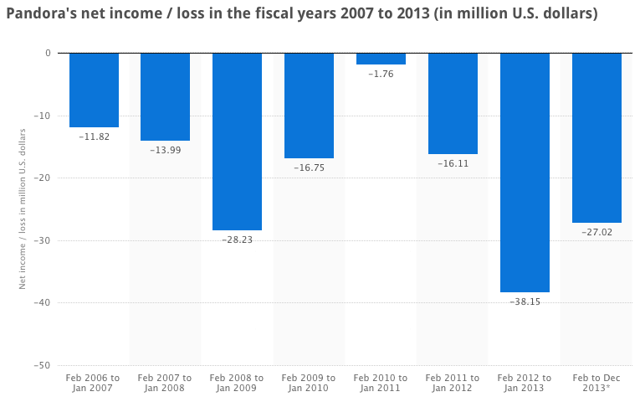 (Source)
Having a top line grow faster than the bottom line has its benefits. Amazon (NASDAQ:AMZN) has had success with raising its top line way ahead of its bottom line, although red flags have been popping up. As an investor, I would like to see a credible road map for increased profitability especially in light of substantial top line growth.
Caveats:
Pandora recently raised the rates of their subscription service from $3.99 to $4.99 for new subscribers. This is the revenue source shown earlier that had huge growth over its AD counterpart. Although it is worth noting that subscription services only make up 19% of its total revenue.
The company dodged a bullet at court to maintain its 1.85% rate to ASCAP (The American Society of Composers, Authors and Publishers) but Pandora stated that the rate it pays to SoundExchange is expected to grow 9% in 2015 after growing 53% in the past 5 years.
This translates into two main items; first that subscription services has grown, although does not make up the bulk of Pandora's revenue. Second, that Pandora is not out of the woods due to one judge's decision and will have to deal with increasing licensing fees from SoundExchange moving forward. SoundExchange is responsible for a large chunk of the company's licensing fees.
Having to deal with increasing licensing fees will further hurt Pandora's bottom line even in the face of rising subscription costs. Until the company gets ahead of the cost curve, it will not be attractive in this area.
Competition:
Apple's iTunes Radio is not slowing down. At a cost of only $25 annually, it is ad-free and comes bundled with an iTunes Match subscription. This is much cheaper than Pandora's cost of $48 per year, albeit Pandora's works on Android devices.
Apple is also in open talks with senior label executives about launching a Spotify-like music streaming subscription service and offering an Android iTunes application. This means that Apple iTunes Radio is expanding not only to other devices, as Android makes up roughly 75% of smartphones, but to other areas of music streaming services. Such as the service offered by Spotify. A cheaper platform with more services is a death threat to Pandora, unless the latter can outperform Apple which is a stretch considering their resources - Apple with over $40.7B in cash while Pandora has only $344M.
Pandora is not having a walk in the woods time, as SA Andrei Volgin noted that over 65M Pandora accounts became inactive over the pats 13 months. I am sure that 65M people did not just stop liking music. Mr. Volgin's article also notes that while Apple and Spotify are able to attract and add users, Pandora's user growth has been negative for the past 13 months. Whether or not these lost users will try Apple's iTunes Radio and Spotify before coming back to Pandora is a coin toss, but 13 months of declining user growth is not a positive sign.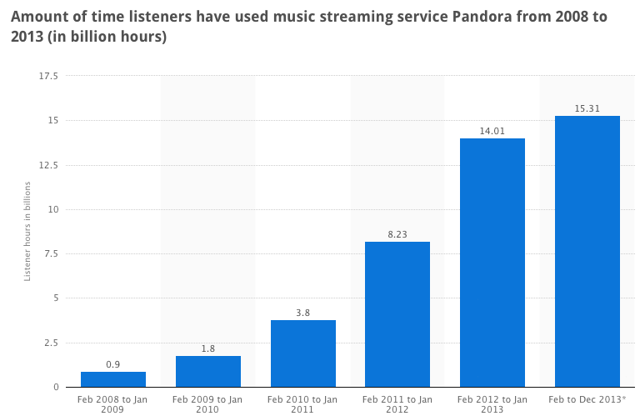 Pandora's listening hours have been under pressure due to competition. Over the most recent year, growth has been slowing. This is Pandora's main area of revenue generation, so it is a red flag. Also, subscription service would not matter with regard to the amount of listening, although subscriptions only make up a part of Pandora's revenue.
Conclusion:
Pandora conducts business in a wide reaching market that is growing. It is not all fun and games as the market is highly segmented encompassing downloads, conventional Radio, online websites like YouTube and several applications such as iTunes Radio, iHeartRadio and Spotify in addition to others. Moreover, Pandora is has not been able to improve its bottom line growth, as the top line has expanded - not a favorable sign, and the company is no Amazon.
Currently I would not want to be invested in Pandora, although that is only my personal take and I have no current position. Competition from others, especially Apple is a major consideration for investors. The best of luck to all investors who are always reminded to complete their own comprehensive due diligence before executing any trades or investments.
Disclosure: I have no positions in any stocks mentioned, and no plans to initiate any positions within the next 72 hours. I wrote this article myself, and it expresses my own opinions. I am not receiving compensation for it (other than from Seeking Alpha). I have no business relationship with any company whose stock is mentioned in this article.
Additional disclosure: Always do your own comprehensive due diligence and contact a financial professional before executing any trades. This article is informational and is in my own personal opinion only.