The United States is the world's largest energy consumer.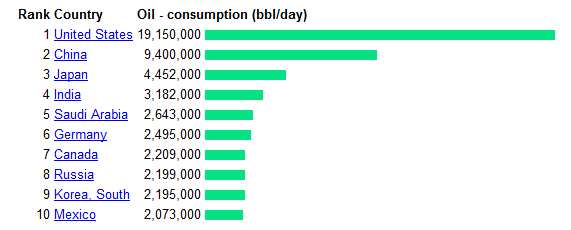 Source: Index Mundi
The five countries with the largest reserves are Venezuela, Saudi Arabia, Canada, Iran and Iraq.
The Energy Information Agency ranks Canada third in the world in respect of countries with the largest oil reserves at 173 billion barrels, a bit more than 5,000 barrels for every Canadian alive. That is almost 6 times as much as the 26.5 billion barrels of reserves held by the United States.
Canadian oil production hit 4.3 million barrels a day this month. Canada's domestic consumption is about 2.2 million barrels a day. Over the next ten or fifteen years that will grow to about 3 million barrels a day according to the National Energy Board. Clearly Canada will remain an oil exporter for years to come.
The need for pipelines to ship Canada's surplus production is pretty clear.
For decades, Canadian oil has been shipped primarily to markets in the United States.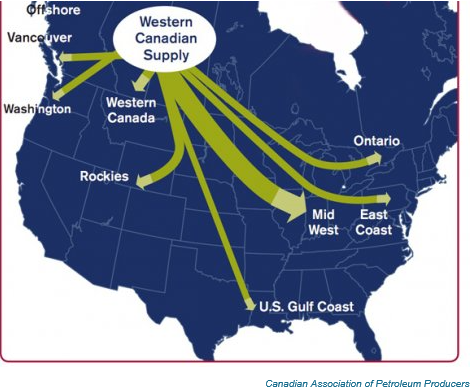 Source: Business Insider
For some reason that escapes me, the United States administration is not showing much interest in Canadian oil and is dragging its feet on whether to approve Transcanada Corporation's (NYSE:TRP) Keystone XL pipeline project which would make Canadian oil a lot more available to U.S. refiners. At 19 million barrels a day of consumption, the United States could use up its own reserves in less than 5 years if it did not import oil at all.
Obviously oil imports are going to remain necessary for the Unites States for decades to come. Presumably, the indecision on Keystone XL underpins a long term desire to source oil from such close allies and stable sources as Venezuela, Saudi Arabia, Iran and Iraq.
Eastern Canadian provinces today get 86% of their oil from foreign sources. Transcanada Corporation is well advanced in its plans to connect Western Canadian oil to the East Coast with a $10 billion project to reverse a natural gas pipeline and add other connectors to establish a 4,600 mile pipeline able to ship 1,100,000 barrels a day of Western Canadian crude to the Eastern consumers and for export to Europe.
Transcanada is expected to apply for its permits this summer and the construction phase will take about six years. Despite opposition from environmentalists and the typical wrangling that takes place along the route of a major project, the pipeline is expected to be approved.
The Harper Government's latest budget included a provision of $28 million for review of the Energy East project with the aim of providing more certainty to the timeline.
Two other major pipeline projects are proposed - Enbridge's Northern Gateway and Kinder Morgan's Transmountain project, both of which will move Western Canadian oil to the West coast for export both to the United States and Asia.
The $6.5 billion Northern Gateway project has opposition but many observers expect it to receive approval this year. It will move 525,000 barrels of oil a day primarily for export to Asia. The Transmountain project will expand that pipeline from 300,000 barrels a day to almost 900,000 barrels a day.

Source: Northern Gateway
In parallel, Transcanada Corporation will push ahead with its plan to ship 1,100,000 barrels a day by pipeline to Canada's East Coast where the oil can be refined for domestic use or shipped to Europe. Consultations between the National Energy Board and interested group have already begun and the project is advancing.
As a long-time observer of United States politics and American enterprise, I have always been in awe of the formidable combination of world leadership and industrial innovation that has made the United States not only a world power but also a world business leader. But in more recent years, I have observed both in politics and in business a shift in American thinking towards short term decision making and half measures intended to win the day or the quarter without much regard for the longer term.
It is several years since Transcanada applied to the U.S. authorities for a permit to build a pipeline that is in the long term interest of the United States but is just one alternative for Canadian oil development. It is becoming an irrelevant alternative.
Longer term growth in China, India and rest of Asia will provide all of the market Canada needs for its oil and once the infrastructure is built to serve that market shipments to the United States will be take place only when commitments to far Eastern customers have been satisfied and there seems to be a temporary excess available for sale.
There seems little reason for Canadians to hang in waiting for a decision from the Obama administration when there are lots of potential markets for Canadian oil, Asia being the most convenient. My view is that Canada will simply let the Keystone XL pipeline fade into obscurity while it approves the Enbridge Northern Gateway pipeline capable of shipping 500,000 barrels a day to the B.C. coast for tanker transportation to Asia and follows that with the infrastructure necessary to move another 1,100,000 barrels a day towards the East coast.
By the time the three domestic Canadian pipeline projects are completed, there will no longer be surplus Canadian oil for export south. Unless Elon Musk and Tesla (NASDAQ:TSLA) or its ilk can revolutionize the automobile industry fast enough to reduce oil demand materially in the United States, imports will have to continue.
The administration and its environmentalist supporters can claim victory. Their victory won't impede necessary development of the Western Canadian Sedimentary Basin much longer but will pave the way for sustained and predictable growth for other markets. As far as the United States goes, it will have to make sure it maintains good relations with Venezuela, Saudi Arabia, Iran, Iraq and Kuwait because that is likely where it will have to go to get supply.
Regardless of the ultimate shipping routes approved, it is a reasonable bet that Transcanda, Enbridge (NYSE:ENB) and Canadian oil producers like Canadian Natural Resources (NYSE:CNQ), Cenovus Energy (NYSE:CVE), Suncor (NYSE:SU), Penn West (NYSE:PWE) and Pengrowth Energy (NYSE:PGH) will continue to expand profitably serving up reasonably stable returns to investors for decades to come. Income investors may find holdings in Transcanada and Enbridge will continue to be stable sources of dividends for many years to come.
I am long PWE and PGH.
Disclaimer: This article should not be considered a recommendation for any stock. Readers should discuss their investments with an investment professional.
Disclosure: I am long PWE, PGH. I wrote this article myself, and it expresses my own opinions. I am not receiving compensation for it (other than from Seeking Alpha). I have no business relationship with any company whose stock is mentioned in this article.