Offshore drilling giant Ensco plc (NYSE:ESV) gave a presentation at the Howard Weil Energy Conference on March 25, 2014. In this presentation, Ensco mostly discussed its own operations today and where it sees itself going forward. The company also briefly discussed the current malaise that the offshore drilling industry is experiencing. The points that Ensco brought up are largely the same as what I have discussed in previous articles, but I have not yet discussed Ensco's take on the situation and it can be good to get a range of viewpoints and opinions. In this article, I will discuss Ensco's position in the offshore drilling industry and its future prospects. I will discuss the company's take on the malaise in the offshore drilling industry in a follow-up piece.
Ensco is one of the largest operators of offshore drilling rigs in the world with operations in every major offshore region. With that said, the company is much more active in areas such as Southeast Asia and the Middle East than in other areas of the world. The reason for this is that these are shallow-water areas and the majority of Ensco's fleet consists of jack-up rigs that are only capable of drilling wells in, and operating in, shallow-water environments. However, Ensco has been expanding its ultra-deepwater fleet over the past few years and this has allowed the company to grow its operations in areas such as Brazil, the U.S. Gulf of Mexico, and West Africa which are all regions that require ultra-deepwater rigs to operate in. These regions are all also likely to represent major growth areas for the offshore drilling industry going forward and so Ensco has effectively begun to get a foothold in them by expanding its operations to these areas.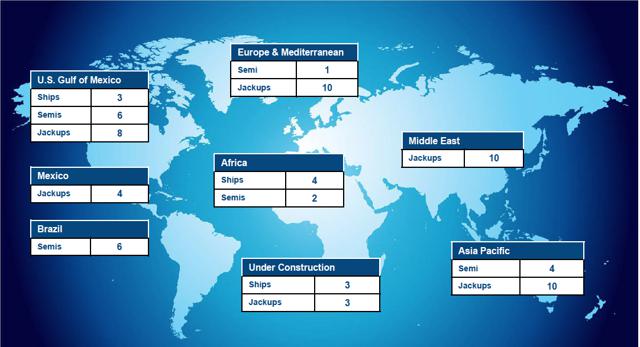 Source: Ensco
The fact that the company operates all over the world also provides the company with a significant amount of protection against regime risk. Regime risk is a risk faced by all companies and it refers to the risk that the government of a country in which the company operates will pass a law or take some other action that will have a negative effect on the company or on its shareholders. The importance of minimizing one's exposure to regime risk was illustrated by the actions that the U.S. government took towards Transocean (NYSE:RIG) following the Deepwater Horizon disaster in 2010 or the actions that the Brazilian government took towards both Chevron (NYSE:CVX) and Transocean following a very minor spill at the Frade oil field in 2011. By diversifying its operations into many different countries, Ensco has effectively reduced that portion of its operations that are exposed to the respective governments of each of the nations in which it operates.
Ensco also has one of the most modern ultra-deepwater fleets of all of its major competitors, although its jack-up fleet is, admittedly, much older. However, as much of the industry's growth in the coming years is going to be in the ultra-deepwater environment, Ensco's focus on this segment of its fleet could prove to be an advantage for the company compared to its peers with older rigs. I have discussed the reasons why modern rigs could be an advantage several times in past articles. In short, it is because these are the rigs that oil and gas companies want to contract due to their improved safety equipment and performance characteristics compared to older rigs.
According to Ensco's presentation, the average age of all the rigs in its ultra-deepwater fleet is 3.9 years. This is younger than the average fleet age of any of its major competitors except for Seadrill (NYSE:SDRL).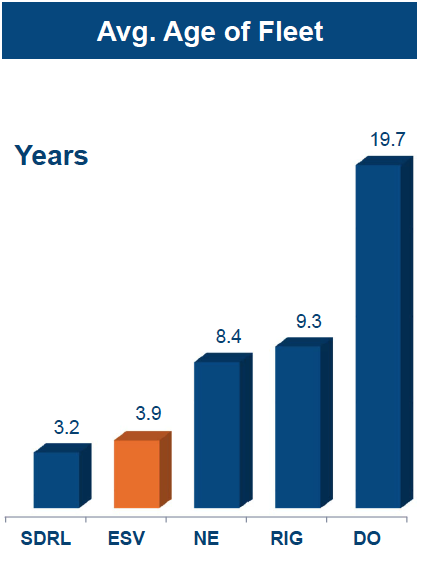 Source: Ensco, ODS-Petrodata
Investors should note that there are other offshore drilling companies that have significantly younger fleets that Ensco such as Pacific Drilling (NYSE:PACD) or Vantage Drilling (NYSEMKT:VTG). However, these companies are much smaller than Ensco and so cannot truly be considered major competitors although they should certainly not be discounted. Ensco is clearly quite well-positioned among the offshore drilling companies with the largest fleets and breadth of operations and this is something that should certainly not be ignored.
One reason for this is that in addition to being the most in demand by exploration and production companies, the most modern ultra-deepwater rigs command much higher dayrates than their older cousins, all else being equal. It costs approximately the same amount of money to operate a modern rig as it does a vintage rig; therefore, the company that is operating the modern rig will have a higher cash flow from that rig. This may not completely show up in the company's net income margins though because a modern rig will incur significant depreciation expenses that a vintage rig will not. Depreciation is a non-cash expense that results in a writeoff for tax purposes but does not involve actual cash leaving the business. Therefore, the higher depreciation expense that comes with operating a modern rig compared to the vintage one is something that could negatively affect the former's net income derived from the rig but not cash flow from it. However, in this case, Ensco has the highest net income margin out of all of its largest peers.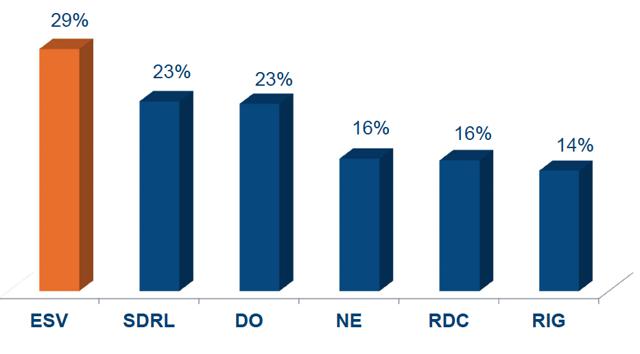 Source: Ensco, Thomson One
Ensco has been making some moves lately and will aggressively move in 2014 towards improving and modernizing its fleet further. One move that the company has made is disposing of old rigs. It does this so that it can eliminate the costs associated with maintaining its old rigs as well as receive some money (from whoever buys the old rig) that the company can then use to partially finance the construction of a new rig to replace the old one. In addition, since the old rigs are usually mostly or wholly depreciated, Ensco can often book a pre-tax gain on the sale of the rig. While the overall impact of this is fairly minimal, it is still something that is nice to see. Ensco has engaged in thirteen such transactions since 2009, booking total pre-tax gains on sales of $80 million. Ensco is also spending money to improve its existing fleet which will, hopefully, increase the appeal that the company's current rigs have to oil and gas companies when Ensco attempts to find contracts for them. In 2014, the company plans to spend $570 million on these upgrades. On the surface, this seems like a lot of money since it represents approximately 10.8% of Ensco's total revenue guidance for 2014. However, roughly $200 million of that amount will be paid for by Ensco's customers and not by the company itself. This significantly reduces Ensco's total cost to complete these upgrades, particularly when we consider the benefits of them.
Ensco has also been working to both grow and modernize its fleet by ordering new drilling rigs. In fact, the company has six under construction right now. These six rigs consist of three jack-ups and three ultra-deepwater rigs which should greatly expand Ensco's revenue base and cash flow once they have all secured contracts, left their respective shipyards, and begun operating.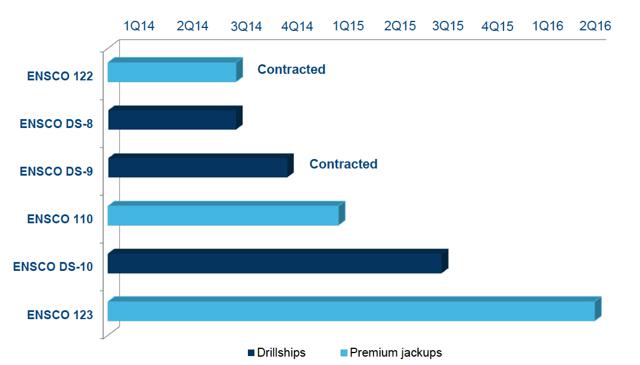 Source: Ensco
As the chart shows, these new rigs will be delivered over a period of time spanning from the third quarter of 2014 to the second quarter of 2016. However, as the chart shows, Ensco has only successfully secured contracts for two of the three rigs that are expected to be delivered this year. The ENSCO DS-8, an ultra-deepwater drillship that is expected to be delivered in the third quarter, has not yet secured a contract although I would not be surprised if Ensco is currently conducting discussions with a customer for the use of this rig. I would also not be surprised if the company is still attempting to find a customer for it. Unfortunately, this is the current situation in the market for ultra-deepwater rigs, as I discussed in a recent article. Should Ensco be unable to secure a contract for this rig then the company will be forced to idle the rig. This will represent a cost to the company but it is a cost that Ensco can easily afford until the company manages to secure a contract for the rig.
These rigs will help the company grow its revenue and cash flow going forward. The reason for this is that the addition of these rigs to the company's fleet will increase the number of rigs that the company has which are generating revenues. Since the dayrates for all types of offshore drilling rigs exceed the costs of operating them, the company's cash flow also increases with the addition of each new rig to its fleet.
Disclosure: I am long SDRL, PACD. I wrote this article myself, and it expresses my own opinions. I am not receiving compensation for it (other than from Seeking Alpha). I have no business relationship with any company whose stock is mentioned in this article.