Things are looking better at Lululemon Athletica Inc. (NASDAQ:LULU) after a tough year. In 2013, LULU suffered several negative events starting with management and recalls of a major clothing line due to the sheerness of the fabric. As a result of these problems the stock declined by approximately 20% in fiscal year 2013. Recently LULU released its fourth quarter earnings and experienced a nearly 6% increase in stock market.
Recent Quarter Results Stronger than Expectations
Lululemon reported revenue of $521 million for the fourth quarter of 2013, $4 million higher than analysts' estimates of $517 million reflecting a 7% increase over the same period in 2012. While this figure is also higher than the revised guidance the company put forth in January when it said revenue would fall between $513 million and $518 million. Fourth quarter net income was $109.7 million resulting in earnings of 75 cents per share, a figure that beats Wall Street's estimate of 72 cents per share and comes in above Lululemon's January guidance of 71 cents to 73 cents per share. However, this profit is roughly flat compared to the figures of 2012.
Future Prospects of the Company
Lululemon has decided to expand their brand globally especially in the Asian and European markets. The company is aggressively expanding into new markets outside of the U.S. and Canada. Strong demand in Asia and Europe should drive significant growth in the coming years. Lululemon helps grow brand awareness in these new markets by first opening showrooms and hiring local talent or ambassadors there. This way, they are collaborating with people who really know each specific market.
In Europe, Lululemon is set to open its first store in London at the start of the first quarter of fiscal year 2014. In the weeks leading up to this opening, LULU's team in Europe has been hosting community events such as yoga at the Royal Opera House. 400 people lined up at the Royal Opera House hours before the event started proving there is plenty of pent-up demand for Lululemon's products in the European market. The company also has plans to open its second store in London by the end of 2014. Of the 69 showrooms Lululemon currently operates, 17 are located outside of North America with six in Asia and nine in Europe and the company finished fiscal year 2013 with 254 total stores, up from 211 stores a year ago.
In addition to global expansion, LULU is getting back to its roots with a renewed emphasis on quality products and superior design like the new collection of &Go brand. The company ran into a series of quality control issues last year that left it vulnerable to competitors such as Under Armour and Gap's Athleta brand. Specifically, LULU's reputation for quality took a major hit when Lululemon was forced to pull more than 17% of its signature Luon pants from store shelves following an issue with sheerness. LULU is now continuing to build its dominant brand and is a fashion forward company providing desirable products sold at a premium prices with higher demand than competitors. The new clothing line will further increase the sales of the company in coming years.
History of returns
LULU has decent returns that can be seen in the following table.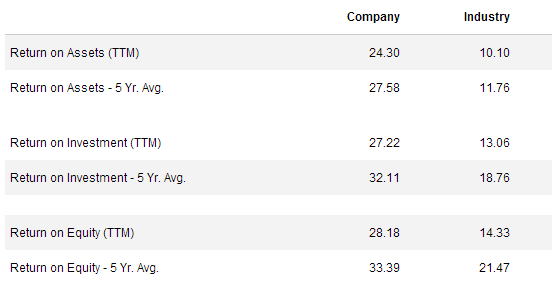 Source: Reuters
Return on assets for trailing twelve months was 24.3% and the average of the last five years was 27.58%. Both are approximately two times above the industry averages. Return on investment for TTM and the five year average are also above the industry average. Return on equity is nearly double for TTM and also above on last five years basis at 28.18% and 33.39%, respectively. This phenomenal return on equity was mainly driven by its net profit margins. In addition, the company's total debt-to-equity ratio of 0.00% compared to the industry average of 16.70% shows the company's financial strength compared to its competitors.
Valuation
The following table shows the mean and median valuation made by 28 brokers. The mean and median targets are both around $57 reflecting an upward potential of around 9.85%. If realized the high target price will yield a 40% return on the current price level. I believe that the stock price will reach its highest target level in the coming years with improving brand quality, global expansion plan, and the addition of a new casual clothing line. So, I am quite optimistic about the company's prospects.

Source: Yahoo Finance
Final Thoughts
The past year was rough for Lululemon investors but the future is still bright for this company. Lululemon's executive team has been retrofitted with the tools that they will need to take the company into its next phase of expansion. The company has also added a new casual clothing line with an emphasis on quality and superior design. I expect Lululemon to leave the mistakes of 2013 behind along with all the headlines and puns and continue on their mission to provide athletic clothing that people enjoy wearing. Based on the bright future prospects of LULU I give a buy recommendation for the company's stock.
Disclosure: I have no positions in any stocks mentioned, and no plans to initiate any positions within the next 72 hours.
Business relationship disclosure: The article has been written by APEX Financial Consultants. This article was written by one of our research analysts. APEX Financial Consultants is not receiving compensation for this article (other than from Seeking Alpha). APEX Financial Consultants has no business relationship with any company whose stock is mentioned in this article.