Share price of Johnson & Johnson (NYSE:JNJ) has risen by almost 8% year to date, outperforming a 3% return for S&P 500 Index. In my view, this quality dividend investment is still a buy at the current level as dividend growth prospects continue to look promising owing to solid fundamental developments while valuation remains inexpensive.
Over the past 3 years, JNJ has managed to grow its free cash flow by 10.1% CAGR from $11.4B in 2011 to $13.8B in 2013 despite the fact that revenue has only increased by 4.7% per annum over the period. The higher free cash flow growth rate was due to free cash flow margin expansion from 17.5% in 2011 to 19.4% in 2013 as operating cash flow outgrowing capital expenditure. The ratio of dividend payment relative to free cash flow trended from 54.0% in 2011 to 52.7% in 2013, resulting in a dividend growth of 8.7% per annum during the period.
I have performed an analysis to gauge JNJ's capacity to drive further dividend growth between 2013 and 2016. My calculation is based on current consensus estimates which project total revenue to grow from $71.1B in 2013 to $80.7B by a CAGR of 4.2%. I believe these are fair estimates as JNJ has recently launched a few new drug assets (e.g. Zytiga, Xarelto, Imbruvica, and Invokana) and the continued sales ramp-up of these new drugs in 2014 and 2015 are expected to be a primary top-line growth driver. In addition, organic growth from JNJ's Consumer as well as Medical Devices & Diagnostics segments should not be ignored given their dominant positions in many areas. In my analysis, I assumed an average of 20% free cash flow margin in between 2014 and 2016, which is slightly above 19.4% level in 2013. The higher free cash flow margin is supported by the trend that marketing expenses for the new drugs are likely to subside over the next few years as sales continue growing, presenting an operating leverage opportunity. It is noted that consensus estimates predict EBITDA margin to expand by almost 200 bps from 32.3% in 2013 to 34.2% in 2016. Given that the conversion rate from EBITDA to free cash flow trended within a tight range between 59% and 60% in the past 3 years, I believe my free cash flow margin assumption here is somewhat conservative as the cash margin expansion could be higher than what I assumed here (only 60 bps). Further, I used a 53.3% dividend payout ratio (relative to free cash flow) which is simply the average in the past 3 years. Based on these assumptions, the model predicts a dividend CAGR of 5.7% from 2013 to 2016 and there remains about $6.9B-$7.5B cash surplus in each year that the company can use to fund share buyback, debt reduction, and tuck-in acquisitions (see chart below).

Given my very conservative assumptions and that management has the discretion to raise dividend payment relative to the free cash flow generated (i.e. the payout ratio), I believe the 5.7% to be a floor for medium-term dividend growth rate. Based on the sensitivity table shown below, the most possible scenario with 20%-21% free cash flow margin and 53%-57% payout ratio would imply a range between 5% to 10% annual dividend growth in the next 3 years, which is fairly in line with the dividend growth CAGR since 2011 at approximately 7%.

At $98.23, JNJ trades at 15.6x consensus estimated 2015 EPS, which is at 5% discount relative to the same multiple of S&P 500 Index at 16.1x (see chart below). In my opinion, the valuation gap is a buy signal because 1) JNJ on average traded at a valuation premium of 5% over S&P 500 Index in the past 12 months; 2) the company's consensus long-term earnings growth estimate of 7% is not far off from the average estimate of 8.5% for S&P 500 companies; 3) JNJ's dividend yield of 2.7% is above S&P 500's average at just 1.9%; and 4) the company's 19% free cash margin notably exceeds market average.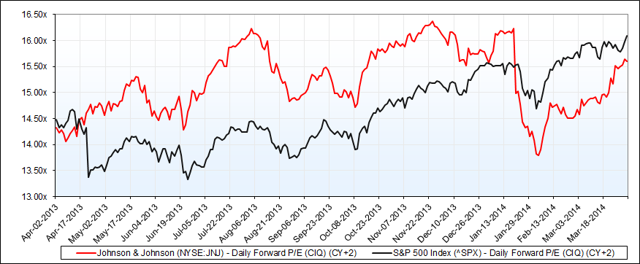 JNJ's valuation also looks inexpensive relative to its global pharmaceutical peers. The stock's forward 2015 EV/EBITDA and P/E multiples are trading at modest discount to peer averages despite JNJ's above-average long-term earnings growth potential, slightly better profitability, and in-line dividend yield (see chart below).

In summary, JNJ remains a buy at ~$98 level as strong drug pipeline is expected to drive healthy dividend growth ahead and the stock still trades at discounted valuation to both the market and peers, presenting an attractive risk-reward situation.
All charts are created by the author, and data used in the article and the charts is sourced from S&P Capital IQ, unless otherwise specified.
Disclosure: I am long JNJ. I wrote this article myself, and it expresses my own opinions. I am not receiving compensation for it (other than from Seeking Alpha). I have no business relationship with any company whose stock is mentioned in this article.